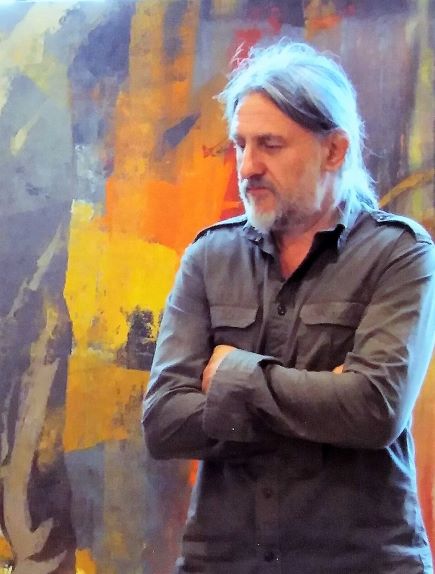 Walter Marin
Walter Marin, Crocetta del Montello (TV) 1957. he He graduated from the Art School of Treviso and enrolled in the Faculty of Architecture in Venice, which he left after two years to enter the world of work. After a long pause for reflection in which his artistic awareness matures, he enrolls at the Academy of Fine Arts in Venice and becomes a pupil of Emilio Vedova. It is a new genesis, here begins his personal artistic journey that pushes him to deepen different expressive techniques, from black and white to color, from graphics to painting. The continuous research of him allows him to range from watercolor, to fresco or dry, to oil on canvas, to which is added the experimentation on different materials including resins, stuccos, precious woods and gilding. There are many works that tell the artist, from the rediscovery of the classics, to the sacred theme with the visions of Christ, to natural landscapes and industrial archeology, social themes and music, with which he maintains a strong bond in the paintings in which they relive the environments and the protagonists of music from jazz to progressive rock. He has exhibited in many national and international galleries, some of his works are present in national museums and foundations. It is included in the most important Italian art catalogs and international collections, as well as in various national art publications. He lives and works in Istrana (Treviso).
PERSONAL EXHIBITIONS:
2020 12/12 - 17/12 "The Red Room" Web - Art Gallery - Treviso
31/10 - 11/11 "Birdland" Wiki Art Gallery - Bologna
4/09 - 2/10 "Birdland" Galleria Govetosa - Padua
2019 La Telaccia Gallery - Turin
7/09 - 22/10 Wiki Art Gallery - Bologna
Solo Jazz Biblioteca Universitaria S.Leonardo - Treviso
"The Impressions of Walter Marin. Memories of the landscape - Ca 'Celsi "- Istrana
"Visual Impressions" 47 Anno Domini - Treviso
2018 27/10 - 9/11 "Elusive essence" Galleria Farini - Bologna
2017 "Story of a Visionary" Casa Dei Carraresi - Treviso
"Models" Palazzo Beltramini Seat of the Municipality of Asolo
"Land of Salento" Stables of the Castle of the Gallone Tricase - Lecce
Altstadt Galerie Gmund in Kartnen - Austria
"Picture at an exhibition" - Round Church of Badoere - Treviso
"The Tower of Memory" - Municipal Tower Mestre - Venice
"Jazz Casa dei Carraresi" - Treviso
"Cupid and Psyche: the rediscovered beauty Provvederia" Mestre - Venice
"Ultimate Deception. Works - installations - Shoah "- Church-Rotonda Badoere -Treviso
"From the Sile to the Cagnan" Cloister of San Francesco - Treviso
"The colors of Jazz" - Chiesetta dell'Angelo Bassano - Vicenza
"Beyond - The Visions of Christ" - Herrath Gallery - Trieste
2016 "Jazz" - San Gregorio Church - Treviso
"Homo Faber" Lazzari Space - Treviso
2015 "Kairos" Civic Tower Mestre - Venice
"Cronos" Gallery 0422 - Treviso
"Sound Works" Villa Orsini Scorzè - Venice
"Musicians" Caffè Centrale Asolo - Treviso
"Canova" Central Coffee Asolo - Treviso
"Essemusic" Montebelluna - Treviso
"Art Function" Palazzo Moretti - Treviso
2013 "Forme d'Arte" Umberto Primo - Treviso
Sarcinelli Conegliano Palace - Treviso
"Jazz International Art View" - Vienna
"A casa Robegan" - Treviso
2012 "l'Isola" - Municipality of Tricase - Lecce
"Istrana in the memory" Villa Conte Lattes - Istrana - Treviso
"Portraits of jazz" Castello Roncade - Roncade - Treviso
2011 "Portraits of jazz" Alexander Palace Museum - Pesaro
"Jazz" Cultural Institute - Cologne
"10 works with a musical theme" Cultural Institute - Munich
"From the Lagoon Roman holidays" Galleria 'Agostiniana - Rome
"Travel Notes" gallery "Metropolitan Art" - Lecce
2009 "Metropolitan Art" Music and landscape - Lecce
2004 "Travel Notes" Palazzo Gallone Tricase - Lecce
2002 "Il portico" Gallery - Treviso
1998 "Astori" Theater - Treviso
1982 "Lo scrigno" Gallery - Treviso
1982 "The Boy" Gallery - Treviso
1981 "Lo scrigno" Gallery - Treviso
Awards and art fairs:
2020 21-23 / 08 International art 3f fair Monaco Principality of Monaco - WikiArte Gallery 2020 15th Art Dolomites - 2nd Prize Painting Section - Longarone sections
2020 Galileo Galilei Award - City of Pisa - Department of Culture - First prize painting section - work "The language of the Universe"
2019 XXXVII Florence Prize - Fiorino Oro - Publiacqua Special Prize with the work L'Isola dedicated to the genius of Leonardo da Vinci
2019 Paratissima Torina - Wiki Arte Galleria Art fair
Magmma Marchionni Prize (Birdland finalist work) - La Ghironda Museum - Bologna
Magmma Marchionni Award (among the 20 finalist Manet Award artists)
Arte Laguna International Award - Venice Arsenal (Painting section among the 30 finalist artists)
2018 19 October Lifetime Achievement Award - Chamber of Deputies Montecitorio Rome
40th Edition of Art Expo New York (19-22 April 2018)
Exhibition Arte Inn Fair (25-28 January) - La telaccia Art Gallery (TO)
2017 XXXV Florence Prize - Silver Florin 2nd prize ex aequo Painting section - Salone Cinquecento Palazzo Vecchio Florence
2013 "6 Sound Works" at Romaart Biennale Roma
2013 ArteinFiera Dolomiti Sound Works 1st Prize Painting Longarone - Belluno
1989 First National Prize Painting and Graphics Palazzo Trecento Treviso
Collective:
2020 Woman Art Expo - Cortina - Venice - Treviso Collective art: Web Art Gallery
01 - 10/05 Collective Moderne Wunderkammer Palazzo della Loggia Noale (Ve)
7 - 13 February Premio della Lupa (exhibited by M. Callas - Butterfly) Spazio Medina - Rome
7.02 - 16/08 I mille di Sgarbi - II Edition - Ciasa de Ra Regoles Cortina d'Ampezzo Expo Bologna 2020 - Wiki Arte - Gallery exhibits Keith Jarret Bologna
Top 13 Collective art - Web Art Gallery - Treviso
2019 Beyond the Silk Road - Villa Farsetti - S. Maria di Sala (Ve)
3rd Venice Biennale - Villa Badoer Fratta Polesine - Rovigo
Marchionni Prize exhibition in the Museum of Contemporary Art - La Ghironda Bologna
Alchemy of art - Cathedral of the former slaughterhouse of Padua 13 / 06-21 / 07 - Padua
I Mille di Sgarbi, The Salt Warehouses (D. Gilmour and Chet Baker) 31 / 05- 9/06 - Cervia Villa Cidro Museum of art and graphics - Villacidro
Sensi Cultural Institute of Stockholm 9-16 and 17-24 May - Stockholm
At the roots of the human - Casa Cava - Matera
Watt 37 Exhibition Space 28-03 30-03 - Milan
Art Hill Gallery - London (Farini Gallery - Bologna) (4.03-12.03)
European Excellence Award - Palazzo Velli - Expo - Rome (27.02-3.03)
Art Expo Bologna - Through Mucha's eyes - Wiki Art Gallery - Bologna
Cinema: "Between Art and Visions" NG New Art Palazzo Ferrajoli - Rome
Farini Gallery London Prize - Bologna
2018 International Exhibition in Paris - Farini Gallery (15-20 December)
2018-2019 XXXVI Florence Prize - Salone Cinquecento - Exhibition Prize - Palazzo Bastogi headquarters of the Regional Council of - Tuscany
Toy Museum Palazzo Rospigliosi - Zagarolo - Rome
Hotel Majestic Baglioni - Farini Gallery 10-30 November - Bologna
Europe Pavilion - Palazzo Albrizzi Capello - Venice
Castello Catajo - exhibits "Amore" dedicated to Canova Battaglia Terme (PD)
Palazzo di Francia - sound works - C. Baker, Assolo, B.Evans - Treviso
Antica Saliera - Art Gallery exhibits "Riflessi in Laguna" October - Lecce
8th Biennial of art in Montecarlo Galleria la Telaccia - Principality of Monaco
Coningsby Gallery - exhibits "Tourneé" and "Jam in the street" October - London
ArtHill Gallery exhibits "Jam in the street" - October - London
Farini Gallery London - Chet Baker and Ballerina - September - Bologna
R8 Casa dei Carraresi September 1-9 - Treviso
Villa Ariston - Farini Gallery August 4-20 - Opatija Croatia
Pure White Arte in Ostuni Palazzo Tanzarella 15-21 July - Ostuni
Working, thinking, seeing Galleria Rosso Cinabro July - Rome
Tele in viaggio - Trevisani nel Mondo Association - June Vancouver
Arte Borgo Gallery Arte Libera tutti - Promarte - June-July Rome
Art Hill Gallery from Bologna to London - Farini Gallery June - London
"Riflessi" Wiki Arte Gelleria June-July - Bologna
"Sconfini" Scuola Grande di San Teodoro S. Marco June - Venice
Wiki Art Gallery - Art Experience II - Bologna
Bellman Gallery (February 16-22) - Stockholm
5th Base Gallery (January 29 - February 7) - London
Timeless Venice - Galleria S. Vidal San Zaccaria - Venice
Love that everything moves Wiki Arte - Bologna
2017 Invisible Universes La Pigna Gallery - Palazzo Maffei-Marescotti - Rome
Seventh contemporary art review Casa dei Carraresi - Treviso
Expression to two C. Madejski and Walter Marin P. zza S. Parisio - Treviso
The spell of art Ex-Umberto Primo - Treviso
2016 Collective exhibition "Expression a 3" Galleria Bailo Mogliano - Veneto
2013 Collective exhibition "The Portrait" - "Sala d'Arme" Porta Santi Quaranta - Treviso
Sarcinelli Conegliano Palace - Treviso
Collective "
Magmma Marchionni Prize (Birdland finalist work) - La Ghironda Museum - Bologna
2013 Collective exhibition "The Portrait" - "Sala d'Arme" Porta Santi Quaranta - Treviso
Sarcinelli Conegliano Palace - Treviso
Collective "31 ° Collective Exhibition Association of Trevigiani Artists" Casa Robegan -Treviso
2010 Collective exhibition "La Scoletta" Marostica - Vicenza
Collective Museum S.Caterina - Treviso
2009 Collective exhibition "The other invisible heroes" Filanda di Soncino - Cremona
Collective exhibition "La Gioconda in my way" - Istrana
Collective Installations "The essences of the park" Villa Letizia - Treviso
Collective exhibition "Dance Steps" in the Museum of Pescia - Pistoia
Collective "Dance Steps" in Villa Letizia - Treviso
2008 Collective exhibition "To not forget Vajont 45 years later" Palazzo Mazzola 'Longarone (BL)
1990 Collective exhibition Asolo Treviso