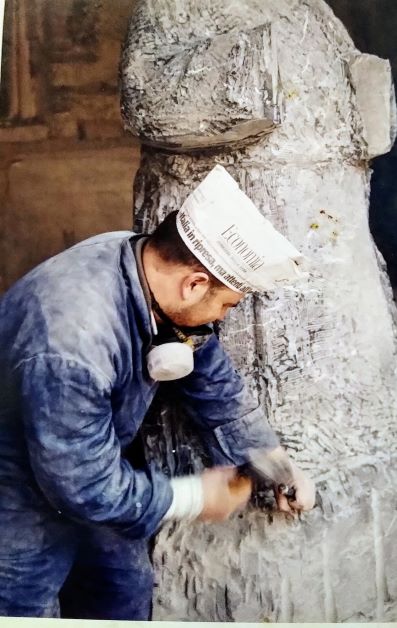 Giovanni Pio Venceslao Mascia

Venceslao Mascia was born in Oschiri, a small town in Sardinia. He began to give his first chisel strokes as a child with his uncle Nuccio Bua, sculptor and philosopher. After the untimely death of his uncle he moved to Milan, where he became a pupil of master Arnaldo Pomodoro. In Milan, Venceslao acquires the metal casting technique. Fascinated by matter, the artist tries to feel the energy that belongs to it and sculpts to free the soul that is in it. Soul conceived as a "gift from God", art is "the smile of God"; infant soul that the artist grows and educates. Perhaps it can be made manifest through a machine, in a laboratory ... The artworks of Venceslao are living stone: in them live the bursting energy of matter but also the archaic forces that have moved millenary humanity. They communicate the conflict between sacredness and desecration with the polysemic language of matter. In bodies deliberately sketched with the marks of the artist's tools, broken down and partly emptied, they raise the question about human nature '' who are we? " art insinuates visions as multiple attempts to answer. Perhaps, already archaically, here he is man: matter intimately permeated by breath. It is in the dark glassy stone full and round, deliberately never composed or satisfied, that roundness evolves in the pirandello and pensive faces, restless and luminous at the same time. It dissociates itself into the irregular bodies of contrasting materials. Matter becomes a fascinating vision of the world of man, a gaze of man that reaches outwards, as well as deeply resides in himself . The sculptural work becomes philosophical, a game in which to look for the self in the decomposition of one's ego, the game of life; alternating heaviness and lightness of form and matter, the life is done and the artwork is done.
Venceslao Mascia is an Italian figurative sculptor whose work attempts to investigate the mystery of life and the existence of the soul in art. Imbued with the irrepressible energy of matter and the duality between heaviness and lightness of form, Mascia's artworks explore the material and visceral modeling of the human form in many abstract iterations that seek to touch eternity, but without an answer, the question of who we are and where we come from. Finding the essence of man in the raw material never composed of stone and metal, he creates and cultivates his art as a spiritual practice. Due to the spirituality of his work, as well as his skill with precious metals and jewelry, his artwork is popular with the clergy and he is commissioned to create many sacred objects for the church, including a sculpture made for Pope John Paul II.