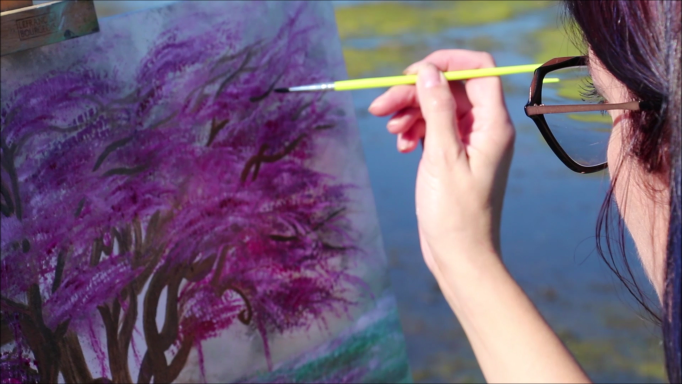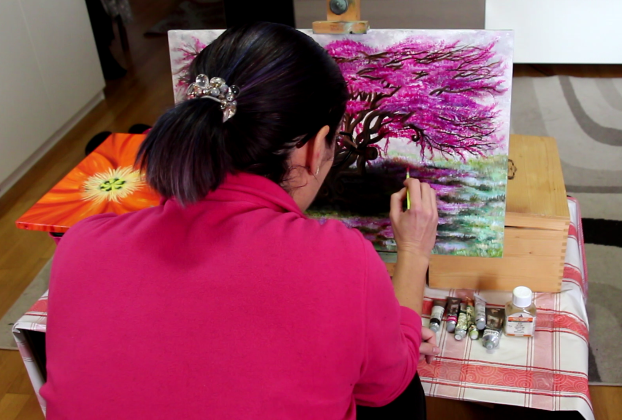 Tiziana Stocco.
Art is salvation, "feeling", burning passion, inspiration, communication, self-esteem, breath, light in the darkness and care for the soul. Life connection between what you create and your person, says the artist.
Tiziana Stocco, lei Born in Udine in 1981, Friulian, she has always lived in the territory lapped by the river Stella, from which she lets herself be inspired.
Solar personality, melancholy, instinctive, sensitive, always with a smile.
Since she was a child, a pencil in her hands, with natural and spontaneous gestures, she made colorful fantasy worlds emerge from the sheets of paper. She also invented small bijoux and jewels with poor metals, semi-precious stones, natural pearls.
The contact with his paternal aunt, a painter by passion and Paolino Pelizzari, a realist painter, neighbor, influences the artist's shaping in the childhood / adolescent period.
Her education increases, attending the "G. Sello art school" in Udine, currently "G. Sello artistic high school", learning to use, with various tools, many artistic techniques: drawing, painting, sculpture, processing of poor and precious metals.
She deepened her studies by getting to know world-famous artists closely, she was fascinated by Michelangelo Merisi - Caravaggio, Giotto, Vincent Van Ghog and by the Spanish architect Antoni Gaudí.
Thanks to the school, she participated in the creation of female statues in plaster, in permanent paintings intended to enrich the institute itself or in the wards of the civil hospital in Palmanova (Udine).
She graduated, she focuses on oil painting, continuing as a self-taught, deepening the search for stroke, material, colors, and expressiveness.
The year 2017 "marks" her person and her art.
She discovers that she is suffering from an autoimmune disease (Endometriosis), in severe form, which had painfully afflicted her for 23 years, forced to undergo surgery the following year, she gets a great awareness of herself and a rapid maturation.
She gave strong inspiration for all the works that will be created from that fact onwards, trying to transform her feeling into images, with an eye aimed at portraying beauty, in an attempt to leave a message, an emotion, in the eyes of who looks.
Naming evil serves to stand up to it, accept it and fight it.
This is the origin of the Light Inside painting, oil on canvas, 30x40. Self-portrait of Tiziana and one of the most significant works.
Painted a dreamer woman, wearing a torn red dress (bleeding menstrual cycle), from whose belly rays of light (adenomyosis) come out that defeat evil, represented by a black devil who shows himself on a cloud at the bottom right. The purpose of the work is to convey a strong message of what I feel and how I live it, to ensure that this disease is socially recognized, and a sign of closeness to millions of suffering women, (some famous such as: Laura Torrisi, Rossella Brescia , Merilin Monroe, Woopi Golberg, Hillary Clinton, Queen Victoria, etc ...).
To create a work, she closes her eyes and listens to herself, observes nature, is inspired by real facts, direct and indirect life experiences. Sometimes her subjects are mainly realistic, or realistic-imaginary, the mixed stroke between fluid and precise, defined and nuanced, giving a pleasant result.
The Natura series includes a field of sunflowers, magnolias, poppies, lilies, Friulian countryside, bailey bridge, walkway view over the river stella, still lifes.
The Rooting series groups all trees: Gustav Klimt's Tree of Life, Family Tree, Cherry Blossom Tree (coffee table), Cherry Blossom (wall painting)
Art furniture year 2020. Project created by her.
Cherry blossom, oil on wood (60x 110), a black coffee table made up of 5 wooden panels, and finished with glass and waterfall effect - Rooting, oil on bilateral wood (34x78), wall cabinet with inserts, in linseed , chia and poppy, glass effect finish.
In 2021 she experiments and creates some works also in mixed media with Digital art.
Iconic art 2021
She is inspired by iconic figures, which easily remain etched in people's minds, advertising images, famous statues, important characters, from past or present times, to be reproduced and reinterpreted in a Pop key.
An icon of inspiration is the king of the pop art current Andy Warhol who said: «Don't think about making art, just do it. Let others decide if it's good or bad, if they like it or if it sucks. Meanwhile, while the others are there to decide, you make even more art ».
My piety of St. Peter, are 3 distinct works, from the pop current, in mixed media and Digital art, 30x 40, 40 x 50 with 4 faces and 70x60 with 6 faces printed on canvas.
Art is boundless, the mind, heart, experimentation and evolution do not stop ... the artistic research continues.
SEE ALL ARTWORKS BY TIZIANA STOCCO