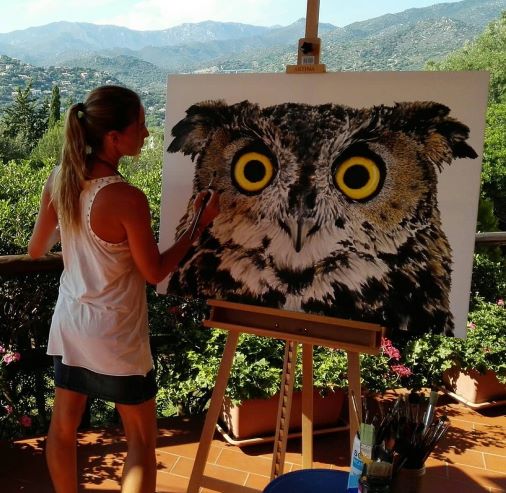 Tiziana Sanna

Tiziana Sanna, artistic name Tisha, is a Sardinian artist born and resident today in Cagliari.
Graduated in arts degrees with honors, specializing in art history, thanks to attending private courses, she learns the different painting techniques.
In a first phase she mostly paints portraits, subjects that she continues to carry out still on commission: the choice of the subject is for the artist every time a research, an exploration of the human condition and its relationship with the outside world, the creative process of each artwork is the result of the sensations transmitted by the subject and of the emotions she feels at that moment.
In the second artistic phase she painted exotic animals, mostly endangered such as elephants, rhinos, tigers, lions, jaguars, leopards, giraffes, zebras, and typical and endemic animals of her land, Sardinia. In her hyper-realistic and photographic-cut canvases, the subject is depicted in every small detail: the innumerable folds of the skin, the patterns of the individual hairs that are painted one by one.
The artist manages to highlight the details, meticulously cared for, and to focus attention on the subject, who is the only protagonist of the work: the background, in fact, is eliminated, is mostly monochromatic and accentuates the focus on the animal, abstracting and extracting it from a real space. The artist uses different techniques depending on the subject and the effects she wants to achieve.
Her style is called pop - hyperrealism because the subjects are painted using a meticulous and detailed technique, but their placement in an unreal space gives this artwork the most typical connotations of pop art, thus merging hyperrealism and a graphic-advertising style.
See all artworks by Tiziana Sanna