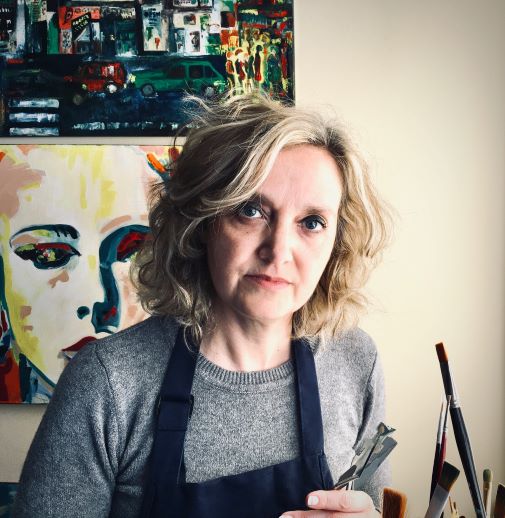 TERESA VOLPE.
Italian artist, she paints mainly using the oil on canvas technique coming from computer graphics experiences. The recovery of free creation and the beauty of the layers of color, tangible and unique in the gesture and in the realization, become her point of reference.

She arrives in the world of art in a non-direct and immediate way, her training takes place at the Faculty of Architecture in Palermo. For about ten years she held the role of Creative director, publishing several CdRoms and creating websites for several municipalities in Sicily. She teaches Drawing and History of Art and begins to paint using mainly the traditional oil on canvas technique. Since 2018, her production has been greatly encouraged by the discovery of exhibitions and online auctions.

EXPERIENCE
Participation in competitions and events:

- Italian Resilience Collection - Italian Contemporary Art Gallery Boston-Padua ADIARTE from 24 April to 9 May 7-8 December 2021 PADUA

- Artemide II Prize ed. - from 7 to 14 March 2021 Bauhaus Home Gallery ROME

- SaturARTE - from 12 to 23 December 2020 Palazzo Stella GENOVA

- Passepartout - December 2020

- Painting of the Year October 2020

- Catawiki auctions (55 lots) 100% feedback

Artist, Art Studio in Palermo - 2018 - In progress

She dedicates herself to painting, creating oils on canvas and collages and the digital dimension is transformed into online exhibitions and auctions. The new opportunity to sell and create a direct relationship with art experts and buyers gives her a creative impulse that will allow her to explore new goals and expressive languages. Her works are present in several private collections in Italy, Spain, Portugal, France, Germany, Holland and Belgium.
Lecturer in Drawing and History of Art - 2004 - In progress

Winner of the competition for professorship, she enters the role teaching techniques of graphic representation and History of Art.

Creative Director and Web Designer - Extramedia S.r.L. Palermo, 1996-2000 you are entrusted with the direction of the creative work and your task is to implement the ideas developed within the staff, according to the customer's needs. Thirteen CD-ROMs are made between artistic catalogs and digital tourism publishing and various websites.

INSTRUCTION
University of Palermo, Architecture degree, 1995.

Obtaining an evaluation of 110/110 with honors.

Two-year Sicilian Inter-university School of Specialization, Arts and Design, Palermo, 2001.

Obtaining a rating of 80/80.
SEE ALL ARTWORKS BY TERESA VOLPE