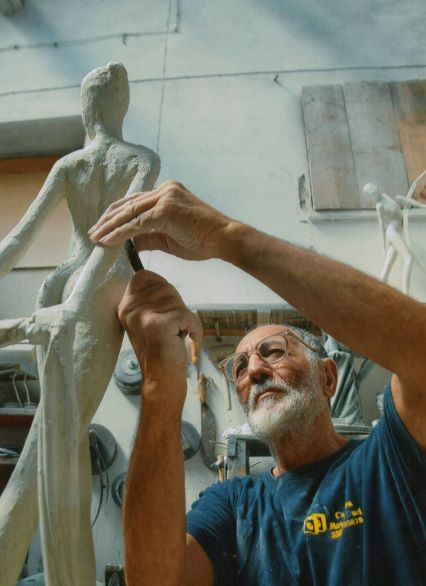 Smail Zizi
Smail Zizi, sculptor - Born in Algeria - Diploma in Fine Arts: Algeri, Algeria, Carrara, Italy - In 1973 took up residence in Carrara, Italy - Artistic research in various media - Specialized in marble carving and casting bronze.
Participated in several artistic shows: 1° Biennale di La Spezia, Cenacolo Buttini, Carrara, Marmo Macchine,Carrara, Scolpire all'aperto, Carrara, Scolpire su Pietra, Fanano, Festival de sculpture, Aubagne, Francia.
Commissions: Boston, Dallas, New York, USA. - Research on monumental sculpture. - One man show: Algeri. - Sight specific commissions for public Art in Algeria. - Three monumental sculptures for the National Museum of History, Algeri. - Pilot Memorial, Lunigiana,Italy. - Model for a memorial to Roffredo Templar, Caserta, Italy. - In 1992 rewarded as the best sculptor to realize the largest Giade Buddah in Bangkok, Thailand.
Exhibitions: in Italy, Carrara, Pisa, Pontedera, Verona, Livorno, Altopascio, Montone (Perugia), Napoli. - First Prizes winning: 16° Gronchi Award, Pontedera, Italy - National Art Prize, Livorno,Italy - Sculptures in show-cases, Carrara, Italy - Special Award, Toyamura International Sculpture Biennale, Okkaido, Japan - Private commissions - Invited by Cassa di Risparmio di Carrara, Bank, to present Lorenzo Cremonesi journalist (Corriere della Sera) with a sculpture in occasion of the Cultural Festival Con-Vivere Remo Bodei Chairman - Private and public collections in Italy,France, Switzerland, USA in Toyamura and Algeri Museums.