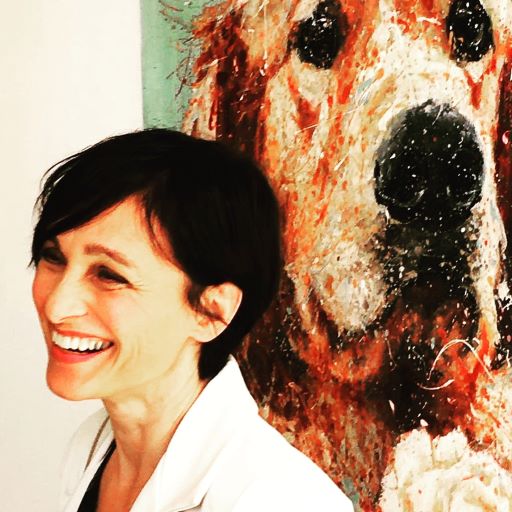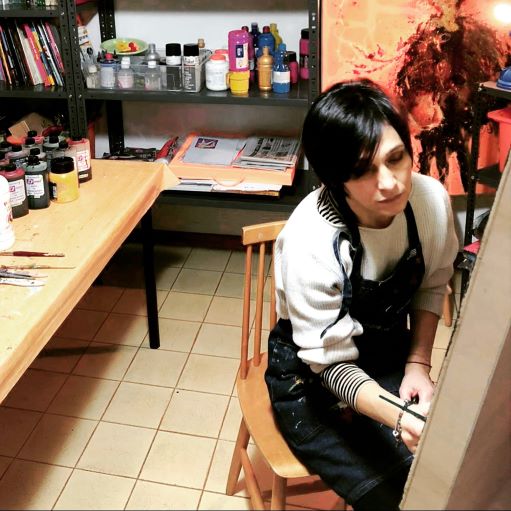 Simona Fumagalli.
Simona Fumagalli was born in Monza in 1967, after graduating from the state art school of Bergamo, she enrolled in the faculty of architecture, but soon realized that this is not the path she wishes to take. After a period dedicated to technical drawing, you resume your studies in the artistic field with a path that gradually distances itself from classical figurative painting.

This path is centered on a research of style, technique and synthesis in continuous evolution. The starting point is always the concrete, the figure, the object, the animal, but there is the will and the need to distance ourselves, go beyond the appearance, beyond the first glance, simplify the image by grasping it. the essential aspects and then upset them. The image is powerful in its close-up shot, almost as if it wanted to come out of the canvas and vital thanks to an execution that is all instinctive and passionate. The stylistic code is characterized by the smoothness of the brushstroke that leaves no room for second thoughts, by the chromatic combinations that move the subject in strong harmony and by a lively expressiveness.

In recent years, study and research have focused on the world of animals, living representatives of the vital forces, synthesized and dynamized until their essential forms are reached. The painting is intense and chromatically bright. The spontaneity, the rapidity, the immediacy of the vision and the gesture belong to the artist who is able to express and communicate them with great consistency.

In 2008 you held your first personal exhibition and later participated in various exhibition projects, obtaining awards and recommendations.

You live and work in Lomagna in the province of Lecco.

Exhibitions:

UNA Hotel - Milan, "Milan Design Week" from 5 to 19 September 2021 (collective)

Arteincontro Gallery - Montesilvano - Pescara, "When art reaches the Soul" from 22 to 22 July 2021 (collective)

ARTEE20 Gallery - Merate - Lecco, "Frontiere" 2016 (collective)

Palazzo Comunale Vecchio - Viganò - Lecco "Animals" 2015 (personal)

ARTEE20 Gallery - Merate - Lecco "Animals" 2014 (personal)

Osteria Santa Caterina - Cernusco Lombardone - Lecco "Of the slight Matter" 2012 (personal)

Via del Borgo - Concorezzo - Monza Brianza "Emerging painting" 2011 (personal)

D'art Visual Gallery - Menaggio - Como "Passion" 2011 (collective)

Exhibition space Via Cavour 77 - Vimercate - Monza Brianza "Noi 2" 2010 (two-person)

Chiostro san Giovanni - Brescia "A paradox called Mary" 2010 (collective)

Palazzo Prinetti - Merate - Lecco "Noi" 2009 (two-person)

Chiostro sa Giovanni - Brescia "Towards the stars" 2009 (collective)

Palazzo Prinetti - Merate - Lecco "Strength and Harmony" 2008 (personal)

Awards:

2011 - 2nd place in the Robbiano di Giussano painting prize in Milan

2010 - finalist of the "Nevera" Saronno - Varese prize

2009 - 1st place "Epiphany" competition, Eustachi Gallery - Milan

2008 - 3rd classified G.B. Moroni, New Artemisia Gallery - Bergamo