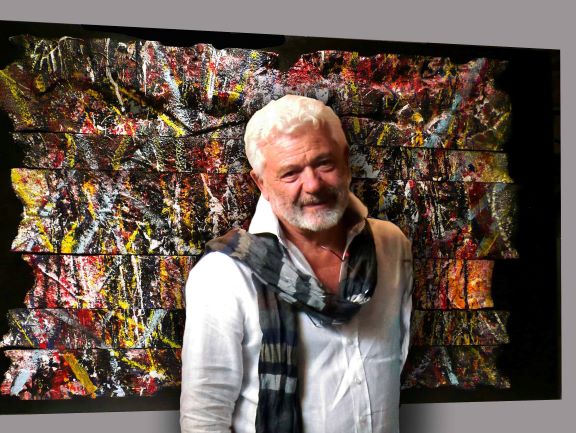 Sergio Sassida
Sergio Sassida was born in Nerviano (MI) in 1949. Graduated in Architecture, he works as an architect and also dedicates himself to painting. He has held solo exhibitions in Nerviano (Sala del Bergognone), Magenta (Casa Giacobbe) with the patronage of the respective Municipalities and will be presented in the Mazzoleni Gallery in Bergamo (Città Alta). It has been reviewed by Settegiorni, Art Events, Selection of Contemporary Artists and other publications. His works can be found in numerous collections.
"The work of Sergio Sassida is the result of a committed research, in constant evolution, on contents that involve creative sensitivity and interests in different sectors, especially relating to the naturalistic sphere, transfused in the aesthetic field with an original technique, in which languages ​​are recognized typical of various disciplines for a formal scan that reconciles pictorial, plastic and engraving components.
Sassida has created his artistic history starting from the observation of reality to pursue more and more the flights of the imagination, fantasizing about the genesis and destinies of the cosmos, about the petty phenomenology of things and events, listening to the suggestions of the many inspiring ideas that they stimulate, to transfuse each element into concrete, tactile images, only vaguely descriptive, rather internalized, stylized, metaphorical, emblematic ...
Images endowed with a particular suggestion, to interpret above all the emotion gradually rediscovered in every fragment of the creative process, which shapes the material, digs it, engraves it, scratches it, colors it, giving life to rhythmic, vibrant forms, in which they imbue the sensations, thoughts, moods, memories ... that accompany the artist's work.
There is in his works - and above all in the action of decomposition / recomposition of matter and color - the desire to give a physical identity to emotions, to recall primitive perceptions from the recesses of the ego, to search for the origin and the meaning of things, to imagine them in their ideal extension beyond the limit of time granted to the intelligibility and duration of human existence.
A complex and multi-faceted art project, this Sassida, who, to implement it, refused the use of customary styles, a representative representation of manner, to give space to internal interpretative needs, following a personally elaborated vision it can be defined abstract / concrete, where figural, informal or typical motifs of abstract expressionism coexist, references to action painting, dripping or to experiences of graphic textures.
The abundant presence of different elements, such as those mentioned above, demonstrates the author's deep and conscious roots in contemporary aesthetic culture and confirms his project of a non-formalistic highlighting of universal messages.
Sassida recreates with material and color the images of steep ravines, sea rocks, rough crumbling rocks; fantastic with the reverberations of the play of light and shadows of the sun on the sea, he composes desert surfaces with meager chromatic interventions or, on the contrary, he invents new ones with swirling textures of expertly tuned colors; sometimes it reproduces stylized figures to the maximum, or conveys geometric shapes, objects, naturalistic and seasonal motifs, now in magmatic mixtures, now in refined arabesques or in harmonic graffiti, not without a linear graphic logic and a lyrical essentiality.
The images sometimes seem to emerge from the chaotic squaring of the material, sometimes instead it is the insistent intervention of the author that generates their complex and capillary structure: they are variables of the modus operandi of an artist who reveals to us his inner world with metaphorical potential in which gestures, critical reflection, creativity find substantial balances, mediating impulses and rationality in a pictorial language of undoubted interest and accessible without enigmatic mediations.
His communication invites us to grasp new dimensions of beauty, of the force of nature, of life in its definition, of the slow sedimentation in the soul of emotions, feelings, fears, desires, memories .... "May art sublime in its ineffable mystery ".