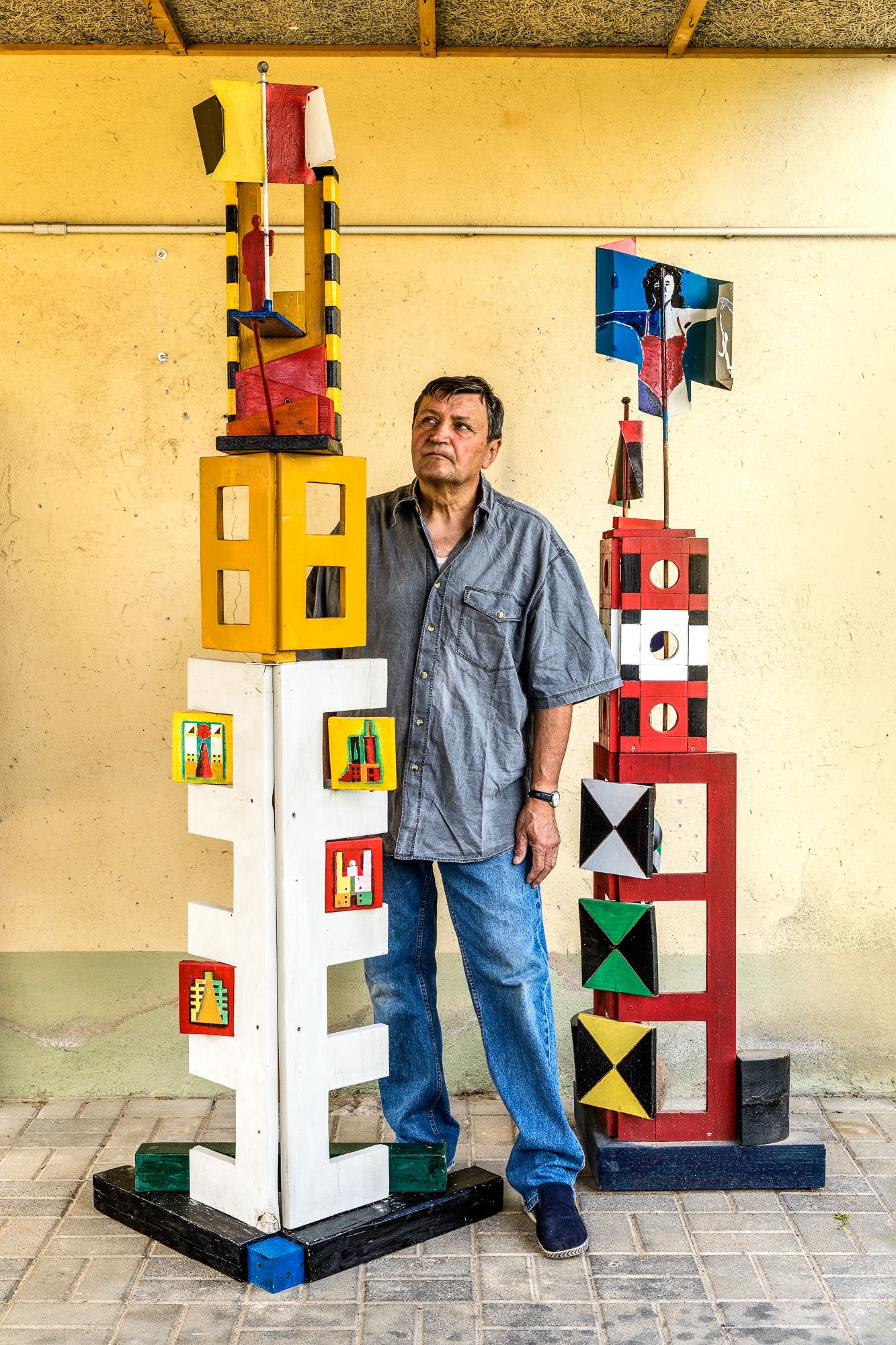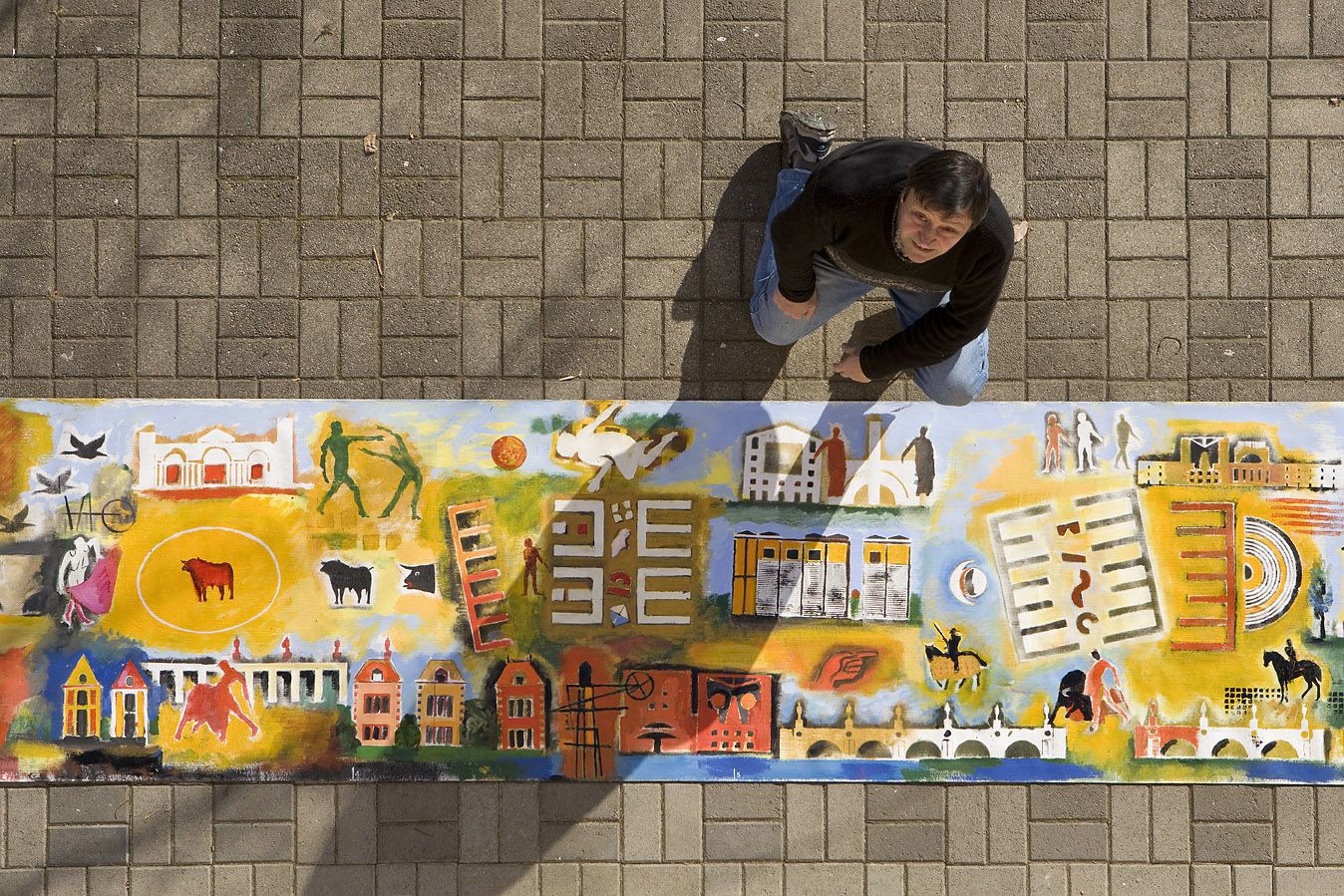 SERGIO FRANZOSI.
Originally (1947) from eastern Piedmont (Lake Maggiore), where I currently live.
Degree in architecture in Turin; professional studio in Arona until 2010.
Exhibition activity since 1996. Since 2010 full-time "artist".
Isolated, out of the "movement" and "a la mode" circles.
Work themes, in constant interaction with the architecture of the settlements.
Apparently "figurative" production with frequent encroachments into abstraction.
" They asked me to ....."
I was asked by a gallery owner, who has some of my artworks in storage, to produce a video, through which to express my vision on the theme of art.

ONE: I don't know how to talk about art; I cannot express in words those refined and hermetic concepts, typical of those who "know", and usually, talk about art.

TWO: For some time I have tended to speak less and less in public, and not just about art.

THREE: But do I deserve the title of "artist"? Mah. Let's take it for granted. However, the most I can do is write a memory.

FOUR: If you really need to talk about "art", then I will tell you about the context within which my artistic work was formed; perhaps from this we will understand the meaning and purpose of what I have done up to now.

FIVE: In the social context of origin, the term "art" was unknown; in our Lombard-Piedmontese dialect the term "artist" (as well as "poet") had a negative meaning; a slacker, a lazzarone, a failure. So no family support, school etc. .. compared to my initial propensities towards this thing called "art". That is, general indifference and advice to apply to something else, leaving aside the "art"

SIX: I have never had a so-called artistic education. In fact, I attended technical schools. Years of hidden depression. With studies related to disciplines antagonistic to my natural inclinations.

SEVEN: I was saved by the reform of the university, in the 70s, with the possibility of accessing architecture. This already while I was working at Olivetti in Ivrea. This is followed by a degree and profession until about 2010, and a "tragic" decision to focus solely on "art".

EIGHT: It is useful to specify that from the period of elementary school and then gradually in the following years, I accumulated from a perfect block, drawing and painting experiences of which I keep the results only starting from the period of Ivrea.

NINE: Why Architecture? Because I felt that this discipline, as a creative act, was very close to my natural propensities for "making art". Even today I don't know if I'm an artist-architect or vice versa.

TEN: And here I am, today, with what I have produced for about thirty years now, that is, from the moment I decided to make my work public.

ELEVEN: Now I try to explain my work. They called me a "visionary"; it seems to me to be spot on. In fact, mine are works that have a very weak relationship with the "real", so much so that they often lead to abstraction. One of the recurring themes is a kind of urban planning on an abstract ground; palaces, houses, urban artifacts are grafted onto the consequent urban design, but also references to the landscape, scenarios of reality, quotes, etc.

TWELVE: What is and isn't in my works? There was the period of "urban myths, then the period of serial accumulations of images on large tables; then that of the "repertoires"; then the period of the "journeys"; then the period of "urban studies" and finally, currently, the period of the "suites" which partially recover the previous period of the repertoires. There are, of course, frequent returns to themes from earlier periods; not only painting but also "plastic" or works in painted wood.

There is no trace of dramas, tragedies and so on; there is hardly a trace of "modern life"; there are no cars, consumer products, crowds, etc.

There is the feeling of nostalgia; which I see as a reaction to the profound, personal dissatisfaction with the present moment: in particular the profound and perhaps no longer remediable environmental crisis. The nostalgia of my recent past leads me to elaborate the so-called "memorials" that try to identify from that past ideas to bear the present.

THIRTEEN: This is all I can say about myself, perhaps confusingly. I can't say anything else. I hope others do.

EXHIBITION ACTIVITIES and AWARDS
- 3 personal exhibitions in local galleries (1996,2004,2010)
- 2 personal gallery Satura in Genoa (2007,2019)
- personal Exhibition space PWC- Sole 24 Ore in Milan (2014)
- numerous participations in collective exhibitions, some abroad (London, Eastern Europe ...)
- participations in the Genoa Art Fair (2015,2018)
- numerous participations in competitions and prizes, often with awards
- ARTE Prize semifinalist - Cairo publisher 2015
- ARTE Prize 2016 finalist with Palazzo Reale Milano exhibition
- START Prize finalist - Thiene 2018 with exhibition in Thiene
- ARTE Award 2019 finalist with Palazzo Reale Milano exhibition
- Finalist of the DeSidera Festival - Trieste
- Finalist Art Prize 2020 - 2021 with Palazzo Reale Milano exhibition (Oct.2022)