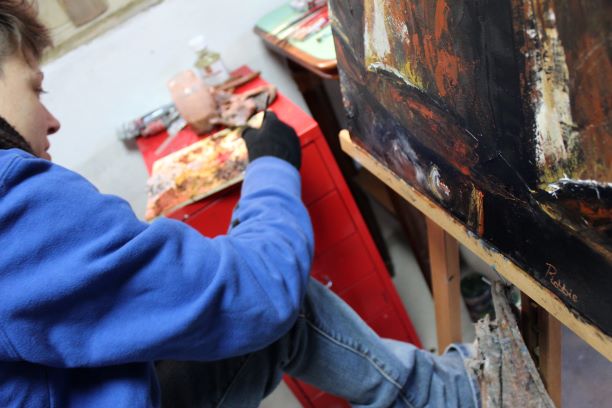 Roberta Oliva
Roberta Oliva (Naples in 1981) graduated in theatrical scenography from the Academy of Fine Arts in Naples in October 2005. During her studies, 2003, she participated in the "Itineraries of waiting - The human voice" by G. Lo Priore, V. Modica and in the show "Dido and Aeneas" by G. Vallifuoco, designing and creating sets and costumes. At the same time she also deals with "Solea- Open Heaven!" of the Enzo Moscato Company. In 2004, "Neiwilleriana" of the Enzo Moscato Company, also here covers various roles regarding the show (sets, costumes, performances). In November 2006, she was the set designer for the Madia Superiore Statale F. Solimena Naples school and restores the fresco in the San Vito Church in Ercolano.
From October 2005 to July 2009 she is set designer (projects and realizations) for the F.lli Meglio Laboratory.
In the summer of 2009 she goes on tour as a set designer and toolmaker with the company of C. Buccirosso with "Napoletani a Broadway".
In September of the same year she moved to Bergamo where he painted for a gallery of author's copies, and began her pictorial research by representing clowns in their various expressions in the dim light.
In March 2015 she obtained the certificate as a tattoo and piercing operator, thus participating in various tattoo conventions and tattooing at various studios, now resident at the Empire Tattoo Studio.
In the same year she is set designer for the show "Waiting for Godot" by S. Beckett directed by Luca Locati.
Even today her figurative painting moves through broken brushstrokes to compose light.
SEE ALL ARTWORKS BY ROBERTA OLIVA