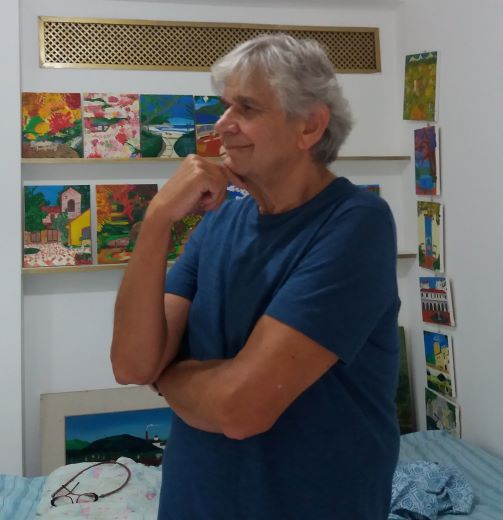 Renzo Battacchi (expression of color).
Renzo Battacchi, born in Treviso, in 1945, son of art, raised in a family of artists, with solid teaching bases received from his father since he was 8 years old and for about 10 years, with his naive / figurative style he differs totally in the impressionistic style of the father and contemporary expressionistic of the brother. His works, all medium-small in size, very colorful and all in acrylic on canvas, find inspiration and enhance his artistic creativity, in the colors of nature, in the sweetness of the landscapes and in the tranquility of the villages. Due to their refinement of details and color combinations they are extremely precious and endowed with high artistic value and can be inserted in any environmental dimension and adaptable to any style of furniture, transmitting the poetic and chromatic sensations necessary to enhance the extrinsic qualities of inspiration.
Although he began to paint only after the death of his brother in 2011 and after organizing the exhibition to commemorate the 100th anniversary of his father's birth in 2012 at the Museum of Santa Caterina in Treviso, he has already participated with his works in some competitions of National and International painting obtaining everywhere certificates of value and recognition of artistic merit. His works have been included in the catalog volumes of ART NOW and of VITTORIO SGARBI published by EffettoArte. (11 works already published in specialized catalogs, 4 other works will be published soon, 9 plaques, 7 parchments, 15 certificates of merit).
Leonardo Da Vinci International Award 2020
International Luxembourg Art Prize 2020
Dantebus Bazart National Competition 2020,
Arte Laguna Prize 2020,
Art Rights Prize 2020,
Artist of the year 2020 competition,
Paris Expo 2020 International Award,
Art and Artists Competition 2021,
Digital Innsbruck 2021 International Award,
Sgarbi Prize 2021,
Michelangelo International Award 2021,
Dante Alighieri International Art Award 2021
Artist of Italy Award 2021 - share your art throughout the country
Stylistic Excellence Award 2021 - views on contemporary art
Isabella d'Este International Contemporary Art Award - Ferrara ArtExpo 2021
"ARTE NEL CAOS" Award - Organized by the LABORART Cultural Association of Rome 2021
Some works by Renzo Battacchi have been exhibited in prestigious galleries in Paris, Rome, Florence, Palermo, Innsbruck, Treviso, Ferrara just to name a few.
On August 24, 2021, a personal exhibition with 12 works was set up at the Galleria Margutta in Rome, on the occasion a website dedicated to this exhibition and television broadcast was created. In addition, a video is already on display on YouTube
On the initiative of the expert art expert Paolo Campopiano, on 18 September 2021 the exhibition of "I BATACCHI A FAMILY OF TREVIGIANI ARTISTS" was organized at the Artefidia Gallery in Treviso, which in memory of the 50th anniversary of the death of his father Franco Batacchi (BAT, the painter of light) (1912-1971) and the 10th anniversary of the death of his brother Franco Batacchi junior (1944-2011), the works of Renzo Battacchi "the expression of color", multiple selected and awarded in Painting Competitions and Awards and with countless certificates and publications in art magazines and catalogs, such as ART NOW and PREMIO SGARBI. With the exhibition of 6 works by his father Franco Batacchi BAT the painter of Light, 4 works by his brother Franco Batacchi Junior and 39 works by Renzo Battacchi. A unique opportunity to present this fantastic family of Treviso artists to the Treviso public.
From October 28 to November 3, 2021 in Rome, the Laborart Cultural Association organizes the Collective Exhibition "ART IN CHAOS" at the Contesa Arte Gallery in Via Margutta 90 and Renzo Battacchi's work "AN OASIS OF QUIET" will be exhibited
From 29 October to 1 November 2021 at the Ferrara Exhibition and Congress Center (Hall 5) the works "LE CASE TRA I FIORI" and "ALBA JONICA" selected for the Vittorio Sgarbi 2021 Award will be exhibited to the public.
A television service is running with commentary on his work "LA GROTTA DEL PARADISO" with personal photo and montage lasting 3 minutes, with publication for one year in the Art Tv web channel, available via app all over the world on smartphones , tablet, and with disclosure on social pages (Facebook, Instagram of ART NOW and EA EFFETTO ARTE) IGTV Artnow and YouTube, and exhibition of the work for 2 weeks in the Effetto Arte Gallery in Via Ariosto 19 - Palermo.
SEE ALL ARTWORKS BY RENZO BATTACCHI
Reviews by exhibition curator and art critic Dr. Maria Di Pasquale:
September 18, 2021:
Wonderful! It is very true that his works are immediately recognizable from the stroke, from the symphony of colors, from the poetics, the search for simplicity that is the wonder in things, in nature, in landscapes, works that excite the noblest souls. Thanks!
April 8, 2021:
The work reflects the wonder of the colors of nature. It is a praise to it and manages to do so by capturing simplicity, the moment that represents stillness, where all chaotic thoughts are lost, giving space to light, to breath.
August 3, 2021:
I particularly love his paintings, they manifest the purity of the soul, peace, everything that nature offers us, simplicity, his paintings always excite me.
The name RENZO BATTACCHI is associated with the one attributed to it by prof. Vittorio Sgarbi, and other gallery owners (THE EXPRESSION OF COLOR).
The list of magazines where works by Renzo Battacchi are published:
Art Now September / October 2020
Art Now October / November 2020
Art Now January / February 2021
Sgarbi Prize Volume N. 1
Art Now March / April 2021
Sgarbi Prize Volume N. 2
Art Now May / June 2021
Sgarbi Prize Volume N. 3
Catalog of the Margutta Gallery in Rome
Art Now July / August 2021
Sgarbi Prize Volume No. 4
Art Now September / October 2021
Sgarbi Prize Volume N. 5