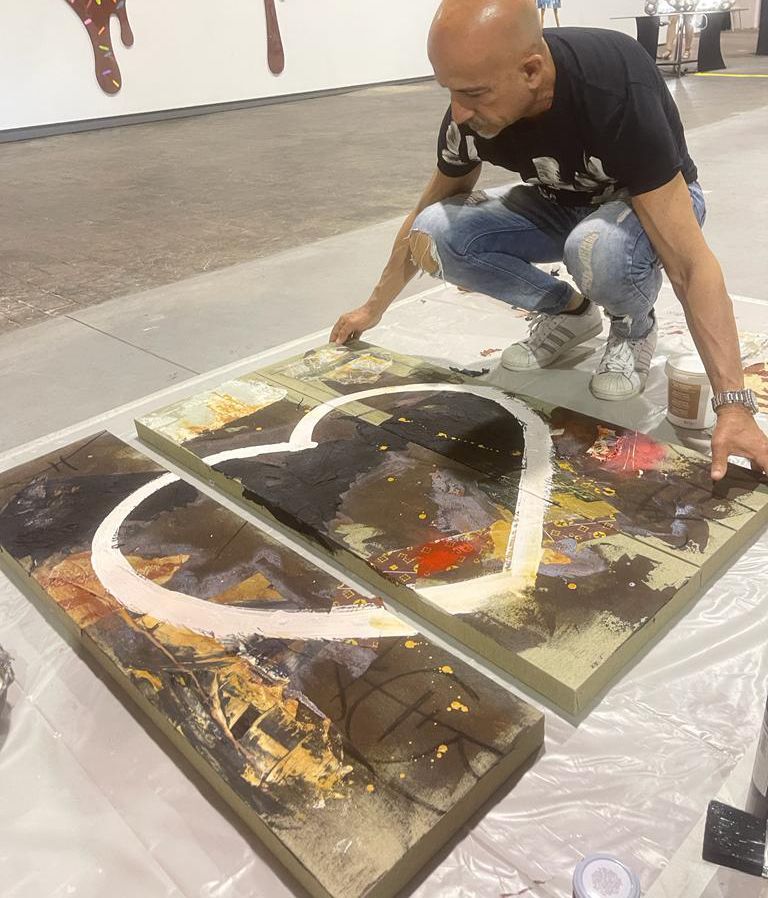 Paolo Ravalli.
Paolo Ravalli, Milanese artist born in 1959, began his artistic research in pictorial figuration as a pupil of Francesco Amadori and thanks to his adherence to the "field theory" of Attilio Marcolli, he became one of the first artists to introduce the subdivision of space and color. In the early eighties he was hired as an art junior at the G&R associati studio in Milan, which put him in contact with important clients such as: the Teatro della Scala, Artemide, Ricordi and many others. Continuing his apprenticeship at various Milanese advertising agencies, he creatively crossed the so-called "Milan to drink" (a subculture of the 80s that saw the birth of images and icons that are still remembered and celebrated today).
The advent of digital during the early 90s sees his artistic production develop towards digital illustration and commissioned by important studios and agencies to interact in the creation of images and visuals for artists such as: "Celentano, Jovanotti, Max Pezzali, Edoardo Bennato, Fiorello, Pino Daniele and many others".
At the same time he does not neglect the analogical and manual aspect of the pictorial gesture by organizing a solo show in Bergamo that describes the interaction of the computer with the poetics and thought of visual art.
During the Lockdown period he concentrated on a more intimate vision of his pictorial composition, returning to the immediacy of the gesture (action painting) and to an abstract expressionism that rejected external influences and suggestions. He also becomes part of the Bagutta group and participates in numerous themed collective exhibitions and exhibitions. Among the most recent are: the review on Dante at the Captaloona gallery in Madrid, the Nino Galizzi event at the former university of upper Bergamo, Arte in strada in via Bagutta (Milan), Participate in Arte Genova 2022,
Subsequently he is among the selected artists of VeniceArt 2022, the Merighi gallery in Genoa hosts and exhibits several of his works for themed exhibitions. In November 2022 he participates in the Arte Padova fair.
"In the author's paintings we therefore find a set of elements and symbolisms that are positioned in the movement of the great material artists, from Tàpies to Götz and go to extremes with the poetry of Burri's material. Ravalli's imagined cities are therefore a desire for recreation and escape from what we totemically see every day... A set of familiar images that condense and overlap with concentric and geometric movements that are synthesized through a highly personal system of signs and numbers.
An escape from any pre-established reality, an existential and genuine research, aimed at the opposition of a certain lack of values and certainties produced by the surrounding world."
Christian Humouda - Art critic and journalist.