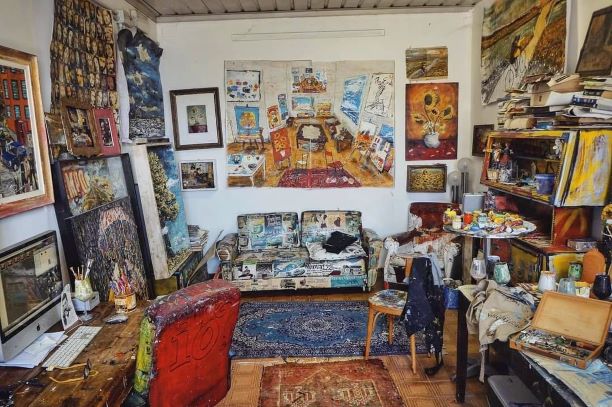 Paolo Franzoso.

"I take notes from past stories to draw a new one that is even more beautiful".
Born in Chioggia in the province of Venice and raised in the fervent Bolognese climate, in a family particularly close to the arts and philosophy, from an early age he cultivated, with curiosity and a spirit of innovation, a passion for beauty, nature and music. Supported by this background, he applied his creative vein to advertising communication, continuing his training, after graduating in Visual Arts, with the practice of computer graphics, initially working as a freelancer and later opening his own business in Adria. Franzoso's relentless creative, experimental and interdisciplinary spirit soon led him to total dedication to art. Following great changes that upset his life, in a stormy and eventful period, under the pressure of various turbulences triggered by absolutely personal experiences and changes, in 2015 he founded the Artisticheria a studio, workshop and place of fruitful meetings and fraternal friendships. , like the one sanctioned with Marco Bertoli, a profound connoisseur of art, who will support Franzoso during his activities in galleries and institutions. Giving free rein to his imagination in this artistic space, he finds refuge every day and gives birth to an explosive production. Franzoso's work is born from this stormy laboratory of life, a locomotive, full of swirling expressive energy, lively feeling, renewed strength and motivation, directed towards a better tomorrow.
TECHNICAL VARIATIONS AGAINST THE WEAR OF LIFE
"I started painting to fill the emptiness of the sleepless nights that I suddenly found myself living with color and this is how my life was recolored with happiness".
Multifaceted active spectator, curious about the freshest current events, the artist dares to rewrite and revolutionize the rules of artistic techniques through innovative experiments, pushing himself deeper than ever into the unconventional creation of unusual materials and the breathtaking assembly of styles and visions. Like a two-faced Janus he loves the visual and literary currents of the past and at the same time directs his ecstasy and admiration for the most contemporary and current cultural trends, such as Street Art and Graffiti. Writing, which ceaselessly culminates in his kaleidoscopic thoughts and visions, plays a pivotal role in Paolo's artistic practice. Franzosian canvases often and willingly report handwritten puns, mottos and poetic quotations full of meaning, slogans and newspaper clippings that contain explicit references to today's world. The self-taught approach and mental eclecticism are not a futile accessory, but a lifeline, a pivotal pillar that supports the artist in painstakingly tracing roads not yet traveled. Without ever being a slave to the cliché he adopts quotationism, the dreamlike and fairytale pairing of simple objects and fantastic images, the montage of layers of collage and chromatic material; these are the characteristic elements that constitute the beating heart and the driving force of his original and "unrepeatable" artistic technique.
I GET DRUNK WITH HAPPINESS
"It seemed impossible to me to put my chaos in order in this small room and I asked myself: how did it all fit into my even smaller head before?"
So first is Chaos the key concept of the exhibition, "a wonderful disorder that tells the story of life" says Franzoso.
From an intimate attribute of artistic inspiration to a public phenomenon of modern life, Chaos is to be understood in its most ancient meaning, as a primeval entity, generative and open space, if not an abyss full of creative potential. From the warmth of the domestic walls, rendered in a Picasso-style perspective, marked by the disordered presence of everyday objects, delimited by bold drips and outlines of expressionist appeal, the viewer's attention shifts to the rhythmic and pounding disorder of the great metropolis, in which identity anonymously hover between the antithesis of brands, signs, icons and advertising logos of the mass media.
Other elements constantly return to the artist's work. Otherworldly utopian visions, animated by Michelangelo's mythological divine entities, by modern characters with a fantastic Pop style, alternate gaudy circus and bohemian atmospheres, in which cylinders, tails, clowns, acrobats and jugglers flutter. The bird's eye views, the theatrical scenes of villages and cities are flanked by the romantic and silent dynamism of magical seascapes which, blending with the scents and colors of the seasons, portray, in the words of the artist: " an infinite moment of time "inviting the viewer to a reflective pause necessary to evoke a sense of stillness and happiness.
In their sequence, the works lead us to understand the genesis of the artist's modus operandi, his inner nature and his spirit of research and humanity. The paintings are inspired by everyday objects and are created through the union of painting practice and assembly.

This combination of techniques, combined with inserts of material strokes and colors with a unique charm, gives life to a series of artistic figures and linguistic forms that reveal the thousand faces of a universe full of vitality. In the canvases we observe not only naturalistic figurative representations, rich in explicit references to the present world, but also puns, slogans, messages, at times poetic, that hover over views and architectures animated by modern and classic icons.
In the works on display, subjects settled in the collective consciousness recur, drawn from literature and the mass media, which transmit to the observer a reassuring sense of familiarity and therefore serenity.
These characteristic principles, which constitute the beating heart and the driving force of his work, allow Franzoso's art to travel beyond its borders and to capture, welcome, the attention of the public, even the less accustomed to the world of art, inviting him to a reflective pause necessary to evoke a sense of stillness and happiness.
Eugenia Battisti
SEE ALL ARTWORKS BY PAOLO FRANZOSO