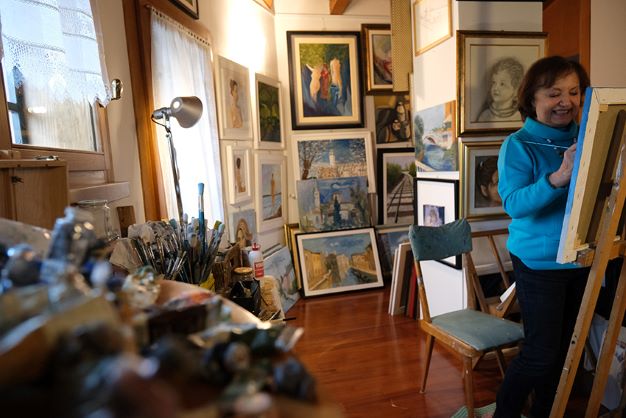 Nica Degan.
She was born and lived as a girl in Grizzo di Montereale Valcellina, married she lived in Pordenone, now she lives and works in San Quirino.
She attended the International Institute of Graphics in Venice for 3 years, then she attended the 4 years of the Free Nude School at the Academy of Fine Arts in Venice. Finally, you attended the New Graphic Art Association of Mestre - Venice for 6 years.
A portrait of her by Fulvio Tomizza was published in the book "Beyond the window - The Complete World by Fulvio Tomizza". Another of her works was chosen as the cover of the book "Il Maestro di Violino".
She has represented two stations of the Via Crucis now exhibited in the small church "La Fradese" in Grizzo di Montereale Valcellina (PN).
She has done representative illustrations of some tales and participated in multiple collective mosaics, now exhibited in various sites.
She has attended several times to pictorial accompaniments to musical evenings in memory of Lelio Luttazzi and Edith Piaf.
Three of her artworks have been published in the magazine Arte of the month of July 2020.
One of her artworks was included in the 2020 Mondadori Dell'Arte Moderna Catalog.
She is an extrovert and multifaceted artist, always in search of the new. Her love for nature and for life shines through her painting.
She has exhibited in various collective and individual exhibitions, obtaining flattering reviews from authorities in the art world.
SEE ALL ARTWORKS BY NICA DEGAN
Personal Exhibitions
Arte Fiera Pordenone - Market Exhibition of modern and contemporary art - January 2020
Art Talent Show - Arte Fiera Padova - November 2019
Playing with Mozart and Chopin on the banks of the Livenza - Palazzo Ospitale San Gregorio Sacile - June 2019
Soiree Hommage Edith Piaf - Villa Frova Stevenà di Caneva (Pn) - December 2015
The Mythical Sixties in the paintings of Nica and Maria Degan - Palazzo Ragazzoni Sacile - November 2014
Music Art & Words - Tribute evening to Lelio Luttazzi - Grizzino Grizzo Restaurant Momterele Valcellina (Pn) - March 2013
Harmonic balance of notes, colors and shapes - Bar Ink Pordenone - February 2013
Between dream and reality - BNL Telethon Pordenone - December 2010
Collective exhibitions
Dantesque Suggestions - Exhibition of Italian Contemporary Artists - Villa De Claricini Dornpacher - Moimacco Cividale (UD) - October 2021 and still ongoing
Cence Pòre - Collective exhibition on the Legendary figures of Friuli Venezia Giulia - Palazzo Orgnani Venzone - September 2021
Repeated in Lestans (Pn) - Villa Savorgnan - October 2021 and still in progress
I Veci Mestieri - Painting and sculpture exhibition - Palazzo M. Mantica - Pordenone - October 2021
Fashion art Sea MITOS - Cinema Cristallo Grado - July 2021 - (picture reported)
Extra Moenia - Venice art exhibition - June 2021
Art Review - Pordenone Fair - June 2021 - Also in October 2020 - Also April 2019
The Villages of Pordenone - Pordenone Fair - October 2020
Collective Art - Palazzo Pera Pordenone - October 2020
Mestre Painting Award 2020 - Mestre (Venice) - September 2020
Horizons Artistic expressions of contemporary art - Marostica - September 2020
Mare Nostrum - International Review of Contemporary Art - Castel dell'Ovo Naples - July 2020
Contemporary Italian Artists - Cologne - May 2020
Review of Art and nativity scenes - Villa d'Attimis Strassoldo (UD) - December 2019
Review of handcrafted nativity scenes - Palazzo Della Provincia Pordenone - December 2019
The nativity 2019 - C.T.G. Kennedy Prata di Pordenone - December 2019 - (Recommended work)
The smile of Nadia and of all women - Dignano (UD) - October 2020. Repeated - Gorizia - November 2020
Autumn Meetings - In art poetry music - Palazzo Pera Pordenone - October 2019
Exhibition with various titles also carried out in the - Years 2018 - 2016 -2015 -2014 -2013
Art Review - Philatelic Exhibition - Casella Di Guardia Porcia (PN) - July 2019 Art Review - Philatelic Exhibition - Aldo Moro Cultural Center - Cordenons - May 2019
Panorama calls Europe - Cloister of the Pordenone Civil Library - May 2019
Woman and the five elements - Museum of Blacksmith Art and Cutlery Maniago - March 2019
Woman is Art - Pordenone Fair - March 2019 - March 2018 - March 2017 - March 2016 - March 2015 - March 2014 - March 2013 - March 2012 - March 2011- March 2010 - March 2009 - March 2008
Exhibition with various titles also carried out in the - Years 2018 - 2016 -2015 -2014 -2013
Art Review - Philatelic Exhibition - Casella Di Guardia Porcia (PN) - July 2019
Art Review - Philatelic Exhibition - Aldo Moro Cultural Center - Cordenons - May 2019
Panorama calls Europe - Cloister of the Pordenone Civil Library - May 2019
Woman and the five elements - Museum of Blacksmith Art and Cutlery Maniago - March 2019
Woman is Art - Pordenone Fair - March 2019 - March 2018 - March 2017 - March 2016 - March 2015 - March 2014 - March 2013 - March 2012 - March 2011- March 2010 - March 2009
Exhibition with various titles also carried out in the - Years 2018 - 2016 -2015 -2014 -2013
Art Review - Philatelic Exhibition - Casella Di Guardia Porcia (PN) - July 2019
Art Review - Philatelic Exhibition - Aldo Moro Cultural Center - Cordenons - May 2019
The Colors Tell - Savoy Beach hotel Lignano Sabbiadoro - June 2018
The Nativity in the shop window -Pordenone - December 2017
The Illustrated Stories - Palazzo Toffoli Montereale Valcellina (PN) - October 2017 - October 2015 - October 2014 - October 2013
Art meets the City - Pordenone Library Cloister - October 2017
Oktober art - S Pier D'Isonzo Library - October 2017
Playing with Art - Taulà Dai Bos Cibiana di Cadore (BL) - August 2017
Acqua Terra Cielo - Painting and sculpture exhibition - Palazzo Della Provincia Pordenone - June 2017
Open doors on the Noncello - Bridge of Adam and Eve - Pordenone - May 2017
The soul of the Aerista - Savoy Beach Hotel Lignano Sabbiadoro - December 2016 - January February 2017
Christmas is Life - Ottoboni Gallery Pordenone - December 2012
Wild, Domestic, Company -Painting animals in their own environment - Central Museum of Malnisio (PN) - June 2016
Panorama calls Europe for Art - Palazzo della Provincia Pordenone - May 2016 - Also May 2015
Via Crucis della Fradese di Grizzo - 6 December 2015 donation of the works to the parish and their placement in the church
Taste and Art - Lorenzonetti Lignano Sabbiadoro farm - October 2015
Art in the Park - Spinea (VE) - September 2015
Il Bello in Arte - Terrace by the sea Lignano Sabbiadoro - May 2015
The Landscapes of Energy - Central Museum of Malnisio (PN) - June 2015
The Arts on stage - Concordia Theater Pordenone - March 2015
Street artists - The charm of Barcis (PN) - July 2014
The discreet charm of still life - Giacomello Montereale Valcellina Social Center - June 2014
Collective Christmas 2013 - Former stable of Palazzo Attimis Maniago - December 2013
Discover Montereale - $ countries seen through the eyes of painters - Giacomello Social Center Montereale Valcellina - June 2013 - Also Percorsi and Cromie July 2012
Collective exhibition of the Free Nude School - Academy of Fine Arts of Venice - Galleria Minima Mestre - March 2013
Comparing artists - Palazzo della Provincia Pordenone - October 2011
Different Operations - Doretti typography Udine - February 2010
Painting Exhibition - Cordignano - November 2009
Colors and Forms - Palazzo della Provincia Pordenone - October 2009
The Circus never seen - Castle of Torre (PN) - July August 2009
One Hundred Artists Together - Mosaic of solidarity - Images of Friuli - donated to the CRO of Aviano - Year 2009
Contemporary art exhibition - Pordenone Fair - April 2009
Cordenons in rosa - Aldo Moro cultural center - February 2009