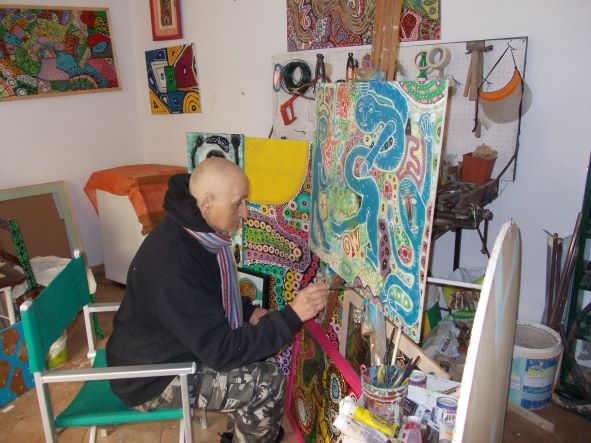 Mauro Benedetti.
Mauro Benedetti was born in 1947 in Maremma and lives in a farmhouse between Capalbio and the Argentario. Around him there is only countryside, animals, a river, and enough for the painter, because everything is as always, as wild as when in the past there were cowboys and brigands.
All this is in tune with the painter's shy and wild character. His painting was born naive, containing animals, plants, nature in general, a protest against the continuous mistreatment of him. In recent years his painting has undergone an evolution born from the need for a changing world. For worse, says the painter, and here are the bright colors of an "abstract painting" forced to be such by an increasingly unfair and perverse world. However, a job that has already been going on for twenty years.
The painter's works are in Italy, Switzerland, Spain, Germany, Connecticut, New York, Bahamas.
"In November 1983 I had the need to put a strange mood on a small canvas, then I made even ten and submitted them to a famous gallery owner in Porto Ercole, Countess Crispolti, niece of Enrico, a famous art critic. So it was that in 1984 the lady gave me an exhibition. They were mainly animal subjects, almost dialogues, as La Fontaine or Phaedrus testify.
But my work was not cast, but contemplative built like Japanese heraldry. They called me "the ligabue of the Maremma", but nothing to do with the great Antonio. Years of exhibitions between Porto Ercole and Capalbio at the castle whose owners were friends of Puccini, a great hunter. in the gallery in the summer there was a procession of important people who were friends of the gallery, in short, there was the beautiful world of entertainment, cinema and culture, and this from twenty years earlier. For me, doing exhibitions elsewhere was not congenial, at least for some periods. Then I went in the countryside and painting has taken another turn, a social and political research, the works are the current ones. Art therefore for me is to witness certain events by building every single work on historical literary research and political events by creating a subject that I then put on canvas. Painting will remain a mystery, a tiring research, almost necessary, however, "a nonsense", out of everything, almost precarious. How life itself is a "nonsense". As Pascal wrote - we are born to die we just have to live, therefore - That is all ... it is probable. "
SEE ALL ARTWORKS BY MAURO BENEDETTI

Personal exhibitions:
- "Galleria Doria" Porto Ercole 1984-2002 15 mostre
- Castello di Capalbio 12 mostre 1988-2000
- Sala comune Monteargentario 1985
- "Galleria Pascucci" Grosseto 1986
- "Galleria Anselmi" Viterbo 1988
- Centro storico Firenze 1990
- "Galleria La Vetrata" Roma 1998
- Studio Del Canova Roma 2003
- "Galleria Davico" Torino 2007
- "Artespaziodieci" Bologna 2009
- "Galleria l'artista" Rovigo 2010
- "Galleria Logos" Roma 2011
- "Antico Frantoio" Orbetello 2012
- "Associazione Open Art" Roma 2013
- Parco della Maremma 2014
- Parco dell'Amiata 2015
- "Hotel Valle del Buttero" Capalbio 2017
Collective exhibitions:
- Villa Rendano Cosenza 2006
- Città dell'altra economia Roma 2007
- Palazzo Gradari Pesaro 2008
- "Galleria Falteri" Firenze 2009
- Palazzo Patrizi Siena
- Orler Puntala 2010
- "Galleria del Sale" Siena 2011
- "Il bagutta" Milano 2012
- Palazzo Turzi e Berio Genova 2013
- "I Navigli Milano" 2014
- Fabbrica del vapore Milano 2015
- Associazione Volturno Roma 2016
- Comune Rocca priora Roma 2017
- "Galleria Poleschi" Milano 2018
- " Galleria il Canova" Roma 2019
Projects:
- Lab project. Orler Venice 2012

- Poleschi casa auctions Milano auction n.14 of 13-11-2014 and n.15 of 11-11 2015

- Ass. Liberarte Pordenone tele-sales

- 2016 - The Zodiac Livorno telev.

- 2017- Gigarte auction house Viareggio

- 2020 publications - tirreno nation messenger art newspaper Corriere di Viterbo and Florence - rebirth - red and black - Italy gallery - paintings and sculptures - various Mondadori art - il buttero.

Awards:
- City of Carrara fiction 1990

- City of Merate Narrative Award 1992

- Accademia del Marzocco Lifetime Achievement Award 1994

- Accademia G.Marconi prize for painting 1996

- Award for painting Accad. Macchiavello and in honor of the city of Vienna present Austrian ambassador 2000

- Diploma in the competition prov. "the horse in the Tuscan Maremma" present Giorgio Celli

Author criticisms.

For Mauro Benedetti the life that counts, marked by pure feeling, by intimate impulses, by unfiltered pleasure, is certainly that of his canvases. Naturally, with spontaneity, Benedetti unravels his stories, setting up fantastic worlds, creating physical balances.

Provocations? No, an ideal and dreamy world of looking around oneself, showing that it possesses intact the original meaning of things, not lost, not attacked and defeated by the ordinary and obligatory nature of everyday life. A contemporary philosopher who without maxims transmits a message of deep love. Making combinations, seeking affinities, wanting to place it in a well-defined and circumscribed pictorial space, would be an act of violence and banality. A relaxing, musical painting, like certain pieces for flute by Emanuel Bach. And yet from this apparent decorativism of his, he jumps out in an even biting way, a reproach to contemporaneity, to haste, to immoderate profit.

Siping his paintings can intoxicate, can give rise to doubts and reflections in us, undermine our apparent security as men of today. So let's not trivialize his stories on canvas, let's not smile in admiration and satisfaction for his chromatic ability, for his creative imagination. We interpret these paintings of him as a way to safeguard that baggage of spirituality and purity which, if maintained, could make our lives less complicated. Fairy tales of life? Teachings, perhaps but above all a part of that ideal world and that existential relationship that Mauro Benedetti, a man, before being a painter, does not want to disperse.

PAOLO PISANI Written on the occasion of the exhibition at the "Paride" municipal gallery

The complex pictorial world that Mauro Benedetti proposes to us with an entirely apparent candor and primariness, turns out to be highly engaging precisely because it appears rich in so many possible misunderstandings that on a more in-depth examination disappear, in slow succession, dissipating the mists of a reality straddling the surreal and the quotationist and very often interpenetrated in both situations. In its slow "revelation" the work of Mauro Benedetti investigates, not without polemical intentions, the still mysterious relationship that binds man and nature, in a system in which one is placed from time to time to be part of the other or vice versa they are considered as conflicting realities. It is the painful awareness of a man who uses the story to exorcise the wickedness, weakness and injustice of an imperfect world.

ANGELO VARZI Presentation in the catalog at the "Artespaziodieci" Gallery - Bologna 1989

Observing Mauro Benedetti's painting, it is possible to acquire a slow and very marked drawing in the outlines, a lively and two-dimensional coloring and an extraordinary wealth of compositional elements. A warm chroma that gives us a tense and restless mood of the artist. We can detect an instinctive contact between the painter and a sweet but emotionally aggressive nature. We are not faced with a candid, dreamy, contemplative painting, but we are faced with a tense painting, almost disturbing in the relationship between man and nature, as if a hidden aspiration of the artist were revealed, of a rescue of nature on the man, who is its violator. A representation of an archetypal world full of fears and inner tensions. However, it seems to discover signs, symbols and colors that were just waiting to be freed from his mind in strong creative tension.

TONINO FORNARO
After the discovery to the south of the spell of Mount Circeo, the ferments of Roman cultural migration have thrown a rostrum to the north for some years, approaching their thirst for intact, evocative, first Mount Argentario, more recently Capalbio and its surroundings. From these places, from the still charm of the Orbetello lagoon, from the walls dear to Giacomo Puccini from which Capalbio dominates the verdant Mediterranean scrub, Mauro Benedetti's paintings draw inspiration and plot in a sort of apparent idyll "en plen air". Singular and unusual personality of an all-round artist, Benedetti, native investigator of those places, visionary inventor of wefts and warps which in themselves for their sign, are the antithesis of any easy classification in the vague primitivism "à la mode".
Benedetti refers our attention to a lost arcadia, a chimerical promiscuity, a radiance trassonnata precisely through a sign all inlaid, spirals and thrills that absolutely distinguish him from the banal walking crib that is now the "naïveté" of our days. As Duccio Trombadori assiduous, a lover frequenter of the places of Mauro Benedetti's painting, says "Benedetti's plastic virtue is found in some of his slightly Chagallian angles, which arrange the objects on staggered planes, break the perspective scale and are resolved into a complete investigation: to be looked at precisely, as one looks at the order of an ancient mosaic, with its stories, its figurative orders, its symbolic.

PAOLO GIORGI Written on the occasion of the exhibition at the gallery "La Vetrata" - Rome 1998

Mauro Benedetti's canvases qualify as the master of a perfectly harmonized "composite", worthy of a far-reaching artist. A "global" projection of a narrative that is at the basis of philosophical rethinking and leaves ample space for the observer, providing the basic elements for a judgment on the visible, transitory and changeable that one wants, but always irrefutable resonance of the fundamental dimension, which is at the beginning of the earthly season.

Mauro Benedetti's pictorial dream unfolds calmly in visions that enhance reality in its optimal state, almost in a contemplative and never competitive order, almost an invitation to overcome the harsh laws of the "jungle", that forest that from the very beginning has transferred the struggle for survival in the metropolis of concrete and asphalt. The underlining of the contours are in good taste and carried out with an expert and accurate hand: often the message takes the artist's hand and leads him to neglect the finished form, to forget the values of pure aesthetics.

But this does not happen for our author, who maintains a poetic continuum of high and positive conception.

Pleasant paintings, which speak mainly to the observer's unconscious, to that part of the child man who wants to remember the beginning of the fairy tale of life, with its concrete symbols, for a codification of life that remains portentously as an edifying act, to the outside of chance, of merits and faults.

GIORGIO TUTI Written on the occasion of the exhibition in the gallery "Centro Storico 'Florence 1988
"The universe is boundless and eternal and man is small in his presumptions ".

Buddhist thought and Eastern figurative art come to mind. Mauro Benedetti's paintings reflect this state of mind. Thus his poems which have the light colors of his painting: space and time merge in an expansive vision from which the clear and revealing trait of small things emerges-Franciscan. But they are also the unveiling of a soul, which with unadorned effusion and sincerity recounts its evangelical inability to resign itself to the injustice and ugliness of the world. Then the protest and the accusation acquire an unsuspected force, which moves, affects and sinks. Those who, on the other hand, are strangers, tolerate, admit and therefore become an accomplice very often with the support of sophisticated intellectual attitudes can only be troubled.
BRUNELDA DANESI BISCHI