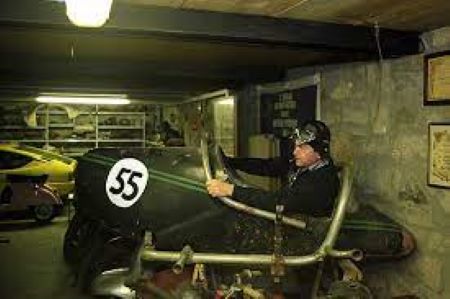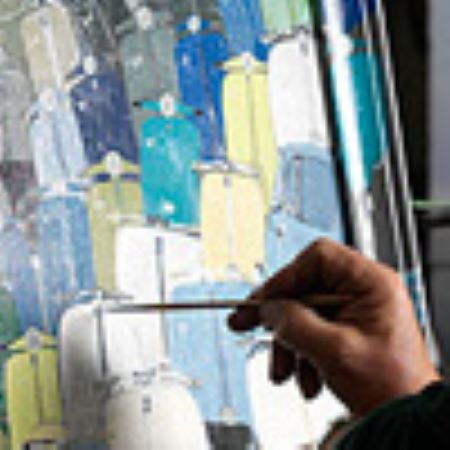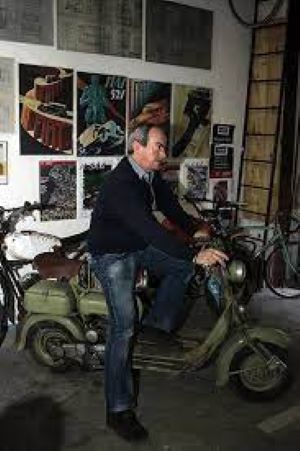 Maurizio Sani.
Maurizio Sani was born in Empoli (FI) in 1955 .He lives and works in Poggibonsi (Siena). In the 70s he attended the painting and drawing school of the Municipality of Certaldo directed by Maestro Tosi.
Since then a deep passion for everything related to painting and drawing has taken over the young Sani. In the 1970s, he participated in numerous awards and collectives that perfected both his expressiveness and technique. Sani uses the language of painting to explore new experiences and creates works with a subtle sense of humor. He takes inspiration from ordinary objects and situations but by depicting them he gives them a special note.
In his artworks there is a balance between irony and lightheartedness, tones that combine perfectly with a touch of melancholy.

Between bars and hangouts, I prefer my studio (let's call it that) I spend a lot of my day there painting between memories and old wrecks from which I take inspiration for my works, combining them with pleasant places where I often go to observe the nature that there gives these wonderful landscapes that change their appearance from week to week. I paint for most of my day so time flies away between brushes, colors and things from the past. My works go around the world where they are especially appreciated by those who are attracted by a great passion; (the car) are currently on display at Luzzago Art Gallery (Brescia) and in other galleries in Italy.
SEE ALL ARTWORKS BY MAURIZIO SANI

Here then is that he transforms his world into a pictorial gesture. It is enough to enter his studio to realize how much his ironic painting is a unique whole with the individual.
Maurizio Sani paints with joy in a studio-garage where cars, motorcycles, Vespas and Lambrettas are stacked and lovingly collected even in disastrous conditions, memories of an ancient past, and recovered from neglect. In this garage-studio you see a tripod with Maurizio behind him who, with the "Toscanello" in his mouth, puts his dreams on the canvas: to ride those motorcycles, to race with those cars in impossible races attended by ironic and politely naive characters.

Roberto Masi.
PRESS REVIEW
VINTAGE AUTOMOTIVE n ° 4 - April 2012 (view page)

RUOTECLASSICHE n ° 143 - October 2000 (view page)

VINTAGE CAR n ° 287 - July 2008 (view page)

VINTAGE CAR n ° 292 - December 2008 (view page)

VINTAGE CAR n ° 307 - March 2010 (view page)

VINTAGE CAR n ° 314 - October 2010 (view page)

EXHIBITIONS
March 2006 - MERANI GALLERY, Pietrasanta (LU)

March 2006 - GALLERY 18, Bologna

June 2007 - LUZZAGO ART GALLERY, Brescia (permanent exhibition)

June 2007 - PALAZZO DEI PRIORI, Colle Val d'Elsa (SI)

August 2007 - TUSCAN BY TUSCANS GALLERY, San Gimignano (SI)

November 2007 - GADARTE, Florence

December 2008 - Poggibonsi Art

February 2009 - Genova Arte

February 2009 - BARGELLINI AWARD, Florence

July 2009 - MUSEO DANTE GIACOSA GARLENDA (SV) (permanent exhibition)

August 2009 - PALAZZO DEI PRIORI, Colle Val d'Elsa (SI)

September 2009 - LIBERA COLL'ARTE, Colle Val d'Elsa (SI)

June 2010 - ART CAFFÉ, Florence

September 2010 - PALAZZO PRETORIO, San Donato in Poggio (FI)

September 2010 - CIVICO 69 ART CAFFÉ, Florence

December 2010 - IMMAGINA ARTE FIERA, Reggio Emilia

February 2011 - ART TIME GALLERY, Udine

March 2011 - GRAL SPAZIO ARTE, Pavia

May 2011 - TOKIO AWARD, Tokyo

June 2011 - PALAZZO DEI PRIORI, Colle Val d'Elsa

May 2012 - ARTE FIERA, Arezzo

June 2012 - DEODATO ARTE, Milan (permanent exhibition)

June 2012 - LA VIE EN ROSE, Florence

July 2012 - JUST ART, Rhode Island - USA

October 2012 - PALAZZO CAPO DI LUCCA, Bologna

April 2013 - THE CENACOLO, San Gimignano, Siena

June 2013 - PALAZZO DEI PRIORI, Colle Val d'Elsa

July 2013 - CASTLE OF CARINI (collective), Palermo

May 2014 - HOTEL FONTE VERDE, Capri

April 2014 - GUELFA TOWER, San Gimignano

September 2014 - VILLA BERTELLI, Forte dei Marmi

October 2014 - PALAZZO PRATELLESI ROOM, San Gimignano

December 2014 - HD ROOM, Pogibonsi

November 2015 - UPCYCLE - Milan

2015 - Realization of the Palio dei Rioni - Municipality of Tavarnelle Val di Pesa

December 2015 - UPCYCLE, Milan

March 2017 - SAN VIVAL GALLERY, Venice

March 2017 - CIRCOLO DEGLI ARTISI, Turin

April 2017 - MUSEO DELLA MEZZADRIA, Buonconvento - Siena

August 2017 - DANTE ALIGHIERI ROOM, Monteriggioni - Siena

October 2017 - POGGIBONSI COMMON PAINTING ROOM, Siena

October 2017 - BIENNALE VILLA BADOER, Rovigo

April 2018 - PALAZZO GATTESCHI, Porrena, Arezzo

May 2018 - PALAZZO DEI PRIORI, Colle Val d'Elsa, Siena

June 2018 - ARONE & ARONE GALLERY, Locri

June 2018 - MUSEUM OF THE 500, Garlenda, Imperia

July 2018 - DANTE ALIGHIERI ROOM, Monteriggioni, Siena

September 2018 - ART IN THE VILLAGE, San Gusmè, Siena

June 2019 - FORMER SYNAGOGUE MUNICIPALITY OF SORANO, Grosseto