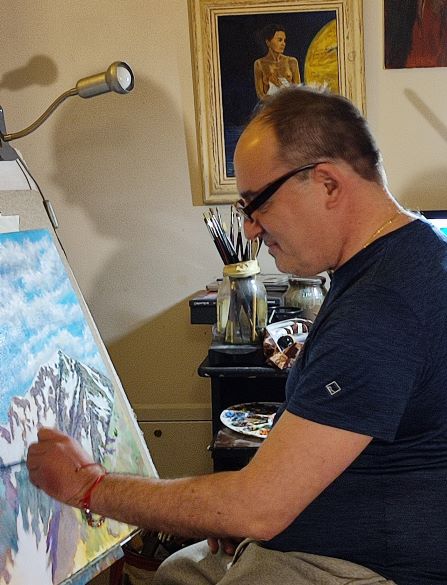 Massimo Bigazzi.
CRITICAL-BIOGRAPHICAL NOTE.
TRAINING AND PERIODS:

Massimo Bigazzi, a painter, forms his artistic culture by frequenting master-painters such as Francesco Verdi, Maxmilan Ciccone and others. Even as a child, his five-year stay in the city of Florence has already made him highlight his talent, through the creation of high-precision figurative drawings, both as regards the figuration of animals and that of characters. of comics. He lived significant experiences in Paris, Barcelona and Rome, between the end of the Eighties and the Nineties of the twentieth century, until he began to paint as a professional in the early years of the Third Millennium, with a continuous research inspired by the landscape and nature, through a vision original that recalls the Neo-Impressionism. He does not neglect the improvement, both on a formal and technical level, of the portrait and still life. As for current studies, he continues with the consultation of the works of Leonardo Da Vinci, Michelangelo, Raphael, Andrea del Sarto and Andrea Della Robbia, of which he also makes copies of them, using Renaissance colors and techniques, going to research materials and tools related to Italian painting of the 15th and 16th centuries. In 2019 he received the First Critics Prize during the "Visual Great Trophy - Expo Internetional Luci di Artisti" in the city of Salerno. Write about him: Mariangela Bognolo (Critic and art curator), Lia Bronzi (Literary and art critic), Enrico Taddei (C. d'Arte).

SUBJECTS: Landscapes, Nature, Figurative Portrait, Still-Life and more.

TECHNIQUES: Oil, Mixed technique with Oil and Tempera, Graphite, Charcoal, Sanguine, Pastels, Colored Pencils

EXHIBITIONS: Personal Montevarchi (Ar), Magiotti Gallery, September-October 2018. January 2022 - Terranuova Braccolini (AR) at the municipal council hall years 2015/2017. Follonica (GR) year 2016

INVESTMENTS: collective. Salerno, Palazzo Genovese (Stables), December 2018-January 2019, Montevarchi (Ar), Galleria Magiotti, December 2018-January 2019, Terranuova Bracciolini, Council Chamber of the Municipality, March 2019, Terranuova Bracciolini (Ar), Exhibition Hall of the Centro Commerciala by Pernina, April 2019-May 2019.