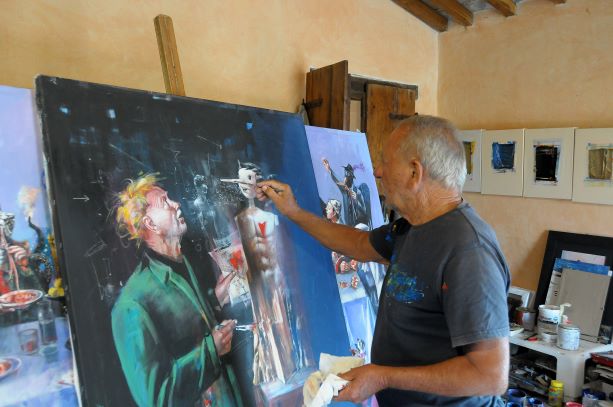 Mario Madiai
Mario Madiai was born in Siena in 1944.
At the age of thirteen he went to the art institute of Lucca and from a very young age he devoted himself to painting and, with his precocious talent, he immediately distinguished himself in the most qualified national artistic events in the 1960s-1970s.
At the age of 17, he won 1st prize at the fourth edition of the National Art Student Exhibition and was received at the Capitol for the award ceremony.
In the 1970s he worked for the Menghelli gallery in Florence where he opened a studio.
In the 1980s the gallery owner Forni of Bologna asked him if he wanted to be part of the group of artists of the gallery and he remained there for well over fifteen years, coming into contact with international artists and thus had the opportunity to exhibit all over the world (New York, Paris, Amsterdam, Miami, Munich, Berlin etc.).
In his artistic career he expressed various themes, such as flowers, leaves and water, a memorial table, August sunflowers, lemons, roses, Pinocchio, etc.
His paintings have recently been included in the permanent collection of the Mario Grimoldi Museum of Modern Art in Cortina D'Ampezzo and in the Museum of Art of Splendor in Teramo.
His artwork was widely criticized by Franco Basile, Elio Mercuri, Martina Corniati, Riccardo Ferrucci, Raffaele Monti, Tommaso Paloscia, Mario Quesada, Ludovico Ragghianti, Piercarlo Santini and Renato Valerio.
See all artworks by Mario Madiai