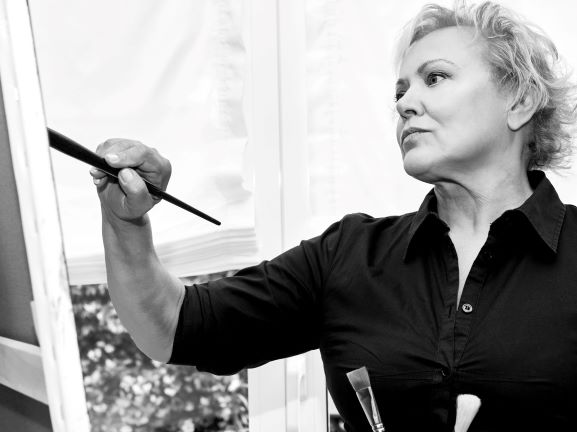 Marina Taroni.
Marina Taroni was born in Como in 1960. After linguistic studies she moved to Milan and worked in journalism for over twenty years.
Since 2000 she lives in the small town of Besano (Unesco World Heritage) on Lake Lugano, where she formed her artistic education in the atelier - school of master painting Michele Ferrari, finding a personal pictorial way.
Marina Taroni's artworks (free from anthropogenic contamination) are a language that translate the landscape into inner experience. These wild and solitary places are not passive views but they represent a reunion with the spiritual Self through the contemplation of that wonderful masterpiece which is the Creation.
In a society that lives by appearance, it's a return to Nature to reconnect with Authenticity. Man, although absent, is permanently evoked as the receiver of her artworks.
The artist has exhibited her paintings in important galleries and museums in Italy and abroad: Milan, Rome, Venice, Florence, Matera, Sardinia, Lake Como, Lake Lugano, New York, Dubai, Abu Dhabi, Paris, Amsterdam, Barcelona, Principality of Monaco.
Her works have been published in the Atlas of Contemporary Art (DeAgostini) and in the Catalog of Modern Art (Giorgio Mondadori Publisher - Cairo Media Group).
SEE ALL ARTWORKS BY MARINA TARONI