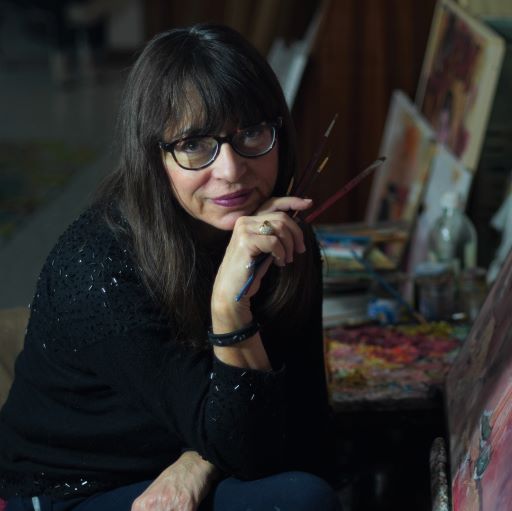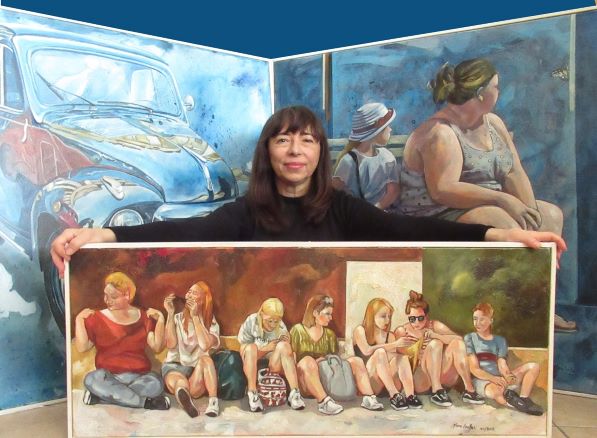 Mara Isolani.
She attended painting, fresco and design courses at the Cignaroli Academy of Fine Arts in Verona.
Mara has a master's degree in Art History. She has always been passionate about art, she started painting at a very young age, preferring oil painting on canvas. Of a figurative matrix, she looks at American figuration (with a great passion for Hopper and Sheeler) and her theme is travel. It proposes a world of life travelers, in a space where everything is imaginable, where "homo peregrinus" advances in search of his dreams and himself, where cars absorb journeys and landscapes on their shiny surfaces, where in the end the tourists in groups or alone become their alter egos, gilded casts, made with gold foil, human footprints, the synthesis of a maximized society where tastes and trends are increasingly similar to each other. Each work is a frame of life that assumes a before and after that will be imagined different by each person who will observe them. Each will project their own life and experiences into it. Therefore, the artist considers his works finished only after the user has generated his own interpretation, but, since the number of users is theoretically infinite, the works are never finished but continue to evolve over time.
Main exhibitions: Palazzo della Gran Guardia in Verona; Villa Falk Gallery and Kass Gallery in Innsbruck; Foyer of the Kapuzinertheathers of Luxembourg; Artexpo of NewYork; Art Philadelphia Fair, Philadelphia, USA; Space Agora of San Giovanni Lupatoto, Verona; Rathausgalerie of the City of Waidhofen a.d. Ybbs - Austria; Galleria Palazzo Maggi, Nogara (VR); ArtCubic Gallery, Barcelona, ​​Spain; Malta International Biennial of Art; selected for the Arte Mondadori award, Sala Barna Gallery in Barcelona (Spain), Verona-Innbruck twinning exhibition at the Palazzo delle Esposizioni in Innsbruck; Happening at the Fabrica xx / 9 Gallery in Verona; Salzburg Art Fair; exhibition "I Veneti", Torre di Ponte Milvio, Rome; Straf Art Hotel, Milan; ArtVerona 2013, Spazio Independents, Myhome Gallery; Exhibition "Travel and landscape" at La Corte di Felsinea, Bologna; personal exhibition "Travel and landscape" at the Albino Piona winery in Villafranca, Personal exhibition at the Polo Confortini in Verona; Exhibition at the Hoffbug in Innsbruck; exhibition "Contemporary Visions" at the Casa dei Carraresi in Treviso. Artist participated: Arte Fiera di Padova; Cremona Art Fair; Art Fair of Pordenone; Art Fair of Parma.
SEE ALL ARTWORKS BY MARA ISOLANI
COLORS ON THE ROAD.

Personal exhibition by Mara Isolani.
A deeply strong-willed, courageous, attentive and determined woman who has made art a great reason for living.
She is a woman of mind and heart that she has always painted: when she was just over four years old, she made the first painting of her.
And even if life has accompanied her along different professional paths, her artistic point of light has been cultivated in parallel by studying closely, approaching the various pictorial, graphic and sculptural techniques to try to test herself, to evaluate procedures , yields, results, in order to improve, to perfect the stylistic code, his already well-formed personal language.
Each work for Mara Isolani is a unique creative experience that is formed first in the gaze, in the thoughts, in the emotions and is a living material that flows as a course that knows how to dissolve the light of Nature poured into the colors in the great compositions that tell with innate simplicity the movement of color, the atmosphere created by the brushstroke, by the intersection of the planes and lines of force that express a reality given by a surface stratified by several images and by the many impulses that flow around.
There is a "beyond", a remote force, an echo, a particular call that pervades his works almost as if they were looking for each other and then coming to involve us chorally, in the testimonies reached through unique, passionate, arduous experiences because they are built on figures and shadows, such as presences and "absences". Every creature exists, offers its plastic consistency also through the shadow that is the trace of history, of what it was, almost an outcrop of the unconscious, sinopia of a wall that falls apart, void that refers to the fullness of the object, the pictorial texture that thickens and veils to then become only an imprint.
And the backdrop of the Opera is there like a painting within a painting: it is a bizarre chromatic fabric that lives between the shapeless and the fraying of a geometric vibrating that was a short while ago and now is no longer, it is transforming before our eyes, it moves , rotates, dilates fluctuating colors that feed on their own life.
And these funds that appeared in Mara Isolani's works already more than twenty years ago, today emerge worked with sand and mortar in relief to form layers, walls, like living walls of our memories, of a past that has lived the journey of time , the succession of generations, one after the other, all our memories of the silence full of touches, of dissolutions, of the dull colors that let the trembling reflections of the day to come flicker.
And here we feel the double: the one that always transpires as an eternal game that oscillates between finiteness and indistinct, the accomplished and unresolved depth that adds, step by step, a personal, arbitrary perspective that pushes the eye between color. and matter towards that vagueness that reaches solutions subject to distant references, to evocations, to dreams, to expectations.
And one more peculiarity of Mara Isolani is in the use of the preciousness of gold that outlines, spreads, underlines the subject of the Work itself, but which later interacts with the earthy powders abandoned and fixed in projection, as residues of something burnt, of combustion, which comes from his firm, decisive research, from his tenacious and passionate will, which indicates new territories to explore, to travel, to walk, to live.
You travel, you move, you go with the beautiful motorcycles or vintage cars with the very nice green Giardinetta with the red and white striped awning, with the extraordinary Locomobile of 1914, with the Balilla with fenders shiny like a mirror that reflect the colonnade of the Town Hall or the Arena of an enchanted Verona, the Verona one so loved by the artist.
And then here the curious tourists arrive in groups, in droves, colorful, bewildered, distracted, half dazed by tiredness and forced progress: backpacks on their shoulders, cameras in hand, funny hats on their heads, short T-shirts on their bellies out, shorts, crafty dogs on a leash.
You will never stop exploring, you go without a destination in a fascinating priceless experience that makes us better, discovering paths where you can assemble emotions and projects, what matters is to go.
It is the complex poetics of contemporaneity, of the sentiment of our world which, in its density of languages, customs and traditions, contains both a veil of irony and sadness.
It is enough to know how to look around to grasp the totality and the tensions that live inside and outside us, first of all in the sensitive and complex soul of an Artist like Mara Isolani, who in this journey, seen as a metaphor for life, as a feeling of passage, feels the necessary condition to continue to move forward, to be here and now and somewhere else together, to share with a free spirit and with new eyes the path that each of us must travel ..
Marifulvia Matteazzi Alberti.
The philosophical research of Mara Isolani.
By: Anna Rita Delucca (Bologna)
The refined aesthetic research of Mara Isolani is the daughter of intellectual culture and innate manual ability, perfected through the help of specific technical experiences acquired in artistic practice.
His style out of time and space, understood in their most common sense, constitutes, on the one hand, a reference to Surrealism above all as an estrangement from conscious reality and for its pushing towards a cognitive state 'beyond' reality, a sort of vision that ventures beyond the visible, but on the other hand is linked to the philosophy of art of Hopper who in the 1950s / 1960s invented a completely personal realist style to represent American loneliness: his paintings in fact only in apparently they reproduce the real since they arise from a mental reconstruction that brings together elements observed in different times and places.
Like Hopper, Mara Isolani paints by assembling elements that have remained etched in memory, thus transforming simple objects into real symbols, inserted in timeless scenarios: a bicycle, a tourist who observes the world through the camera, a faceless human silhouette who moves like a shadow in an aseptic context, created with lights and geometric contours enlivened by flashes of chromatic gilding: it is the dimension of a dream, it is a world of life travelers who set out on a journey embedded in timeless architecture and characterized by a space unconventional where everything is imaginable, where everything is reality but at the same time it is also fantasy.
In Mara Isolani's work, travel and space are metaphors of life, the passage of time, experience, adventure and finally knowledge become the sap that nourishes the growth of the soul. These simple and geometric architectures are framed in a photographic perspective that achieves the effect of isolating the individual from the group and at the same time incorporating the individual into the whole.
Hopper used photographic compositions and cuts that he assimilated to the views of the Impressionists but in fact his style was very personal and imitated in turn by important filmmakers.
The composition of his paintings is basically geometric, with sharp and deliberately "artificial" lights in which there is a dramatic strangeness and lack of communication between the subjects. Their gazes often go out of the picture and turn to something invisible to the viewer. He was said to be able to "paint silence".
The lights and shadows of Mara Isolani are, on the contrary, warm, golden, bright with hope but they have in common with the great American painter the sense of space / time alteration, the figures come out of the "border of the picture" and turn to the unknowable.
Can we say of her that she knows how to paint the life that pulsates hidden beyond the silence?
Critique by Silvana Ticci Pirrello.
In the works of Mara Isolani it will be appropriate to look for the roots of the skill and perfection of lines and colors, in the Venetian artistic tradition, to which the artist is inspired, in fact the rhythms of his creations, ordered in succession, have a harmony that makes think of architectural modules, from the clear or golden voids of its flowers, which I love very much, to the explosion of the colors of the old motorcycles, a recurring subject, expertly mixed in brown tones, sometimes reddish, with a preference for warm tones, but always controlled and enclosed within very precise and defined constructions.

Mara Isolani's art explores territories where material research is cultivated through a painting that tends to fix and suspend a series of tangible data on the canvas with robust and solid brushstrokes, sometimes almost in relief, sometimes in flat backgrounds.

The motorcycles she depicts are disturbing idols of a mass civilization linked to the past, but with a look to the future, perhaps of what we will become, linked to the world of engines and technology, a concrete and recognizable representation therefore, but with a meaning deeper, almost occult, linked to the phenomenology of the object.

Whatever the case may be, Mara Isolani brings art back to a traditional and understandable scheme, with a nostalgic design operation, with hyper-realistic quotations, which, however, never take over. Precisely by virtue of this easy readability "the machines take on a codified fixity of fetishes".

Even the apparently gentle representation of flowers, which should show their sweetness and their scent, becomes an alibi to build a complex system of images that suggest our primitive ties with life, to help us rediscover the sacred sense of the world and of nature, in the renewed amazement of those who rediscover created things, thus raising us towards an otherworldly dimension.

The sacredness of nature, therefore, underlined by the gold backgrounds, as used, albeit with other subjects, by the masters of flowery Gothic.

Sometimes, however, in his canvases huge faces of grumpy children stand out in the foreground with the same fixity of the other subjects, but with a theme closer to human feeling, with a continuous research, always closely linked to reality, so much so as to remember some famous photographers Japanese, contemporary, true close-up masters, or even Michael English's big psychedelic posters.

In addition to the space of creation today, art also invites reflection and people seem more sensitive about it and if it is true that art interacts with the viewer, the works of Mara Isolani provide them with the means to reach their own potential creativity. , and therefore can recreate the work and interpret it according to his degree of knowledge, sensitivity and awareness.

From this osmosis arises what Bonito Oliva calls "the vital moment of art, in the sense of a transmission of energy, even if antagonistic, between the two polarities that make up the art system".

In this way the art of Mara Isolani interacts with the viewer, as it shows its multifaceted world where "her" images flow harmoniously, whatever they are, so that each subject and everything, instead of being exhausted in the repetition of itself itself, is realized through multiple stratifications in the Freudian sense.
I dare to say that Mara's painting is deep, discreet, not striking, orderly, a faithful mirror of her creator.