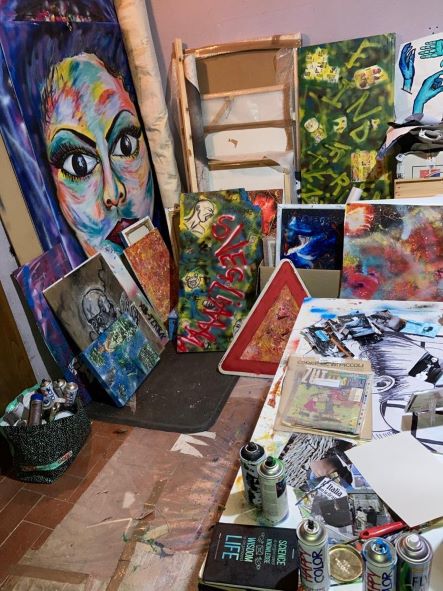 Madriterra.
Education and training:
Diploma in Editorial Illustration (2019 - 2021)
Diploma in technical and fashion designer (1999 - 2003)

I started my self-taught artistic path and not only from 2003 to today. I deal with painting, photography, streetart, illustration. I had the opportunity to exhibit in various galleries in Italy and a permanent exhibition at the Loire castle in France Chateau des Reaux. In 2017 I met and collaborated with the Belgian painter Charles Szymkowicz for his personal exhibitions, he is my reference teacher.
I started my self-taught artistic path and not only from 2003 to today.
I work in painting, photography, street art and illustration.
I have a degree in fashion technician and this is where my artistic pictorial career starts.
At school we used to do fashion photographic research with cutouts and collages where we tried to put together the fashions of the moment, the fabrics to use etc, etc ...
After school and after graduation, I immediately understood what my artistic path was to take, to give up the market, the fashions of the moment and become a free artist.
To do this I had to work on a blank canvas and create in total freedom without academic conformism and without commercial rules. Create what I had in my head.
I started by putting together collage with painting, with the difference that my photographic investigations in newspapers were no longer in fashion, but had become researches of my mood, of my thoughts associated with colors.
My research expanded, I realized that the photographic collections in the newspapers were no longer sufficient to satisfy my ideas, so I also started with photography. The images had to be mine. Initially with the study of portraits, artistic and naturalistic nudes. The transition to photo collages on canvas was almost immediate.
I alternate my creations with collage and painting. My paintings are the result of ideas and moods of the moment I'm going through. I address social and personal issues, which can involve everyone.
I use various painting techniques, according to the scheme of what I want to achieve.
My "Color Studies" (divided by year of realization) are abstract paintings where I use color in various techniques: watercolor, spray paint, oil paint, ink, etc. etc.
As the title of the works says, they are studies I do on color not only based on the color wheel, but also on what colors communicate on our person, to do this while making these paintings I completely detach myself from the external world and enter a sort meditation focusing on my mood of the moment, in practice it is a total immersion in the painting, almost a sensory apnea.
The meeting of street art was casual, but love at first sight. The thing I thought once again was: free. Yes, because after years of exhibitions and exhibitions in galleries and art holidays that honestly did not lead to anything, but I was once again stuck in the mechanism of what the sales strategy wants. But no, my art is free and why not within everyone's reach, the street and the walls have given me this great opportunity.
I don't care about the market, I don't want to be sold, but remembered.
Finally, in 2021, after a three-year course of study, I graduated in illustration, I wanted to expand my artistic studies not only in the world of academic art, but also in illustrators and comics, a fascinating world of that not read and taught in schools, perhaps because sometimes it is a bit sinful or perhaps because it is underestimated by many and instead I find it rich and dense in culture.
My painting is not just passion, it is study and personal growth, it is not easy for me to express all my work in recent years, but I hope I have been clear and concise in explaining my art.
M.AdriTerra
SEE ALL ARTWORKS BY MADRITERRA
Exhibitions
GENN / FEB 2019
Personal and permanent exhibition at Palazzo Campansi in Siena.

JAN 2018

Personal exhibition at the Abbey of San Galgano Chiusdino.

SEPT 2017

Personal exhibition in the halls of the town of Castellina in Chianti (SI).

NOV / JAN 2013

Exhibition at the Rinascenza Contemporanea gallery in Pescara.

NOV 2008

Permanent exhibition for the contemporary art gallery CHATEAU DES RéAUX Chouzé sur Loire France.

FEB 2008

Italy Award for the visual arts organization ECO D'ARTE MODERNA, Certaldo palazzo historical. Winning prize under 30 thematic article in the art magazine.
DEC 2007 / JAN 2008

Personal exhibition in MODENA with the presentation of the critic FRANCO BULFARINI and interview on local TV.

MAY 2007 / JUL 2007

Collective exhibition "POP OBJECTIVE" at the Euro Hotel in Cascina Pisa at the invitation of the ass. of contemporary art Bellini arte.

Collections
Purchase 2019, Palazzo Campansi Siena Collection
1. CHILD WITH GOBLETS pencil dimens. 24X33cm,

2. HANDS watercolor dimens. 18X25cm,

3. HANDS watercolor dimens. 18X25cm,

4. BLUE FLOWER Oil painting and photo collage size 50x70cm,

5. BUTTERFLY STUDIO Watercolor size 18x25cm,

6. EGOLATRIA Mixed media collage size 100x70cm,

7. TUSCAN LANDSCAPE painted in oil dimens. 30X40cm,

8. FLOWER oil painting and photo collage size 100X70cm,

9. TRIBUTE TO FEMALE Watercolor and photo collage size 50x70cm,

10.VORTICE Collage of mixed media dimens. 100X70cm,

11.STUDIO OF COLOR Photography collage and oil tempera dimens.100X70cm,

12. STUDY OF COLOR Mixed technique dimens. 30X70cm,

13. MATERIAL mixed technique dimens. 50X70cm,

14. PRISON Collage mixed media dimens. 100X70cm,

15. BUTTERFLY STUDIO Watercolor dimens. 18X25cm,

16. ABTERRA BUTTERFLIES Watercolor n.2 dimens.7x10cm,

Purchase 2008, castle collection CHATEAU DES RéAUX Chouzé sur Loire France.

LEGS collage oil on canvas dim. 90x90cm.

Publications
Eco of modern art; 2008 Italy Award Catalog; International catalog of modern art mds n.11 and mds n.12; Chateau des Reaux art gallery catalog; Boè art magazine 2010;
Intarnational contemporary artists vol.1

Absolute dynamics that impress in the artist the desire to discover a new language, as in the case of Adria Muzzi, reaching out towards a scriptural, sign research, bordering on a primitivism that raises the executive act to a cosmic communion of being.

Art critic Andrea Domenico Taricco.

Reviews in:
ECO D'ARTE MODERNA n ° 171; ITALIAN PRIZE CATALOG 2008 by Il Candelaio ed .; INT CATALOG OF MODERN ART: MDS n ° 11 and MDS n ° 12 Publishing House Cida Rome; CHATEAU DES REAUX ART GALLERY CATALOG; INTERNATIONAL CONTEMPORARY ARTISTS VOL1 by publishing.
GENN / FEB 2019

Personal exhibition at Palazzo Campansi in Siena.

JAN 2018

Personal exhibition at the Abbey of San Galgano Chiusdino.

SEPT 2017

Personal exhibition in the halls of the town of Castellina in Chianti (SI).

NOV 2008 Permanent exhibition for the contemporary art gallery CHATEAU DES RéAUX Chouzé sur Loire France.

MAR 2008 International exhibition of contemporary art "MATERICA" organization

Color image association ARS HABITAT headquarters (PALAZZO RATTO-PICASSO) GENOA, historical center.

FEB 2008 Italy Award for the visual arts organization ECO D'ARTE MODERNA, Certaldo historic building. Winning prize under 30 thematic article in the art magazine.

DEC 2007 / JAN 2008 Personal exhibition in MODENA with the presentation of the critic FRANCO BULFARINI and interview on local TV.

MAY 2007 / JUL 2007 Collective "POP OBBIETTIVO" at Euro Hotel in Cascina Pisa at the invitation of the ass. of contemporary art Bellini arte.
Criticisms and Reviews:
The young art of Adria Muzzi.
It is not easy to express new concepts in the world of contemporary art, there are so many proposals; it is enough to explore the main internet sites to find thousands of works on display, housed in countless virtual containers, including more or less accredited cultural associations and galleries. A composite and new world of art, full of ideas, which is presented in an almost pervading way in the eyes of all navigators, even the less attentive or avid.

An art that grows online, at the speed of light, where everyone offers everything and in all possible ways. Thousands of works are born and extinguished in a kaleidoscopic world of colors. In this complex universe of images, one wonders what art is and what it is not, when we find ourselves dealing with a pure impromptu "attempt" from which to distance ourselves or when instead a path needs to be examined with greater attention. As a possible premise for encouraging future developments. It is therefore necessary to better understand the value of an artist and her art to be able to extricate oneself, in an attempt to distinguish between banality and quality. In this the great historian Lionello Venturi helps me, when in the text "how does art understand" he manages with clarity of exposition to make us understand that beyond the not irrelevant pictorial data, however "art has a higher function ... of cognitive moment" , which in order to be such "knowing how to interact with history", become aware of it as it can constitute a moment of analysis in terms of human commitment. In other words, it is necessary to pursue in the investigation of the artistic work not only the technical and formal aspects but also and above all the ideal and concrete reasons that moved the artist in his choices. Venturi suggests that we look at technique, but as a means of expressing contents that in themselves can illuminate the workmanship much more and well beyond the technical data. In light of the above considerations, the analysis of the work of the artist Adria Muzzi seems simpler to me.

Adria's youthful age does not deceive her current potential, the affection she feels for art is innate. Adria you express a fresh visionary, which allows the signs of a possible, desired evolution to appear. She has assimilated from her father, a talented classical painter, a sure approach with which she tackles both the formal sign part and the entire compositional-chromatic system without uncertainty. The technical bases convince not lacking the fundamentals: the essential geometries support the composition, enhancing the pictorial rendering rich in intense colors both in the cold colors of the feeling and the warm colors of the passion. Those of Adria are rich and vibrant works that never expire in a redundant or baroque vision, because on the contrary the artist makes the inner imaginary prevail, made up of an intense coloristic construct, but also of lightness designed to push the whisper upwards. of poetry. In fact, the poetry that Adria expresses in her works, and which is also linked to a parallel sense of musicality, becomes a catalysing element, becoming an essential engine, which renders the inner energy of many of her visions. The artist's work reveals the desire to supplant the purely formal sphere, which is not exceeded in its essential rules, but freed from pre-established barriers, to allow the opening to the felt, a proposal between pure abstraction and figuration, which places as pregnant the vibrant visionary, so lively and enlightened as to rise to an "imaginative pathos".
The artist immediately learned of her own style, her own universe, made of spirals of light, sparks and swirls that recall in their glow the youthful world of discos, the world of artifice that surrounds us everywhere, with its calls , with its temptations; but then the artist, working with a skilled collage technique, which she currently prefers, brings back images of reality, sometimes flowers, sometimes female gravure figures, who find themselves surrounded and at the same time immersed in a world of dreams. In this way, in my view, it seems to me that Muzzi is making an attempt to recover a poetic sweetness, we could say "romantic", to reinterpret the actuality of living with her infinite contradictions in her own way. We all move, greeted by a thousand lights, which formulate as many illusions, which narcotize consciences, ending up making us live outside reality. In this way, appearing overcoming being leaves room for the renunciation of that pinch of awareness, which if present could suggest the abandonment at least in part of the frantic search for self-love and vanity, evident products of the individualism of the current society in favor of greater freedom from fatuous needs, which in other words could be translated as greater humanity and therefore a sense of social belonging, sharing for the purpose of love. So images that tell the real world by metaphor, where the anxiety of living is behind the illuminated appearance of the work. A message is born, to be grasped under the iridescent blanket of the facade, to be understood and revealed little by little, like flowers that dissolve in the poetry suggested in a lively but at the same time soft and softly rendered painting in the embrace of the veils. The colors of the close-ups are decisive, evidently pronounced, also due to the deliberately staggering overwhelming part of the collage, then the whole finds a landing and softens, in the harmonious and delicate background of the pictorial rendering. A painting that recalls the great Mimmo Rotella (the Calabrian artist who became famous for his "decollages": paintings obtained by overlapping posters (especially advertising for films or circus shows) torn from the walls, to bring out images from the lacerations , as from the footprints of glued paper and rubble, giving the work a visionary intensity). Adria does not work with similar intent and her art is not attributable to elements of "Nouveau Realisme", as defined by the famous French critic Pierre Restany, as a European response to the new American "pop" trend. The technical illustrative path is also different, i.e. not decollages but collages, not an image torn and traced back to the canvas or table to recall the images of advertising, but well-cut images from newspapers, to obtain forms of a photographic-like matrix to be interacted with in the processing. unconscious mind with an inner poetic path. Muzzi turns her gaze to a new path still being defined and not easily codified but certainly very personal and not devoid of originality, certainly intended to incorporate obvious reasons for "anarchic" spontaneity of action panting, or if we want that neo-romantic offshoot which was a vigorous and gestural lash given by Jackson Pollok.
Adria searches in the colors of her amazing palette, a new visual dimension, a new pronouncement, which winds between instinct and passion, between free gesture and psychic conduction, impulse and feeling. She recalls "gesture painting" when she insinuates "svirgolate" of color percolating on the bases designed to collect chromatic precipitations, but then in other works it softens almost transforms, all hardness vanishes and the inner purity dictated by the melodic voice of the soul. Suffice it to view the work: "towards the informal (1), decidedly informal and compare it with the work:" floral transparencies "(2), where the unexpected image appears, of another feature, dictated by a profound sense of sweetness where we seem to be involved in a sinking into the universe of consciousness, which is repeated in various works with floral images as a pretext, interpreted between finite and unfinished. The flowers are often placed as central elements of the composition, as a form of reference to the reality of nature and then penetrate themselves, until they expand into a cosmic spirit to be discovered and with indefinite contours, but from which a harmonious vision of a deep sentimental construct emanates. . Flowers cut out of newspapers, emphasized in their beauty by the collage transfer process, placed on the canvas in a simple and not particularly sweetened way, to happily combine them with the whole, in order to provoke a visual ecstasy, rich in expressive force that is pure emotional content , of which the abstract and liberating parts are a catalyst element. In the free flow of sensations under the impulse of the pictorial action, the bubbling of an energy appears that suggests in the yearning of the iridescent dream the attempt to overcome a probable existential drama. They are the poles of the human soul, which the artist's sensitivity brings out, where on the one hand there is the vigor and rigor of existence and on the other the yearning caused by the emotions that make life unique despite the continuous contradictions deduced in the change of moods, which color collects on the one hand and tries to heroically overcome on the other, but which then ends up almost fatally indulging. Adria's is an attempt to understand the world or perhaps to want to control it at least in part, the artist transmits an extreme sweetness, which touches the strings of the soul to lead even in the elaborate visual ferment to the calmness of silence or of quiet dictated by the same chromatic harmony that becomes cosmic harmony. There is not the silence of sleep in these works, but a silence of those who seek the absolute in the anxiety of existential redemption, of those who abandon themselves in ecstasy to find themselves, to return to struggle. Of those who fight against the black hole because nothingness, always ready to invade the soul. Therefore an artist who does not confront us with banal rotogravure images reproduced on a canvas, but something else, offers us herself, with her vital expectation of changing the world for the better, thanks to the power of imagination and creativity that they are proper to it. Adria therefore effectively manages to scratch the threshold of mere description, or proclamation to jump to the chronicle of art for the original creativity and even more for the very personal chromatism, coined not to leave us indifferent, indeed to involve us in a journey of humanity, that if on the one hand it is introspective, on the other it makes us participate and active protagonists of a vision that is always different at every moment, like the thousand perspectives and profiles in which humanity moves today. In these works everyone can find themselves, because they speak in the present, they illustrate our life, they do it with apparent simplicity, wanting to express themselves with universal language to better scratch the barriers of indifference or sufficiency. With Adria Muzzi, art becomes genuine, authentic intention, not just images but voices with a contemporary feel. Here's what can help today's development of art: novelty that escapes the banal. Despite her young age, Adria shows me that she is able with an uncommon dose of instinct and creativity and also with the help of a solid preparation to produce works of extremely relevant strength and emotional significance. If on the one hand there is still no homogeneous stylistic connotation, but different lines of research appear, nevertheless all the paths undertaken currently lead to the desire to make the existential experience meaningful, wanting to make aesthetic value a vital impulse that redeems the man with evident earthly limitations and gives new impetus to the construction of future societies, where imagination, creativity, sweetness can be objectives to be achieved to scratch the armor of indifference that has never been put away, to give new impetus to consciences by re-appropriating moral values ​​that they belong to us. I would like to conclude by describing the work "the world" (3), with those passionate reds and those exceptional iridescent flashes, a cloying work that immediately catches the retina, due to the inherent magnetism that emanates from it and that allows us to understand how in Adria it emerges the significance of the Italian pictorial tradition, albeit enriched and diluted at the same time by international requests, of which the artist is fully aware. Add the evidence of the vigor of the young artist who wants to free herself from pre-established patterns to seek a way of her in the embrace of a fruitful expressive freedom.
Art critic: Dr. Franco Bulfarini.
Here is Adria Muzzi, a young Tuscan painter, as she herself states, her works are the expression of her feelings and experiences. You mix her passions like photography and painting by combining them with collage… This mix represents the best to express yourself…. "I have an almost maternal attachment ... my paintings are born from the love I feel for art and life and giving them away for me is a big detachment .. ..." Works full of intensity, of everything that can be contained . A picture that vibrates, where the figures mingle with a thousand thoughts while remaining always alive. She travels to continuous discovery: searching for colors, lights, trying to take possession of every moment. The lights and colors dosed through a whirlwind of inputs from the outside world. Redeem himself in that pictorial gesture, which leads to the representation of the black hole that swallows man. In a certain sense, everything has a double, the concept of the abstract and its figurative, we try to elaborate, to understand the color in the nuances of life and the image is the catalyst that allows us to see the emptiness, the silence of the self. same. Reality is cut out to imprison it: every face, every body represented is as if suspended in the void, ready to fill with all those inputs displayed in collage but at the same time that organic and tactile something that seeks its own conscience and the strength to express its its existence. A hermeticism that disintegrates over time, into emotions in the rags of being immortalized. The relationship of the body that almost dissolves to enter the game of abstract stain, the lines that remain pure almost to fade, the white that dissolves in an ascetic intangibility, images that come out of the painting as if they were shadows, silhouettes to understand the world . The evolution of thought, speaking to understand: therefore different languages ​​of pictorial experiences. A connection not only interpersonal but also with the social world that is reflected in the picture. A puzzle that recomposes in a certain sense the sensations and the life lived in the collective.
The sphere of memories and self relate over time to understand the other. The formless is selected and combined with form to mark and trace a modern cartography, furrows, traps, artificiality of images stolen from the world that are based on the perception of a pictorial, intense gesture of precarious existence. A sort of envelope, like in a prison, stairs upon stairs, a labyrinth where we are locked up tightly with no way out. The same bright colors make the immersion of that world, the balance of the structure leads us not to move away from it but rather to continue discovering every little detail almost in an intrusive way. Even in black and white, we find red that breaks up the composition or white that can confuse by veiling the contours of what surrounds it. In fact, here are faces that protrude from a blue background that almost look like millennial ice, where in the back you can see something else in transparency ... in some moments it seems to say: nothing is as it seems .... Daily scenarios, sometimes urban, sometimes nocturnal as clubs, here the new symbols coexist with the heroes transformed and idealized by the community, which the artist cuts out and tears to insert them in an unconventional context. Photography, support and brush, color his mood and his interiority. Chromatism in drafts of color as the freedom of reading life. We play with lines in a refined geometry: inside and outside a painting is built that is worn to perfection. The painting tends to catch the eye in order to try to make it of him, swallow it in his world as if, in addition to being looked at in a brazen way, it wanted to capture the sensations and illusions of the common man's eye. A boundless stylistic research alternating ideal tones, from the warmest to the coldest, from the desire for rebirth and affirmation free from any outburst in shades and transparencies of seeing a scenographic representation underneath the appearance, where light and hope but also the drama that the painting itself occasionally embodies in mental places.
Art critic: Marica Petti.
"The sign investigation carried out by the artist Adria Muzzi is very significant. His works are characterized by the presence of a strong symbolism. The meaning, lost its purely linguistic value, becomes Significant that leads to parallel universes in which the tacit becomes tangible and the unspoken asks to be heard ".
Art critic: Salvatore Russo review on the art and culture magazine Boè.

"Phantasmagoria of lights and colors, almost a concentrated projection of the neon lights of Las Vegas, as in a whipping imaginary" picture gallery ", or almost monochromatic as in an ensemble of mechanical pieces, form the texture of Adria Muzzi's works, a chase of intense visual stimulations, obtained with a collage of witty counterpoint shots as in a jazz performance, placing the viewer in the uncomfortable supine and passive position of one who is forced to undergo an avalanche of inputs without having the slightest chance to react: a common condition of many television users. "

Alvaro Spagnesi in Eco d'Arte
Modern 2009