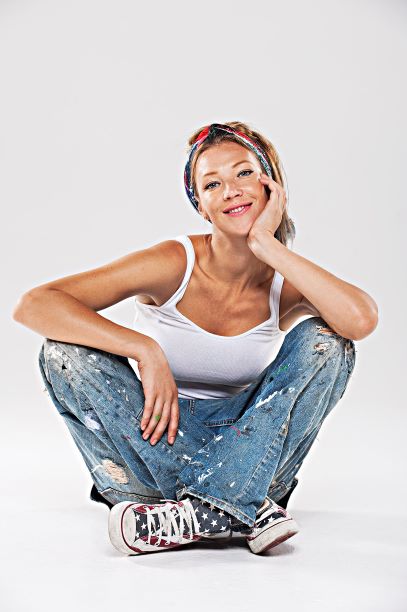 Ludmilla Radchenko
Ludmilla Radchenko was born in Omsk, Siberia on 11 november 1978, where in 1999 awards a degree in Fashion Design. In the same year she moves to Italy to work as a model, show-girl and actress. In 2009 she chooses to pursue her greatest passion: painting. Since december 2010 her first catalogue "Power Pop" edited by Skira can be found in Feltrinelli libraries with a critic essay by Fortunato D'Amico. Ludmilla creates a painting for a champion of moto GP Jorge Lorenzo, for F1 world's champion Sebastian Vettel, for the rock star Jamiroquai. Far from presenting the object again and again in an hyperbolic and obsessive way as seen in the "classic" pop tradition, Radchenko loads it with social content in open accusation to its exploitation. In deference to the pop spirit, Radchenko, doesn't limit her interest to canvas but spreads her touch to fashion and design too. The "Siberian soup" FullART by Ludmilla Radchenko was registered as a new brand.
Ludmilla's explosive art feeds itself with real life, icons, tragedies, common successes and hopes. Collage of advertising images from magazines, photos and prints give birth to artworks which create compositions enriched of visual messages, collage of real life with touches of irony.
Ludmilla Radchenko's reflections she has dedi-cated herself to transcribe upon the canvas her observations on the world start with the recog-nition that she herself is an active fragment of a communication network that stretches well be-yond the fashion system. For a young woman of the contemporary West from a culture unlike our own, the difficulty is clear in reading a histo-ry of protagonists raised to the status of heroes and to transgressive myths belonging to an in-dustrial and a post-industrial generation with POP elements. What will become of our contemporary leg-ends? For a short time they will remain and their names, postures, clothes, slogans, music will be recognized, up to becoming echoes that will disappear in the depths of space time. Only art will remain before future humanity, and each time it will be rediscovered amidst deserts and under the stars.