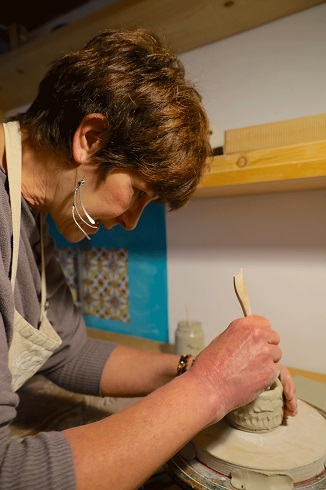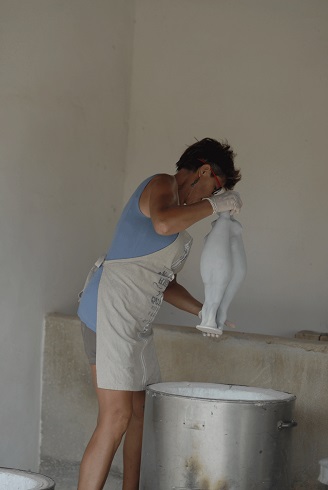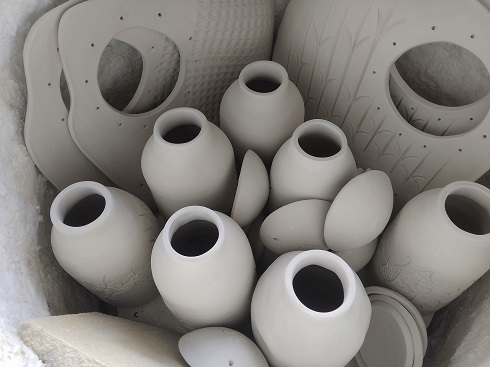 Luciana Perego.
Things are the fixed, stabilizing point of life.
The rites transform being-in-the-world into being-at-home.
They, therefore, make life resistant.
Byung-Chul Han - the disappearance of rites
I'm passionate about the theme of emptiness as a dimension in which things happen, where movement is possible. A place of resonance, capable of stimulating the perception of the sacred; a spiritual, abysmal non-place, from which one tries to escape through consumption; a space, in our time, necessary for the emergence of the single word and its etymology.
The "containers of emptiness" through the shape and harmony of colors, exert attraction on emotions; they capture, and then retain their intangible content inside. Playing with it means making room for the word that resounds, the one that wants to be understood, while contact with clay instills peace.
My production is considerably limited: I avoid using machines or molds. Each piece, created with a plate, with a dovetail or with a manual lathe, responds to the moment, to the state of mind. This takes time and forces to a continuous planning but it grants a musical relationship with the material, it moves the experience, it invites to give it shape and a name.
I use clay as a tool to work with emotions: I have developed a particular module of "sensory manipulation", knowing that clay, by origin from the mineral kingdom, induces tranquility and which, by its nature, absorbs and releases, favoring a flowering process.
I know the fascination of experimenting with smoke and fire, which are games and improvisations typical of Raku ceramic making: it fascinates me, surprising in the chromatic results, unexpected, sometimes better than the same expectation; indomitable in its being absorbent matter exposed to smoking.
In making ceramics, I think there is no limit to the possibilities. Ceramic is anthropologically within us, it has always accompanied the history of man. I often rely on her to give consistency to my feelings, knowing that, like water, it can take any shape and, in addition, it maintains it over time.
Recent exhibits
Scicli - Palazzo Favacchio, personal exhibition
Santo Stefano di Camastra - Museum of Ceramics, personal
Sampieri - Stone Theater, fire, Raku performance
Caltagirone - Diocesan Museum - installation in memory of Carla Accardi, the tent
In Ispica - La Sciabica, Eumenidi project
Pozzallo - Space Less Absence, Eumenidi project
Scicli - Mavie Spazio Arte, The art of one's reason for being
Scicli - Mavie Spazio Arte, I lived in art, I lived in love