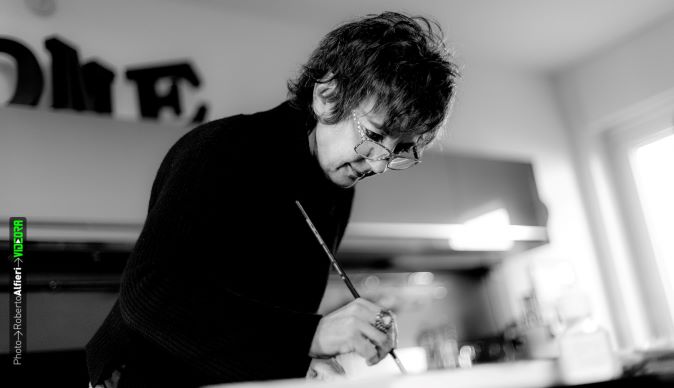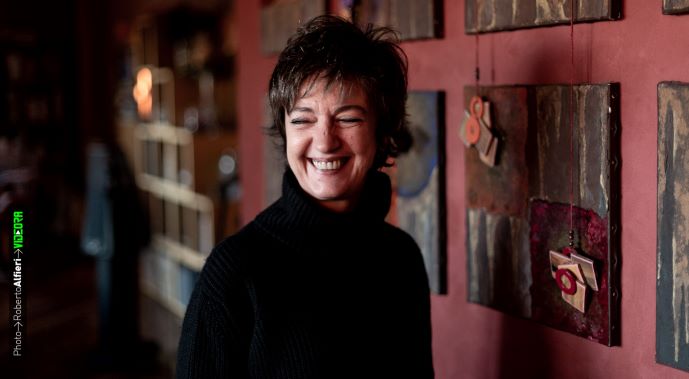 Lorena Premoli.
An enterprising contemporary artist, was born, lives and works in Milan.
He worked mainly in Hewlett-Packard Enterprise for several years covering various roles, from Marketing to Finance, up to holding the role of CFO for the Hewlett-Packard Enterprise group in Italy.
The creative activity has always remained in every moment of stasis from the work functions, like a magmatic subsoil that resurfaced through spaces of time. Therefore, she has always turned her attention and dedication to activity and creative energy, turning to a constant search for a singular experimentation.
Of a strictly eclectic nature and personality, curiosity and intuition have always led her to develop different artistic techniques, to build furnishings and create paintings starting from the use of recycled elements and to use alternative materials in abstract painting.
These creative operations over the years stimulate her creativity more and more, until the artist realizes a substantial change in her steeped in art life, so that, after an important professional career, she decided that the time had come to arrive at the infinite and ever-changing space of art and everything that could allow to satisfy her expectations, where it is possible to express the freedom of interpretation that only an abstract painting can offer.
She inaugurates a new life by painting artworks "Made to Measure", where it is possible to observe how the artist is influenced by the harmonic construction of the painting in perfect proportion and osmosis with the environment in which it is inserted but, above all, the relevant aesthetic pleasure of suggesting inside the painting some notes, visible and not visible at the same time, of innate character aspects of the one who receives the work, thus making it, as well as unique, even strictly personal, an art that has become vital.
SEE ALL ARTWORKS BY LORENA PREMOLI

Exhibition
• "Fiori Recisi" - Villa Marini Rubelli (TV) – Contemporary Art Exhibition - 2019
• "Dream Event" - Corso Garibaldi Milano – Personal Exhibition - 2019
• "Al di là del Regno dei Sogni" - Museo Luigi Bellini Firenze - Contemporary Art Exhibition - 2019
• "Geometrie del Colore" - Palazzo Ducale Genova – Contemporary Art Exhibition – 2020
• "Art Movie" – Brindisi, Castelbuono (PA) e Deruta (PG) – Contemporary Art Exhibition – 2020
• Triennale di Arti Visive 2020 – Palazzo Borghese – Roma – Contemporary Art Exhibition - 2021
• Premio Vittorio Sgarbi – Ferrara – Fiera – Contemporary Art Exhibition - 2021
• All You Need is Art – www.artspacemilano.com – Contemporary Art Exhibition - 2022
Esposizioni in programma:
• «The Dream in the Drawer» Personal Exhibition 2020 – HQ Hewlett Packard Enterprise Cernusco S/N (MI) – postponed to a date to be defined
• «The Wings of Creativity» Personal Exhibition 2020 – Sede PwC – Citylife Milano – postponed to a date to be defined
Publications
• Atls of Contemporary Art - De Agostini 2020
• Catalog of Modern Art - Mondadori 2020
• L'Elite Art Selection - Artitalia 2020
• Artisti '21 – International Yearbook of Contemporary Art - 2021
• Atlas of Contemporary Art - De Agostini 2021
• Catalog of Modern Art - Mondadori 2021
• Cover of Magazine "Privacy&" 2019 e 2021 – Egea e PwC TLS Avvocati e Commercialisti
• Catalogs «Vittorio Sgarbi Award» 2021
Atlas of Contemporary Art
De Agostini - 2020 Edition
«Lorena Premoli, although very influenced by futurist ideas, is the author of a variegated and multifaceted production, making use of the combination of different materials and also experimenting with assemblies of recycled and waste products. Often her creations respond to a precise symbolic intent as happens in fact for Rosso, where a floral composition played on the variations of red is the true subject of the painting. The choice of this color clearly owes a lot to its connection with blood, shed on occasions of wars and manifestations of violence. The flowers come to life not thanks to a mimetic representation, but to a bundling of circles alluding to the various stages of a child's life. Her symbolic creation, which requires concentration in order to be understood, becomes the bearer of universal messages.
The curator Rosi Raneri describes Lorena Premoli's production with these words: In her works she embeds emotions, encloses an extreme beauty of synthesis. It is a music of colors that suggest visual perceptions, where the shapes seem to dance in harmony on the canvas. An oxymoron, a "chaos" that instead reveals something else, is transformed into harmony, with a trait that is sometimes strong and sometimes softer but somewhat and always involving. A becoming that takes place within a chromatic scale of forms and very essential features.
Stylized bodies that recall existence, perceptive ideas consolidated through lines, evanescences and transparencies where white constructs. "
Catalog IV Triennial Exhibition of Visual Arts in Rome
Cembalo Gallery - Palazzo Borghese
"The exhibited work by Lorena Premoli looks like a cracked surface, characterized by the heterogeneity of the materials used. The scene, divided into three horizontal sections of material pigments, is admirable in representing the abstraction of a beach, represented through the use of sand, stucco and resins. A great experimenter, in her production she ranges from oil tempera to acrylics, from plaster to wood, up to glass and iron. Each composition is characterized by a happy and laughing "artistic breath" that enhances, through the palette, a positive and optimistic vision of values ​​and creation. From the paintings to the installations, the artist tells about herself in a familiar language where art is a wonder for the world ".