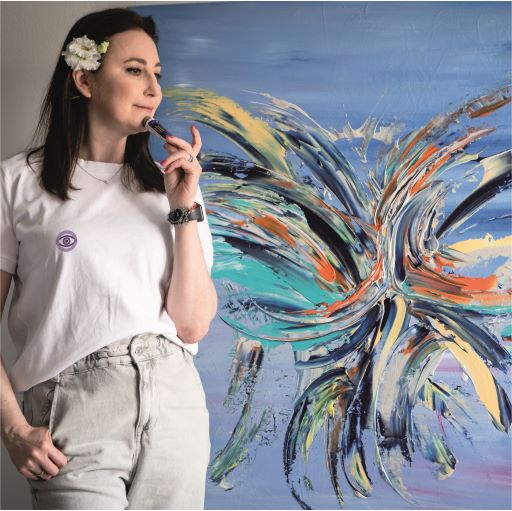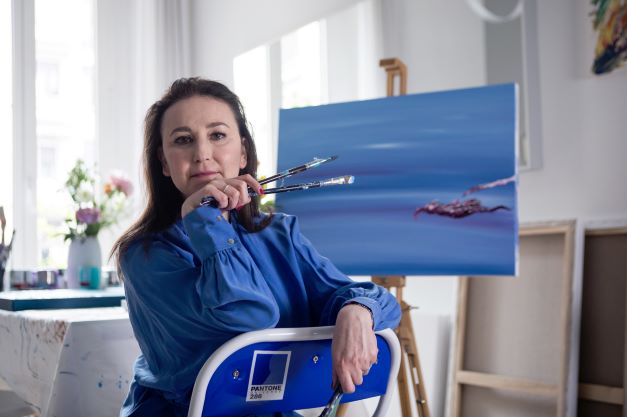 Letteria Russo (Messina, 1975)
Although her artistic training has been varied and multiple, she has always kept her love for painting in her heart. Before attending the master in design in Milan, she graduated in art and goldsmith studies in Rome. Relating to these premises, she subsequently founded a design studio with her brothers, collaborating for about twenty years with various fashion brands in the production of jewelry and eyewear. In her last years, her propensity for pictorial art has taken over, involving her to participate in private and institutionalized competitions and exhibitions, both Italian and international.
Of particular importance are the participations in the collective entitled "Cultura Identità" at the Tea-tro Civico La Spezia (2019) and in the group exhibitions in Milan at Arcadia Gallery, Genoa at Satura Gallery and DivulgArt at Palazzo Ducale Genoa (2020).
In February 2020 Lillylilla was published in the "Artists of Mondadori" yearbook. In May-Thu 2020 it was published in the NowArt magazine and received the international trophy "Silver Palette" as an artistic recognition for its artistic and technical commitment. In autumn 2020, in September Lillylilla participated in the collective exhibition HubArt Milano and Art Design Milano in Via Tortona. In October she exhibited at Satura Art Gallery in Genoa and in November with the I-tsLiquid group at the Borders exhibition in Venice.
In 2021 ArtBox Gallery Barcelona exhibition, in May Collective "La Materia del Colore", Galleria Rinascita Sarnico, in July Galleria Milanese in Brera Milan, in September Venice Start
Arterminal San Basilio (Mazzoleni ArtGallery Gallery).
LillyLillà - Rainbow Art
Artist and designer, LillyLillà's forms of artistic expression range from jewelry and eyewear design to painting. You use multiple techniques, materials and tools ranging from canvases and brushes to digital tools. From versatile and synergistic creativity aimed at a search between the inner world and everything that surrounds us, she LillyLillà begins to draw and paint from early childhood. As if by vocation, the vigorous brushstrokes of color become an extension of the soul and externalize a pure and limitless energy through the fusion of techniques and influences. Lines and shades from ultraviolet to infrared, strong, soft and fluo colors that enclose the 9 colors of the rainbow: acrylic on canvas translates into a language of vibrant combinations and contrasts within which the dreamlike labyrinths transcend verbal communication . When she paints LillyLillà she enters a meditative state of reconnection with pure consciousness, intuitively revealing her individuality and emotions to transform the canvases into unique and original pieces. You have also created a series of digital art prints on various media such as aluminum, plexiglass and canvas prints.