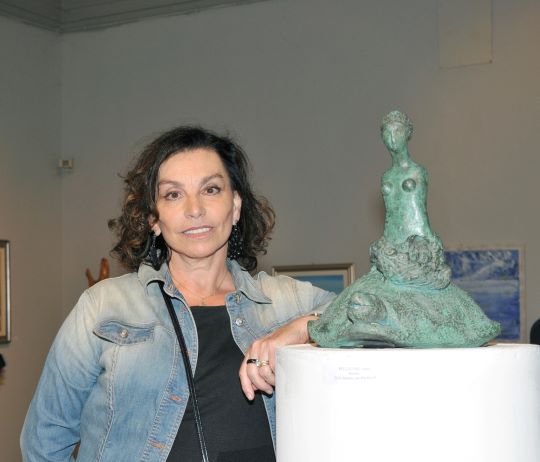 Fragments of an inner journey

Laura Pellizzari lives in Loreggia (PD) Italy, where she lives and works. She began working clay very young, undertaking careful research on clay minerals, glazes and the Raku technique in the 1980s. She deepens the study and practice of sculptural art, as the Italian Renaissance art wanted, going to the workshop in the studios of sculptors such as Maestro Nazzareno Manganello and attending the workshops of potters of the ancient tradition of Bassano (VI). She participated annually in the study weeks at the Research Institute for Studies on Canova and Neoclassicism in Bassano. The passion for teaching, an essential component of her professional background, leads her to take care of projects related to various forms of artistic expression in the school. The constant attention to Humanistic Psychology led her to complete a course of study at the Institute of the Person-Centered Approach in PD where, in 2007, she graduated as a Counselor. Her sculpture loses part of the initial hedonistic trait, to acquire more and more the depth of psychological investigation. A path, therefore, that accompanies her in taking part in numerous competitions and important art exhibitions, both national and international, achieving wide critical acclaim and collecting reviews in newspapers, magazines and art catalogs. The prestigious Writers Capital Italy (foundation supported by the UN) in 2017 confers on her the renowned award and honorary title of Excellence-Sculptor, recognizing in Pellizzari: A prominent exponent in the field of sculpture, able to let the soul speak through its all round. Among the latest exhibitions is the personal Legami of 2018 at the Civic Tower of Castelfranco Veneto (TV). In the same year, selected from thousands of applications by the prestigious company Artrooms Fair in London, she exhibited some unpublished works in bronze at the international contemporary art fair for independent artists in Rome and, in 2019, in London. With the Mazzoleni Foundation she exhibits in Alzano Lombardo (BG), Portopiccolo (TS) and Forte Village in Sardinia; since 2019 her artworks are permanently exhibited at the Palazzo Naiadi in Rome. Join the International Association of Plastic Arts Italy / Italian Committee IAA / AIAP / OFFICIAL UNESCO Partner from which you are selected in 2020 to participate in the international artistic event HUMAN RIGHTS? at the Opera Campana dei Caduti Foundation in Rovereto (TN). Her municipality of residence, Loreggia (PD), invites her to the Gala of Culture this year to give her official recognition for artistic merits. Her accumulations belong to private collections, such as that of Vittorio Sgarbi and the Florentine historian Giovanni Pratesi; other works are also present in international museums and galleries.
The journey of exploration in space and time of each of us always ends in the most hidden constellations of our interiority.
See all artworks by Laura Pellizzari