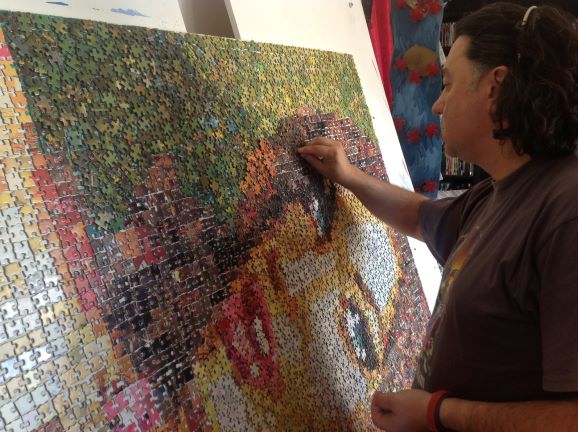 Jorge Castro Gomez

Bruxelles, 1966
1988. Diploma in Comics Drawing, Institut Saint-Luc, Brussels.
1991: Higher Diploma in Graphic Arts, Institut Supérieur «Le 75», Brussels.
INDIVIDUAL EXHIBITIONS (selection)
2012 Private Art Kirchberg, Lussemburgo. Plastik Toyz (female portraits made with recycled plastic caps).
2011 Chapelle de Saint-Patrice, Pierrevert (Francia). Necrographies (large format digital photographic collages).
2011 Galerie Aromda, Parigi. Black is Beautiful (Polaroid retouched).
2010 Road Safety Day. European Parliament of Brussels. Necrographies (large format digital photo collages).
2001 Galerie Ici-même, Bruxelles. Maria la femme (polyurethane sculptures with papier-mâché and acrylic).
1996 Artist invited to the Festival du Film Fantastique, Bruxelles. Montages Télévisuels (Polaroid collages from television recordings).
1996 Festival d'Art, Huy. Montages Télévisuels, selection of Polaroid collages.
1991 Café Cap de Nuit, Bruxelles. Portraits acryliques (paintings).
AWARDS
2012 Selected for CANVASCOLLECTIE, Belgium. "Arme Fatale", sculpture of recycled caps.
2011 Selected LEICA OSKAR BARNACK AWARD, Germany. Photographic series "It doesn't hurt" on the world of female boxing.
2010 LABEL OF THE BELGIAN PRESIDENCY of the EU for the "Necrographies" exhibition.
2009 EXPLUM 2010 finalist, Puerto Lumbreras (Spain). "Pamela Anderson 1" from the Plastik Toyz series.
2007 PRIX INTERBRAND finalist, Madrid. "Revelation of a can" (Polaroid montage).
2000 First prize PRIX LOMO, Brussels. "La Monnaie de Tournesol" (photo Lomo).
2000 PRIX MÉDIATINE Jury Prize, Brussels. "Nanas au soleil" (polyurethane sculpture e papier- mâché).
1992 First prize ANIMA Festival du Cinéma d'Animation, (storyboard). Exposed to the Botanique, Brussels.
BIBLIOGRAPHY
2013 Catalog. Elephant Parade, Trier-Luxembourg.
2012 Catalog. CanvasCollectie 2012 RTBF La Collection at BOZAR.
2011 Photofemme 2009-2011. Ed. Blurb.
2010 Black is Beautiful, Polaroid 1995-2010. Ed. Blurb.
2010 Catalog. Parcours d'artistes of St. Gilles.
2009 No Tear Magazine, Plastik Generation series published in the issue
special "WAR" (March 09).
2007 Catalog. Mulier Mulieris exhibition, MUA, Alicante.
1996 Catalog. Festival du Film Fantastique, Brussels.
Why do I create art with recycled materials?
For various reasons, which in most cases have a close relationship with a thought that is the background of almost all of my artistic creation.
The Plastik Toyz series brings together female characters characterized by the choice to undergo cosmetic surgery; plastic seemed to me to be the most suitable material for the artistic transposition of this feeling of enormous importance given to appearance, unfortunately less and less close to reality, particularly on social media. Furthermore, since plastic is one of the longest-lived materials, it resumes and responds to the absurd desire to seek a youth built to challenge the passage of time at the cost of canceling the signs of experience.
A parallel reflection led me to rediscover the plastic for the Plastik Generation series, which includes the weapons and the portrait of Yulia Tymoshenko made with toy soldiers: this material imposed itself in a direct and immediate way, being the most common derivative of oil , product at the base of most of the conflicts currently taking place on our planet.
There are still too many countries where children, instead of offering toys, are placed in their hands a Kalashnikov, which means for them the beginning of a path of war and often of death ... my artistic weapons, despite the appearance playful, they want to be subversive and dangerous like the real ones.
Belgium, my homeland, has a long colonial past, during which it showed no scruples in conquering and exploiting the rich territories of the Congo, remaining one of the largest arms manufacturers in the world to this day; here is the dubious merit of having a patriotic machine gun!
Another salvaged material is equally fascinating because it reflects the impact of technology on today's society; computer devices, computer keyboards, real extensions of our arms, have become indispensable to our affirmation in society, to our work, to our fulfillment as human beings. Unfortunately. A society invaded by famous people who infinitely multiply their presence thanks to views on social networks.
The skull, Facedeath, is meant to be a dark version of Facebook, of the despair and addiction it causes… death lurks behind a screen, ready to drag the weakest with it.
See all artworks by Jorge Castro Gomez