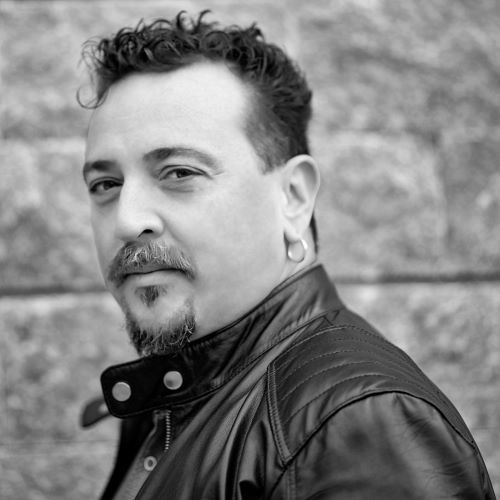 Igor Grigoletto

Igor Grigoletto was born in Sanremo in 1972 after graduating from the Art Institute of Imperia in the painting decoration section, he decided to continue his studies by attending the Albertina Academy of Turin in the painting section. He collaborates with theater companies where he designs and creates scenic backdrops for the theater company "utopia or philocomics" within the ARISTON theater in Sanremo.
He attends a private course in TIFFANY glass processing and from here he begins his artisan activity where in his career he has the opportunity to make himself known thanks to his inspiration that differentiates him from his colleagues. In the early years he created and exhibited both in Sanremo and in Parma collections of modern furnishing accessories, of design made with an ancient technique, the TIFFANY technique.
In this period he also received the LA STAMPA award and the "OPASI" award for the design of marble furnishings.
In the meantime, the collaboration with architects and interior designers began for the design for the construction of glass furnishings and glass structures. The craftsmanship specializes in increasingly daring projects for the construction of structural glass. The glassmaking business develops and matures, leading him to work in Shanghai, Taipei and Antwerpen.
In recent years he has returned to create artistic works in glass again.
The call of the canvas and the colors bring him back on old steps so in 2018 he resumes producing paintings that lead him to a crescendo of works.
After working on various supports such as jute bags, fiscoli or sportine, metal nets and metal sculptures, he returned to the material that he most knows and works as a craftsman... glass.
The study of the line, in all its forms, arises from the search for signs, "letters" that emerge from the surfaces thanks to the intersection of underlying lines, not visible but present. The works seem a succession of endless writings, which do not obey codes but of a free aesthetic.
PERSONAL AND COLLECTIVE EXHIBITIONS:
- 15-16 October 2016 Palazzo del Marquis in Castellaro
- "MODULAR POLYCHROMY" 9th - 14th September 2019 Forte di Santa Tecla in Sanremo
- "THE VIBRATIONS" from 4th October to 30th November 2019 NATIONAL Hotel of Sanremo
- "THE VIBRATIONS" from 16 December 2019 to 13 February 2020 Hotel DES ANGLAIS in Sanremo
- "IN THE ROOM WITH THE ARTIST" January 2020 Hotel DES ANGLAIS in Sanremo
- finalist in the UFOFABRIK competition, ARTFAIR-VIRTUAL CONTEST June 2020
- artist selected in the BIANCOSCURO- Monaco competition
- finalist in the UFOFABRIK competition, ROME ART WEEK October 2020
- awarded at the SATURA competition, art Genoa 12 December 2020
See all artworks by Igor Grigoletto