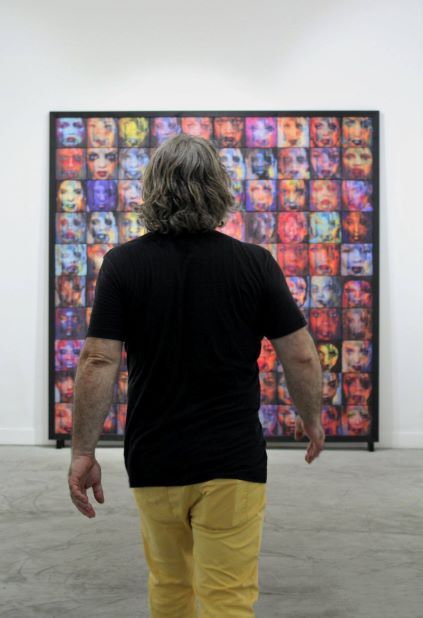 Giuseppe Piccione.
Born in Syracuse in 1967, Giuseppe Piccione spent his entire childhood in South Africa. He grew up between his father's creativity as a building builder and his mother's sartorial and culinary creativity. In Italy, then followed his artistic studies and enrolled in Architecture in Florence. In 1986 he created his first informal works of art. From 1990 to 2021, he successfully exhibited in Italian and foreign galleries in twenty-seven personal exhibitions and forty-seven group exhibitions. Works by him are kept in public and private collections. The versatile and complete visual artist communicates with installations, painting, video art, photography, and digital techniques. The therapist's role for psychiatric, autistic, and disabled subjects is not separated from his activity, indeed closely connected to it. In the last ten years, his production includes some artistic projects in continuous formal development: "Love Street" and "The Tribe", both conceived for an artistic variation as wide as possible up to encroaching on the field of fashion and design, with the definition of a line of wearable works of art called "Tràncity".
His are "creatures" of a world of accelerated developments, a dynamic
superimposition of signs, visible vectors of intimate and resolute scenarios.
They find life and regenerate themselves in the graphic and iconographic multiplication of a modern concept: the "rising city." Like street phenomenology, they invade the media universe, contaminate themselves, reveal hidden connections. Giuseppe Piccione steals these fragments of life from reality for us, recognized through a poetic existential transition.
SEE ALL ARTWORKS BY GIUSEPPE PICCIONE

The sustainable MUSES of Giuseppe Piccione

The evocative works of the exhibition of the Sicilian artist Giuseppe Piccione, called MUSE-X, are certainly the starting point for some reflection on the most modern artistic connotations of photography in a sustainable key and its virtuous - and more or less virtual - bridging ) with other arts, including primarily painting, sculpture and cinema.
In the age-old debate on the classification of the arts, on which philosophers and intellectuals have always had their say, photography - sometimes forgotten, as Ricciotto Canuda does in his 1911 manifesto - is certainly today the visual art in greater technical and conceptual thanks to the swirling progress of new technologies.

VilémFlusser's fascinating ruminations from the 1980s on the stringent relationship between camera (apparatus), photography and photographer, where the latter's "maneuvering possibilities" find a natural limit in the technical characteristics of the machine and only within the range of action allowed by these characteristics the photographer can give an original information / aesthetic message / artistic value, today thanks to the frontiers reached by information technology they become not very current, almost classical conceptualisms on the origin of photography; for him the artist is only those who manage to produce, even unwittingly, "quiet images", "The acrobats who produce these images in the midst of the deluge of images, not wanting to have anything to do with it, deserve the name of ' artists' in the proper sense, or rather of 'astute manipulators and overturners' of the apparatuses who vomit the frightening flood of images ».

We are today in the era of post-production, where the shot represents only the first phase of a longer and more complex process that leads to the creation of the photographic image. The debate moves on the one hand on the relationship between photography and truth and, therefore, reasoning a contrariis, between photography and lies, on the other hand on the multiple possibilities of artistic expression that new technologies offer to photography or to every image obtained digitally from a photography or starting from a photograph (which can become extinct in the creative process, almost as if it were a sort of metabolized "food" and therefore an input transformed into a new original and independent output).

The question is thorny and by its nature difficult to resolve. On the other hand, photography, from its very beginnings, shows a natural predisposition and an irresistible attraction for lies.

Just think of HippolyteBayard who in 1840 made the first photographic self-portrait in history, a sort of selfie with the photographic means of the time, portraying himself ironically and paradoxically posing as a drowned-suicide, arguing with the French state authorities, which at the time did not finance him, but Daguerre.

So what truth are we talking about? Weren't the techniques for photographic retouching born together with photography? How can it be said that these techniques derive from the spread of Photoshop software?

On the subject, Fred Ritchin affirms a sacrosanct truth: "much of the photographic process takes place after the shot", photography is nothing more than "an initial research", a sort of "draft of the image" infinitely modifiable, implementable, transformable, etc. etc., in short, a "data" that the artist uses to express his creative flair, manipulating it at will and making it interact with other media.

In this context, Giuseppe Piccione's artistic expression is fascinating and bold.

His supports are canvases or fabrics, which are initially painted by him, even in relief, and on which the photograph is printed, made ad hoc or taken from the world of the network, digitally modified according to his artistic flair, thus obtaining a new support base, on which the artist sometimes continues to paint, often with prevailing shades of white, almost to spread his own seminal liquid on his creations, inseparable parts of him, with which he entertains an almost spasmodic embrace.

The images are feminine and are her wonderful muses, each work is a denied love, passed in her imagination, never spent in her inner world where the threads with the "woman" planet are all interconnected, including the mother, indispensable, in the essential conscience of a Transcendent one in himself, whose parts, the "feminine" and the "masculine", constitute only earthly declinations, of the sensible world.

And wanting to return to our initial disquisitio: what is the "beautiful art" practiced by the Pigeon? Photography? Painting? Sculpture? The design? Or maybe cinema, since there is an inner narrative base / plot?

One of the most interesting effects produced by the advent of new technologies is undoubtedly the overcoming of the classic categories of art. And a mistake that is often made is to force reality into "categories", which, on the other hand, are nothing more than its conceptual systematization, a rationalization that must be immediately abandoned when it loses its interpretative value, becoming obsolete, a sort of tight "dress" no longer wearable.

And in this apocalyptic evolution of contemporary art, Giuseppe Piccione is one of the most interesting Sicilian voices, always able to surprise us.

Marco Eugenio Di Giandomenico

(Critic of the Sustainability of Art)

The face and the mask.
"The beauty of provocation is that proposed by the various avant-garde movements and artistic experimentalism: from futurism to cubism, from expressionism to surrealism, from Picasso to the great masters of informal art and beyond. [...] Art no longer aims to provide an image of natural beauty, nor does it want to procure the peaceful pleasure of contemplating harmonic forms. On the contrary, it wants to teach to interpret the world with different eyes, to enjoy the return to archaic or exotic models: the universe of dreams or fantasies of the mentally ill, the visions suggested by drugs, the rediscovery of matter, the revival bewildered by objects of use in unlikely contexts […], the drives of the unconscious ».

Thus Umberto Eco spoke of the new way of conceiving beauty in twentieth century art, but these observations do not seem to distance themselves from the state of the contemporary where it is impossible to establish and define criteria for choice and parameters of judgment. Giuseppe Piccione's works are immersed in this POP flow, conditioned by the mass media and social networks, and the images generated by cinema, television, advertising, become the expression of a commercial and consumerist society.

The faces of women tell of a world where image and sight prevail over any other dimension, causing a strong sense of bewilderment and anguish in the viewer, who appears disturbed and engulfed by false fleshy and sensual mouths. The eyes of the 'digital' portraits observe, scrutinize, 'annoy', as if to make the viewer reflect on the disintegration of the being and the female figure reduced to an advertising poster and deprived of its essence, of its true identity.
Wharol recounted: «In early August 1962 I began with screen printing. I wanted something stronger, which would better communicate the effect of a serial product. With screen printing, you take a photo, develop it, transfer it to the silk using glue and then ink it, so that the colors penetrate through the weft except in the points where there is glue. This allows you to obtain the same image several times, but always with slight differences. All so simple, fast, casual: I was very excited. Then Marilyn died that same month, and I came up with the idea of ​​making silkscreen prints from that pretty face of her, my first Marilyns. '
Here Piccione's works seem to propose an intentional 'evolution' of the serial product, they become a hammering and conditioning echo with which to live daily. His "Muses" are not modern divinities as they move away from the poetic sphere; forced to live on a 'distorted' and violent Earth; by name they carry an "x" which makes them indefinite: by now the globalized society has homologated and stereotyped them according to its principles and values. No characterizing faces but only tribal masks of new metropolitan phenomena and commercial rites
Aurelia Nicolosi
Giuseppe Piccione – Behind the mask
Noto - 26/06/2021 : 25/07/2021
Place: PALAZZO NICOLACI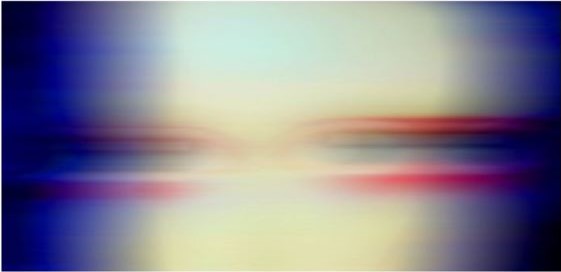 Masks in series. Pop rhythm. A mantra, a tribal drum roll. This is how Piccione exhibits a sound experience in a visual image.
Press release.

As part of the "Paths of NOTOrietà" review.

Sponsored by the Municipality of Noto - Tourism and Culture Association.
Curated by Studio Barnum Contemporary.
GIUSEPPE PICCIONE's figurative works invoke a mantra, a repetition of the rhythm of life hidden behind the apparent masks of multifaceted reality. A form at the service of the sacred rite of art. Many forms that invoke only one form. The search for an archetype, but unattainable.

The visual narrative, which ranges from the scream of pain to the amazement of death and life on the margins of suburban women, to the signs of a commodified sexuality, imposes itself as a loud recitation, a cry for help that many of us in their intimate elaborate but pretend not to have: behind a mask.
Masks in series. Pop rhythm. A mantra, a tribal drum roll. This is how Piccione exposes a sound experience in a visual image. Like a suburban rapper: suburban and marginal voices. Voices that yearn. Voices that emerge and become the centre of the attention of the user of the exhibition.
The visual mantra of the works, performed with rhythmic seriality that only a mature artist can do, is sometimes manifested aloud, sometimes just whispered. This repetition of the same mask, but always with different plastic attributes, the search for unreal colours, shapes that seem to sublimate an unfinished libido, is a repetition-prayer. A spiritual vision of social art.
Piccione is an artist who lets himself be contaminated by the pain of others, of the marginalized, by the internal chaos of disability, by the prostitute's search for purity, by the pity of a father in the arms of a son. Behind these masks, there is an aura of seriality, and he makes us understand how contemporary art can erode spaces for traditional religiosity by reviving a spirituality inspired by authentic feelings. We are in the presence of an attempt to build an authentic aesthetic religiosity.
If it is true that Andy Warhol made detergent boxes become a symbol of Pop Art, Piccione seems to want to make tribe-masks become a symbol of a spirituality lost by mass culture; going to search - from the thing to the invisible - the guardian angel who sleeps inside each of us and who needs to be awakened. To have a religious act performed: that act that post-modern art yearns for.
Therefore, the seriality of Piccione's work stands precisely in antithesis to the reproducibility which afflicts the visual culture of contemporary society. This is how the aesthetic judgment that the fruit of the exhibition is oriented to elaborate cannot fail to consider the social criticism of the mechanism of the reproducibility of the commodity-man.

ANTONIO CASCIARO
Collective exhibitions:

1990 "VIAGGIO NEL SOTTOSOPRA", Palazzo S. Clemente - Firenze

1992 "REGGI - SECOLO", Mostra itinerante nelle maggiori città del mondo
"NOVORGANISMO", Terme di Santa Venera, Acireale
"ITINERARI", Ex Chiesa dei Cavalieri di Malta, Siracusa
1993 "IL BIANCO E IL SUO DOPPIO", Galleria il Segno, Siracusa
"LA PRECARIETA' DELLO SPAZIO", Centro d' arte Contemporanea, Siracusa
"SCARPERENTOLA", Arte - Design - Fashion, Idea Books, Milano
"LA ROTTA SEGUITA", Casa Morelli, La Rotta - Pisa
"IMMAGINI NEL BUIO", Cral Sicilcassa, Siracusa
1994 "PER NON DIMENTICARE SARAJEVO", S. Ambrogio Caffè, Firenze
"CENTO ARTISTI PER SARAJEVO", Spedale degli Innocenti, Firenze
"CINDERELLA'S REVENGE", Cristinerose Gallery, New York
"CASA FONSECA", Ambienti - Progetti - Oggetti - Figure, Appuntamento extra con dodici artisti, Casa Fonseca, Ellera – Firenze
"INCOGNITE", Ex Chiesa dei Cavalieri di Malta, Siracusa
"CINDERALLA'S REVENGE", Smith'sGalleries, Londra
1995 "NOVORGANISMO 1984 - 1994", Accademia di Belle Arti, Catania
1996 "BLAZING/ EYES", "IMPREVISTO", "SPECTACLES", Mostra itinerante
1997 "ANOMALIE", Galleria OPUS artecontemporanea, Siracusa
1998 "ILLUMINAZIONI SOTTILI", Centro Studi - Archivio Pierucci, Firenze
"ILLUMINAZIONI SOTTILI", Internet Train, Firenze
"GENERAZIONE SOTTERANEA", Alfani Underground, Firenze
"ASEITA", Museo Trecastagni Museo - PINACOTECA, Trecastagni – Catania
1999 "L' INTIMO DELL' ESSERE", Galleria OPUS artecontemporanea, Siracusa
2000 "I' ARTFORUM SIRACUSA", Rassegna Internazionale di Arte Contemporanea, Cripta del Collegio, Siracusa
2002 "Collettiva d'autunno", ARP'Artgallery Savelli con New Kroton art
2006 "Dilagazioni" IV Edizione "Festival di Ofelia". Agliana, Pistoia
2012 Ritrovarsi in via Mirabella 31-Prima Rassegna D'Arte dei maestri e allievi dell'Istituto Statale d'Arte di
Siracusa Dal 60 al 90 ex Convento del Ritiro –Siracusa.
2014 "Ritrovarsi in via Mirabella 31" III Edizione, ex Convento del Ritiro Siracusa
2014 "Marilyn Monroe - I just want to be wonderful", 27 settembre 20 ottobre Teatro Comunale di Pergine, Trento
2015 Mostra Internazionale di Fotografia 19/30 dicembre Galleria Montevergini – Siracusa.
2016 Mostra ad Astana – Kazachistan
2016 Fuori Teatro – mostra presso – Le Forme della Convivialità- Siracusa.
2016 SR FARM per MOON -30 GIUGNO / 30 LUGLIO – MOON – Siracusa.
2016 MOSTRATI-CONTEMPORARY ART EXHIBITION - 1/30 settembre Palazzo Trigona Noto.
2017 "Imago Mundi" Luciano Benetton Collection-Identità Siciliane- Contemporary Artists From Sicily – BAM—Biennale Arcipelago Mediterraneo , ZAC Cantieri Culturali Alla Zisa, Palermo
2017 Guardami - per Wondertime a cura di Aurelia Nicolosi – dal 9 settembre al 9 ottobre Arciconfraternita dei Bianchi Chiesa di San Martino Catania
2018 CIBARTE - Palazzo Ducezio Noto – Agosto 2018
2018 Revolution mostra per la quattordicesima edizione della giornata del contemporaneo - Spazio AmMare dal 13 ottobre al 13 novembre . Siracusa
2018 Wunderkammer – Viglienasei Art Gallery - 21 dicembre Siracusa.
2019 Siamo Liberi come le Radici ? Spazio AmMare 25 Maggio 2019 Siracusa
2019 TELLUS MATER - MOON - Move Ortigia Out of Normality -10 /31 M aggio – Siracusa
2020 AFRICA - Fototeca Siracusana - dal 26 Giugno al 25 Luglio - Siracusa
2021 ART & PHOTOGRAPHY – dal 26 Giugno al 30 Settembre – ART WEB GALLERY Centro d'arte mediale .Genova
2021 NOTOARTE 14/30 Agosto MUSEO di SANTA CHIARA - NOTO
Personal exhibitions:
1992 "Esagono d'oro" - Installazione, tonnara di Avola. – Avola (Siracusa)
"Altare" - Installazione, tonnara di Siracusa. - SIRACUSA
"Accumuli" - Installazione ,tonnara di Vendicari. – Vendicari (Siracusa)
"La croce di cera"- Installazione, Monastero delle Cinque Piaghe - Siracusa.
1994 "Primarte" Rassegna, Sette Giovani Artisti per il Teatro Studio, Teatro Studio Compagnia KRYPTON; SCANDICCI – Firenze
1996 "LA STANZA DELLA RIFLESSIONE", Alfani Underground, Firenze
2003 ORTIGIA CHANGE DIRECTORY", Galleria OPUS artecontemporanea, Siracusa
2006 "Stabat Mater", video-installazione - Plasma video-art gallery. Firenze
2007 "WORKS", prima parte , CairoliSette,Siracusa
"WORKS", seconda parte, Showfineart gallery, Siracusa
2008 "LOVE STREET", mostra on-line, www.elapsus.it
2009 "LA DIVINA VITA", video installazione con opera SOLE MORTO, ex Convento del Ritiro, Siracusa
"LOVE STREET", video installazione presso Accademia di Belle Arti Val di Noto di Siracusa, Siracusa
2015 THE TRIBE – Maschere che Correggono la Perfezione – dal 29 Maggio al 30 Giugno – Chiesa di San Nicolò dei Cordari - Parco Archeologico - Siracusa
2015 TRANCITY – 06 dicembre 2015 / 10 gennaio 2016 – Galleria Gallaro – Siracusa.
2016 Color in Jazz – International Jazz Day – Sicilian in Jazz -28/30 Aprile –Antico Mercato –Siracusa.
2016 TRANCITY - Opere su Carta – 19 maggio / 15 giugno Prampolini – Catania.
2017 Tavolo Condiviso azione in International Jazz Day –Sicilian in Jazz ,28/29/30 Aprile , Siracusa
2017 MUSE-X -- 8 luglio – 5 Agosto – Galleria Koart - Catania
2017 MUSE-X (selezione di opere ) dal 9 settembre al 9 ottobre per Wondertime presso BOGGI – Catania
2017 In Corpore Artis – dal 2 dicembre al 17 dicembre . Museo Tempo Canicattini Bagni (Siracusa)
2017 In Corpore Artis - dal 7 dicembre al 17 dicembre , solo exhibition con performance culinaria - Pourquoi Pas – Siracusa
2018 VOLTI JAZZ - Solo Exhibition per International Jazz Day – 28 , 29, 30 aprile - Antico Mercato Siracusa.
2018 STRATIFICAZIONI dal 14 al 31 Maggio , Allegroitalia Ortigia Siracusa .
2018 THE MOON FACE – dal 8 dicembre 2018 al 10 gennaio 2019 – MOON Move Ortigia Out of Normality , Siracusa
2020 THE MOON TRIBE – dal 27 Giugno al 31 Luglio 2020 - MOON Move Ortigia Out of Normality - Siracusa
2021 BEHIND THE MASK , Bassi di Palazzo Nicolaci dal 26 Giugno al 25 Luglio - NOTO
Performance:
2017 IN CORPORE ARTIS - Food Action - Museo Tempo 17 Dicembre – Canicattini Bagni - Siracusa.
2018 FOOD ACTION presso ALLEGROITALIA il CONDOTEL degli Artisti ,29 Giugno, Siracusa Ortigia
Fiere:
2008 "LOVE STREET", Catania Arte Fiera,quarta expo d'arte moderna e contemporanea, Catania
"LOVE STREET", KUNSTART 08, 5° Fiera Internazionale dell'Arte Moderna e Contemporanea, Bolzano
Festival:
2012 SOLE MORTO, Ares Festival Internazionale del film di Siracusa 4° edizione, Galleria Montevergini, Siracusa
2012 SOLE MORTO - OTHER MOVIE - LUGANO , SVIZZERA
Vetrina:
1996 "INSTALLAZIONE", Vetrina Checcacci, Firenze
Scenografie:
1993 "LE PARETI INDOSSANO I FATTI E I PAVIMENTI SI ASSUMONO LE LORO RESPONSABILITÀ"- AMBIENTETEATRO, Scoglitti, Vittoria
1996 "CRONACA DI UNA MORTE ANNUNCIATA", Teatro di San Miniato, San Miniato, Pisa
"PEDRO E IL CAPITANO", Teatro di San Miniato, San Miniato, Pisa
2009 Scenografia per la 3° edizione della Regata dei quartieri Storici di Siracusa, Siracusa
2017 Scenografia per Sicilian in Jazz e International jazz day , Antico Mercato Siracusa
BIBLIOGRAFIA E RASSEGNA STAMPA:
Ø "Reggi – Secolo" – Edizioni Idea Books, Milano 1992
Ø "Diario Siracusa" – Siracusa, sabato 26 settembre 1992
Ø "Brahaus" – Edizione Chronicle Books, San Francisco 1992
Ø "Il Bianco e il suo Doppio"- Catalogo mostra Siracusa 1993
Ø "Diario Siracusa" – Siracusa, sabato 06 marzo 1993
Ø "La Precarietà dello Spazio" – Catalogo mostra Siracusa 1993
Ø "Diario Siracusa" – Siracusa, sabato 02 giugno 1993
Ø "NeueWestfälische" – N° 162 Donnerstag, 15 luglio 1993
Ø "Olà! Semanàrio" – Lisbona, agosto 1993
Ø "Vogue Pelle" – N° 74 settembre/ottobre 1993
Ø "La Rotta Seguita" – Catalogo mostra 1993
Ø "Novorganismo 1984-1994" – Edizioni Novorganismo Catania 1994
Ø "Incognite" – Catalogo mostra 1994
Ø "Diseno" – Madrid aprile/maggio 1995
Ø "Jornal do Brasil" "Tribuna De Imprensa" – Rio De Janeiro 14 giugno 1995
Ø "Imprevisto" – Edizione Idea Books Milano 1995
Ø "Blazing/Eyes" – Edizioni Chronicle Books San Francisco 1995
Ø "Cento Artisti per Sarajevo" – Libro, CD-ROM, Video , Edizioni Tipografia Comunale Firenze 1996
Ø "Spectacles" – Edizioni Chronicle Books San Francisco 1996
Ø "La Sicilia" – venerdì 09 gennaio 1998
Ø "Segno" – N° 160 gennaio/febbraio 1998
Ø "Segno" – N°161 marzo/aprile 1998
Ø "La Nazione" – giovedì 14 maggio 1998
Ø "Segno" – N°162 maggio/giugno 1998
Ø "L'intimo dell'Essere" - Edizioni OPUS artecontemporanea Siracusa 1999
Ø "Prospettive Siracusa" – Anno XVIII N°3 giugno 1999
Ø "Segni d'Arte" - N°13 marzo/giugno 1999
Ø "La Sicilia" – giovedì 20 gennaio 2000
Ø "La Sicilia" – mercoledì 26 gennaio 2000
Ø " 1° ART FORUM SIRACUSA" – Edizione OPUS artecontemporanea Siracusa 2000
Ø "Ortigia change directory" – Edizioni OPUS arte contemporanea Siracusa 2003
Ø "Il Ratto di Proserpina" – libro per bambini con illustrazioni di Giuseppe Piccione 2006
Ø "Penna d'Oca"- forum 6 ottobre 2006
Ø Exibart ---- 06 ottobre 2006
Ø Corriere del Web ---06 ottobre 2006
Ø "La Sicilia" – domenica 18 maggio 2008
Ø "Inout" – anno III N°6 giugno 2008 Siracusa
Ø "La Sicilia" – giovedì 18 giugno 2009
Ø "Libertà" – domenica 21 giugno 2009
Ø "La Sicilia" – martedì 23 giugno 2009
Ø "Libertà" – sabato 27 giugno 2009
Ø "La Sicilia" – martedì 30 giugno 2009
Ø "Regata dei quartieri Storici di Siracusa" – 3° edizione 2009 Opuscolo Informativo con scritto di Giuseppe Piccione
Ø "Giornale di Siracusa" – martedì 8 dicembre 2009
Ø "Area Umbertina/Viaggio a Siracusa" – curatore catalogo dicembre 2009 Siracusa
Ø "Viaggio a Siracusa" – libro/catalogo, edizione Alimede Siracusa 2010
Ø "Sicilia Oggi" – 25 settembre 2010
Ø "La Sicilia" – 24 novembre 2010
Ø "Giornale di Sicilia" – 26 novembre 2010
Ø "Giornale di Sicilia" – 8 marzo 2011
Ø "Libertà" – 8 marzo 2011
Ø "Libertà" – interventi a Libertà – 8 marzo 2011
Ø "Gazzetta del Sud" – 10 marzo 2011
Ø "Giornale di Sicilia" – 13 marzo 2011
Ø "Libertà" – 13 marzo 2011
Ø "La Sicilia" – 14 marzo 2011
Ø "Portobello" – 17 marzo 2011
Ø "MUS-E MAGAZINE N°5" - aprile 2011
Ø "Giornale di Sicilia" – 10 giugno 2011
Ø "La Sicilia" – 5 aprile 2012
Ø "Notiziario ftia" Trimestrale per i membri della federazione Ticinese Integrazione Andicap –dicembre 2012/4
Ø "Giornale di Sicilia" – 3 luglio 2012
Ø "Giornale di Sicilia" – 17 maggio 2013
Ø "Libertà" – 18 maggio 2013
Ø "Gazzetta del Sud" – 20 maggio 2013
Ø "Giornale di Sicilia" – 21 maggio 2013
Ø "La Sicilia" – 26 luglio 2013
Ø "La Sicilia" – 2 agosto 2013
Ø "La Sicilia"-30 novembre 2013
Ø "La Sicilia" -9 dicembre 2013
Ø Diario 1984 – 22 Giugno 2014
Ø "Gazzetta dl Sud" – 23 giugno 2014
Ø "Ritrovarsi" 'Catalogo mostra Edizioni Tyche 2014 Siracusa'
Ø "Marilyn Monroe – I want just to be wonderful" 'I quaderni dell'ARCI V volume 2014 Ed. ARCI Trentino
Ø Artribune – 27 settembre 2014
Ø Exibart -- 27 settembre 2014
Ø "La Sicilia"- 2 novembre 2014
Ø "Libertà" – 2 dicembre 2014
Ø "La Sicilia" – 6 dicembre 2014
Ø "La Sicilia" – 8 dicembre 2014
Ø "La Sicilia" – 10 dicembre 2014
Ø "LibertàSicilia"- 1 Luglio 2015
Ø "LibertàSicilia"- 2 Luglio 2015
Ø "La Sicilia" – 27 Dicembre 2015
Ø Catalogo mostra - TRANCITY - Galleria Gallaro , a cura di Marco Goracci , Siracusa 2015
Ø "Giornale di Sicilia "- 4 Luglio 2016
Ø "Giornale di Sicilia " – 8 Luglio 2016
Ø "La Sicilia – 13 Luglio 2016
Ø ARTE .IT ..The Map of Art in Italy - 24 Agosto 2016
Ø "La Sicilia" – 31 Agosto 2016
Ø "Giornale di Sicilia " 1 settembre 2016
Ø VOGUE.IT - Settembre 2016
Ø "Imago Mundi" Luciano Benetton Collection-Identità Siciliane- Contemporary Artists From Sicily –Fabrica .Antiga Edizioni .2017
Ø Giornale di Sicilia 11 Marzo 2017
Ø La Sicilia 11 Marzo 2017
Ø MUSE-X - catalogo mostra Luglio 2017
Ø Giornale di Sicilia - 30 Giugno 2017
Ø Leggimi – 28 luglio 2017 edizione n.232
Ø La Sicilia - 22 Agosto 2017
Ø Artribune -- 09 Settembre 2017
Ø La Sicilia – 11 Settembre 2017
Ø Libertà Sicilia 28 Novembre 2017
Ø La Sicilia – 03 Dicembre 2017
Ø Libertà Sicilia – 05 Dicembre 2017
Ø IN CORPORE ARTIS – catalogo mostra , Dicembre 2017
Ø Libertà Sicilia 25 Aprile 2018
Ø Libertà Sicilia 18 Maggio 2018
Ø IL FATTO QUOTIDIANO blog - 3 Settembre 2018
Ø Giornale di Sicilia 18 ottobre 2018
Ø LA SICILIA 6 Novembre 2018
Ø The City Magazine 6 Dicembre 2018
Ø LA SICILIA 10 Dicembre 2018
Ø LA SICILIA 19 Dicembre 2018
Ø LA SICILIA 25 Gennaio 2019
Ø SUD STYLE 11 Febbraio 2019
Ø LA SICILIA 4 Maggio 2019
Ø Libertà Sicilia 8 Maggio 2019
Ø The City Magazine 9 Maggio 2019
Ø GIORNALE di SICILIA 14 Maggio 2019
Ø La Sicilia 3 Dicembre 2019
Ø La Sicilia – società e cultura -19 Giugno 2020
Ø AFRICA ! . catalogo - Fototeca Siracusana Libri - Giugno 2020
Ø ARTRIBUNE – 26 GIUGNO 2021