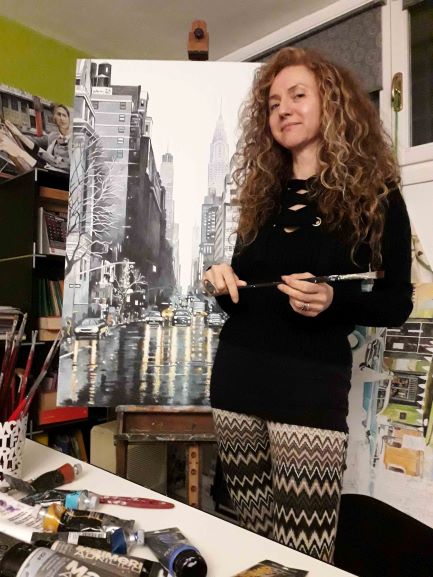 Giò Stefan
I was born in Treviso in the golden age of the Rolling Stones and Led Zeppelin.
I grew up as a passionate reader of Corriere dei Ragazzi, when it boasted of comic geniuses like Hugo Pratt and Sergio Toppi; I was fascinated by the synthetic rendering of the images, in which shadows and chiaroscuro contrasts become the protagonists of a fluid and dynamic space; I was also fascinated by stories, in which the characters find themselves living fantastic adventures in precise and recognizable historical contexts, in a sort of "painted literature".
After classical studies and a degree in architecture in Venice, I worked in the interior design sector. Later, I specialized in the production of pictorial works: initially portraits, then, paintings with two prevailing themes.
IL CINEMA RÉTRO, or "The spirit of an era".
With my daughter, I share a passion for music and especially for auteur cinema. Together we watch vintage films we have collected, from Hitchcock to Wyler to Fellini, and more recent, such as those by Tim Burton and Wes Anderson. We like to recognize the spirit of an era in the choice of characters, costumes and settings; in the psychological characterization of the protagonists, the constant presence of irony, the ability to smile at their own misadventures. This is where my interest in the pictorial genre of Cinema was born.
I use the canvas to give voice to what has been forgotten by the commercial logic of contemporary cinema, but which still remains imprinted in the nostalgic unconscious of collective memory. It is a tribute to an era, from the 40s to the 70s, in which principles and ideals, elegance and mystery were valid.
METROPOLITAN LANDSCAPES, or "The spirit of places".
In addition to portraits of people, I also made "portraits" of cars and motorcycles, set in different urban contexts, and the new theme of metropolitan landscapes, within which some well-known personalities from the world of music or entertainment are recognizable.
Places are not just portions of space, where human actions take place; they are the echo of the passage of the centuries, in the stratifications of human history. Like people, places also welcome us or reject us, making us feel like inhabitants or strangers.
See all artworks by Giò Stefan