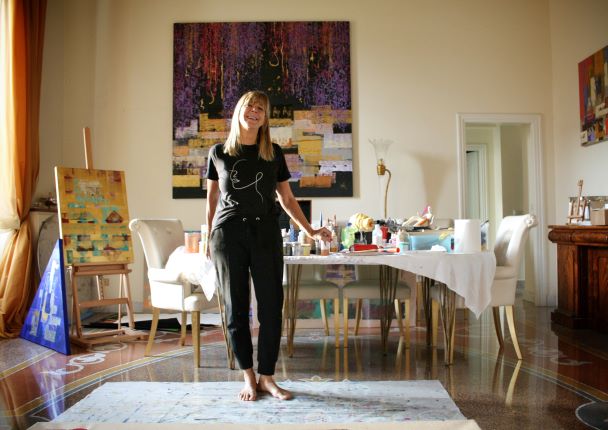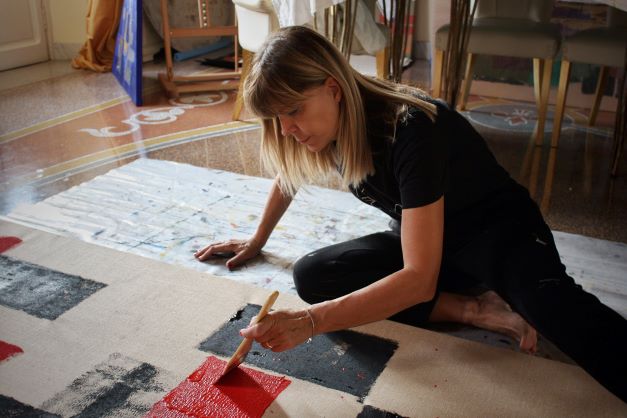 Fulvia Steardo Fermi.
Fulvia Steardo Fermi began her artistic career in primary schools, where her passion for pastel and charcoal drawing emerges.
You deepen your artistic techniques first at the Albertina Academy of Art in Genoa, then at the Paul Klee Art Institute in the same city.
The use of colors has always been the leitmotif of her existence.
She paints on silk, curtains and other household items for professionals in the sector, especially architects and interior decorators.
Until 2019 she does not exhibit her works. The vision of nature and the goods that make it up has always been conditioned by beauty and everything that can celebrate well-being in life.
The use of the materials she spreads on the canvas range from oil to resin and acrylic techniques. A strong predisposition and satisfaction in her painting is reserved for her by the use of her 24 kt gold leaf, which represents for her the utmost respect and homage to art and creativity. Her first abstract painting is defined by the Emotional Risorgimento itself and represents a revolutionary rebirth of the artist with abstract art.
To date, there are no artistic currents capable of contaminating her style and with enthusiasm she continues to cultivate her pictorial passion.
Vittorio Sgarbi
The energy of matter translates into pure emotion.
Fulvia Steardo Fermi's is a pictorial expression of extraordinary formal scanning always aimed at surprising us, where the dynamic gestures of the sign and the immediacy of the material rendering translate an abstract concept rich in considerable aesthetic and interior research.
Wide and broad brushstrokes, of solid expressive intensity, live in the work with clear symbolic values, transforming the image and visual perception into a highly talented creation process. Traces of memories, experiences and imagination leave a mark on the highly evocative process of her that penetrates into the intimate of the user.
The interpretation of the artist Fulvia Steardo Fermi is a succession of signs, shapes and colors that are grafted with extreme force on fascinating optical fields imbued with immense energy that range in a pictorial-informal language full of independent style.
The metropolis series becomes pure expression of spatial rigor and rhythmic cadences of color that vibrate on the canvas with its own symbolic space, an exciting dynamism and a free formal synthesis.
The lexicon of the artist Fulvia Steardo Fermi is born between the perspective volumes and the suggestive chromatic components, who declares a modern identity, is always reworked with an original structure.
The development of material experimentation, of considerable consistency and or personality, outlines an autonomous abstraction in coherent evolution.
Monia Malinpensa
Art director - Journalist, Malinpensa Art Gallery
It turns out that you gaze at an abstract work with pleased amazement when the canons of order and balance are combined with those of an expressive need poured into a full, enveloping color and, in an interior, symbolic fabulation. Fulvia Steardo Fermi performs the spell with sublime compositional delicacy, generating new visions that emerge from an intimate reinterpretation of one's feeling and perceiving reality. Keeping behind the teachings of Paul Klee, the artist moves with the awareness of those who will leave traces of their style, their point of view on the world, creation after creation.
Except Nugnes
The play of colors, always conducted with skill and originality, is the master key to enter a complex world, in which you can feel the profound meaning of matter, its ability to develop, to tighten, almost to suffocate reality. ; color is the desperate weapon to find the way out of pure materiality, to find the way to a sublime that is difficult to find (also known these "spatial" games between vertical and horizontal dimension, almost between the top of a celestial dimension and the bass where they often "float", unfathomed, derelict, almost concretized as materials like the "Ossi di Seppia" placed at the end of the paintings, in the depth of the bass, almost at the end of the world).
I renew all my best compliments: you have the great ability to induce reflection, to think, to find meaning in the restlessness that runs through our existence and also affects our unconscious.
Sergio Audano
Art expert and Professor of Latin language and philology at the Florentine Academy
The Spoleto Arte Committee congratulates you on your artistic production where you can perceive the study on colors; these mappings lead the observer to interpret the symbols contained therein, the color thus becomes a clear path to follow, delighting the observer with warm and harmonious sensations.
Patrizia Stefani
Fulvia Steardo Fermi's interpretation is a succession of signs, shapes and colors that are grafted with extreme force on fascinating optical fields imbued with immense energy.
It is a strongly internalized art that is deeply accentuated and that transmits continuous moods to us under the banner of its own abstract reality that reaches the depths of the interior of everyone who observes his works.
Malinpensa Gallery
Fulvia Steardo Fermi, a well-known lawyer from Chiavari, reveals her artistic vocation in Art Genoa, the modern and contemporary art exhibition currently underway at the Fiera del Mare. Until February 17 it will be possible to visit the pictorial exhibition signed by Steardo Fermi. 'The design and the use of colors have always been the motivation of my existence with long periods of total blocking'. Her artistic career began in childhood, she first attended the Albertina Art Academy and then the Paul Klee Art Institute, but later she enrolled in the degree course in Law, which allowed her to practice as a lawyer, currently cassation lawyer. But the love for art has never died out and now she is bullying again.
XIX Century Levante
Codification of a completely original abstract language.
Looking at an artistic work by Fulvia Steardo Fermi, there is confirmation that a valid artist possesses not only a personal spiritual and emotional wealth, but also a profound professionalism in the creative act that derives from a strong personality and a whimsical and innate talent.
The works of Fulvia Steardo Fermi are characterized by a research aimed at the codification of a completely original abstract language.
His pictorial expressiveness is a total emanation of light and one perceives a representation described with poetic sensuality.
It is a lexicon that involves the inclusion of expressiveness transfigured in colors and outlines but recognizable as splinters of a complex compositional fabric, where innumerable pictorial planes multiply and intersect.
Thanks also to a powerful chromatism that comes from careful, precise and scrupulous research, it is able to highlight the cognitive function of instinct, which together with the possessed ability of pure sign and color, transmit strong emotions to the user.
His inspiration is natural, like a gesture of help that with spontaneous generosity he knows how to give to the community and lingers in that evocative vision of the passion that surrounds him, capturing in the depth of his soul the spiritual essence of the compositions, represented with a result which emotionally satisfies us.
The centrifugal force of the expressions is then accentuated by the artist's chromatic choices, challenging the observer to go beyond the representation to encode deep impulses, which would otherwise be hidden.
In their poetic and expressive completeness, the works of Fulvia Steardo Fermi adhere to a completely contemporary research, inserting themselves in the European artistic currents of the lyrical informal.
The lines of color intertwine in a dense warp tending to go beyond the limits of the pictorial space through tonalisms that overlap and are declined in aligned shades and decisive contrasts.
The artist has an airy stroke, which moves according to geometric trajectories alternating with elements that develop in a less linear way that describe dynamic rhythms full of expressive intensity.
Fulvia Steardo Fermi possesses the knowledge and use of different techniques but successfully experiments with her own personal technique in the pictorial rendering.
The compositions of Fulvia Steardo Fermi are characterized by a continuous research, facing different visual and pictorial fields, nothing is by chance, everything takes place under the careful direction of an artist whose 'Hand' maneuvers the entire work at will. , combining lights, lines and colors.
Continuing to dig her artistic groove, Fulvia Steardo Fermi can elevate herself, to create her own precise, well-defined and successful style.
President, Cultural Association Varaggio Art
AWARDS AND ACKNOWLEDGMENTS
Ugo Nespolo Award 9th Biennial of International Art in Montecarlo, 2020;
Pro Biennale Award, Venice 2020;
Artist of the Year Award, Palermo Art Expò 2020;
Spoleto Arte Award, Spoleto 2020;
Dante Alighieri Award, ArtNow 2021 Culture Identity Festival;
Michelangelo International Award, Il Melograno Gallery, Rome 2021;
Diploma of Merit to the artist Fulvia Steardo Fermi, 4th Biennial of Genoa 2021.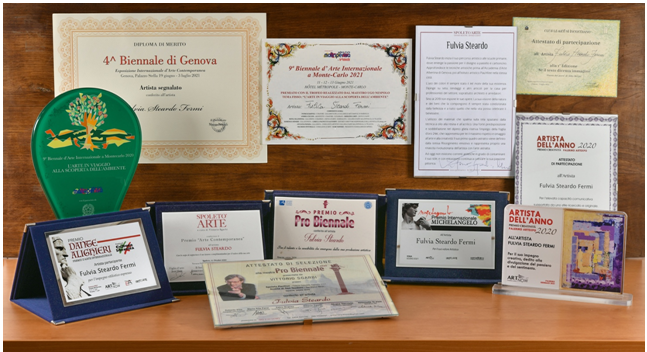 Exhibitions and awards
- PARIS 3 / 10-31 / 12/2020 Galleria Espaee Miromesnil Champs Elysèes
- TURIN 6/12 to 05/01/2021 6Larte Association
- GENOA 12 / -23 / 10/2020 Saturarte Palazzo Stella
- SPOLETO 18/10 to 1/11/2020 Art Factory Vittorio sgarbi
- VENICE 23 / 07-07 / 08/2020 Art Factory Vittorio sgarbi
- VIENNA 06-11 / 04/2020 Association 6Larte (then suspended for Covid)
- LIVORNO 20 / 06-05 / 07/2020 11 Melograno Gallery
- FROSINONE 1 / 04-30 / 04/2020 Biennial of Contemporary Art
- GENOA 18 / 09-02 / 10/2020 Divulgarti Palazzo Saluzzo
- VENICE 13 / 03-04 / 05/2021 Arte Laguna
- MILAN 10 / 13-27 / 10/2020 Art space
- GENOA 10 / 11-25 / 11/2020 Eventidamare
- SANTA MARGHERITA LIGURE 01 / 09-30 / 09/2020 Barbara Cella Gallery
- GENOA 09/12 / 2020-07-07 / 01/2021 Representation room of the Bar Association
- ROME 06 / 05-13 / 05/2020 Medina Gallery
- Virtual exhibition April 2020 Varaggio Art
- FLORENCE 01 / 04-15 / 04/2020 Art Gallery
- MONTECARLO Principality of Monaco 26 / 08-30 / 08/2020 Art3F
- GENOA 02 / 14-17 / 02/2020 Arte Genova Palasport
- SANTA MARGHERITA LIGURE 11 / 12-31 / 12/2020 Barbara Cella Gallery
- GENOA 12 / 12-31 / 12/2020 Divulgarti Palazzo Ducale
- TURIN 12 / 01-30 / 01/2021 exhibition Malinpensa Gallery
- FLORENCE February 2021 Florence Arts Gallery
- ARGENTINA February 2021 curator Daniele crippa
- SANREMO March 2021 Art Factory by Salvo Nunies and Vittorio sgarbi
- BERLIN March 2021 with the Platinum Collection Gallery
- MILAN April 2021 by the Art space Gallery
- S. MARGHERITA LIGURE May 2021 personal exhibition at Galleria Barbara Cella
- MONTECARLO June 2021 curated by the Malinpensa Gallery in Turin
- GENOA June Biennial at the Satura Gallery
- INNSBRUCK July 2021 association 6The Art
- GENOA 12 July - 12 September 2021 Dance on Bank at Deutsche Bank
- HELSINKY September 2021 with the Jelmoni Gallery
- FLORENCE 9 September 2021 - 10 October 2021 Florence Art Deposit Gallery
- FORLI '17-19 September 2021 Art Critic & Manager Artexpò Gallery
- CORTINA D'AMPEZZO MUSEUM from 25 June to 03 October 2021 exhibition Landscapes of Italy - PARMA 02 to 10 October 2021 ArtFair Parma Nef srl
- FERRARA 29 October 01 November 2021 at Artexpo - Art Now - Vittorio Sgarbi
- PADUA 19-22 November 2021 ArtePadova - Nef srl
- TURIN 12 December 2021 by the Malinpensa Gallery