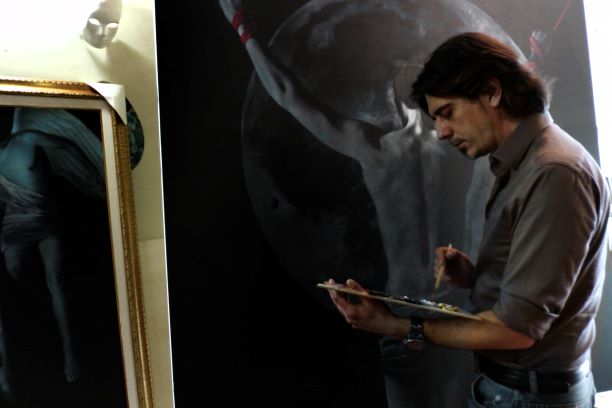 Francesco Verdi
Born in Montevarchi (AR) in 1973, he has always been considered from an early age one of the greatest talents of Italian painting.
Over the years his artistic career has led him to exhibit his works together with those of the likes of Dalì, De Chirico, Warhol and Rodin in the main Italian and international artistic events in cities such as Nice, Bratislava and New York.
Among the numerous exhibitions we remember the participation in Art Basel Miami (Italian pavilion) in 2010 and the personal (guest of the Costa Rica pavilion) during the 55 Venice Biennale in 2013, recently two of his paintings have been selected for the collection of mobile phone backgrounds Huawei around the world.
Many of the most important critics and experts in the sector have dealt with his work and his works have become part of the most important national and foreign public and private collections.
(the great actor John Malkovich is also among his collectors).
His "moon skin", his "struscio" oil painting technique together with the attention to detail combined with his visionary world have become a must for all lovers of "beauty" and art.
" The pictorial technique I used and called STRUSCIO can be explained in this way":
On a black background spread with oil pigments using turpentine as a binder for faster drying proceed as follows. Very little oil paint on the palette and watercolor brushes (I prefer these brushes for their particular softness).
Linseed oil as a binder, but in very small quantities to avoid as much as possible the mirror effect typical of the oil on canvas technique.
I dip the brush as mentioned with a bit of binder in the color, I mix it on the palette, also in small quantities, and I begin to "gently rub with the clear ones where the parts in light are, then I paint by glazes without spreading the color as it is used academically. And I continue to superimpose glazes by rubbing the brush with increasingly lighter shades until I reach the desired contrast, leaving the blacks of the figures without touching them, letting it be the background color. I practically paint by lightening and not shading. Without digging and without using cotton wool or other things. Just a brush with little color applied for "rubbed" glazes that make the work very smooth and without reflections. Only at the end do I proceed with the final touches, painting in a classical way to achieve the perfection of the details.
Imagine during the execution of the painting the same effect of a photograph that becomes more and more clear in the development.
A technique that requires time and meticulousness that amplifies the meaning and emotion of the work ".
See all artworks by Francesco Verdi