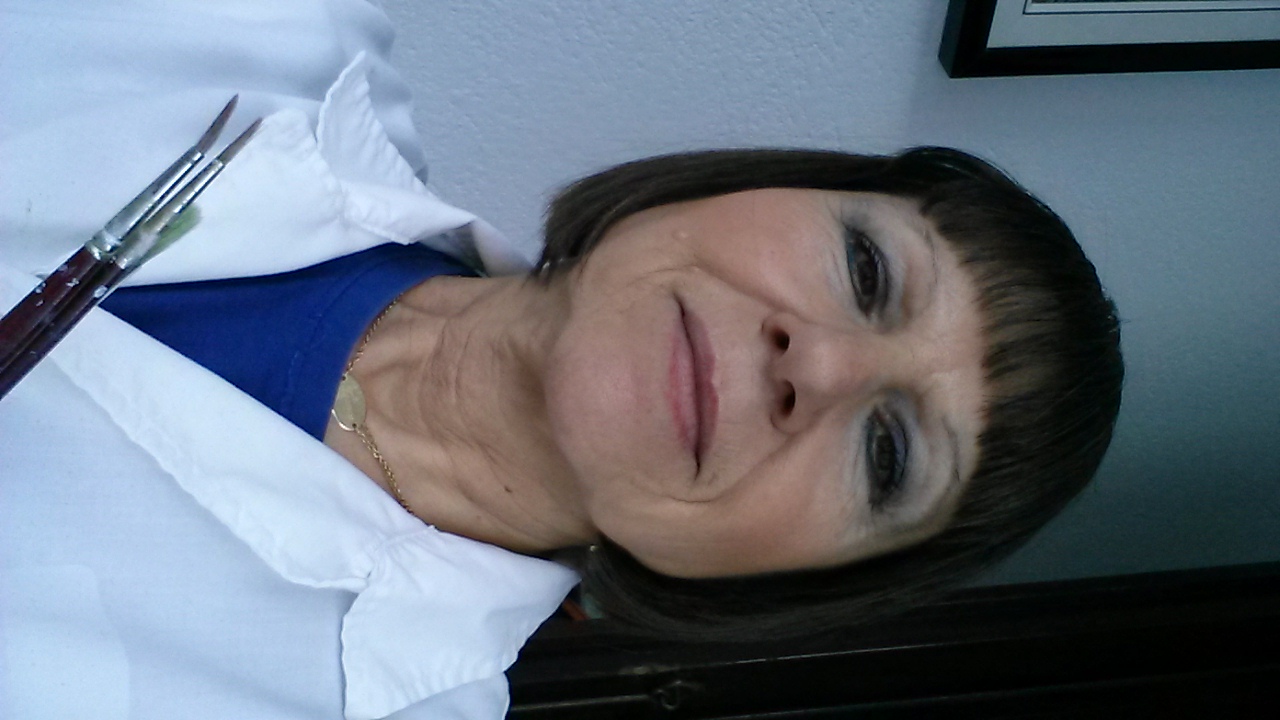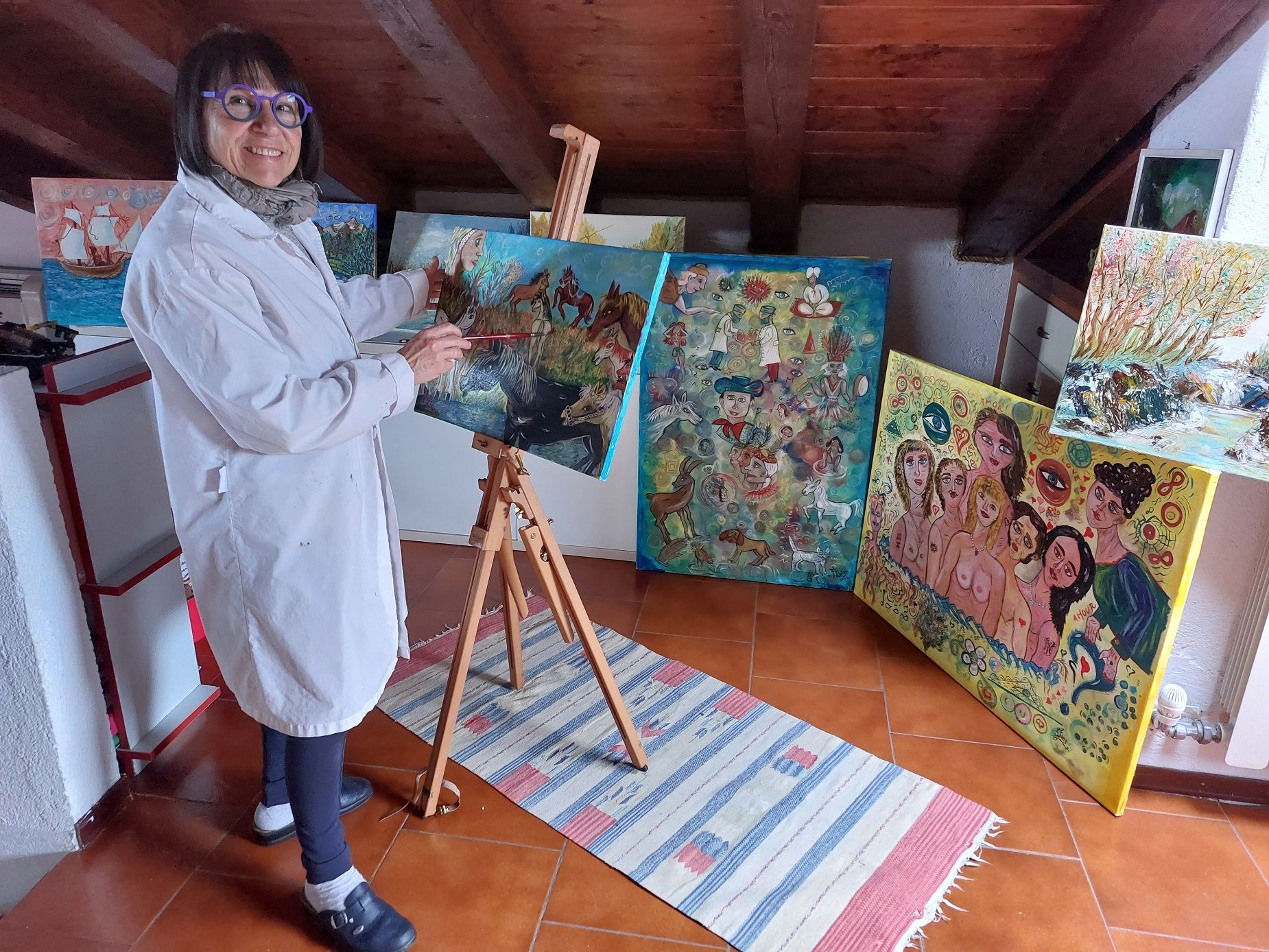 FRANCA FABRIZIO.

Franca Fabrizio has loved playing with colors and brushes since she was a child, creating fantasy scenarios.

She began to devote yourself entirely to painting, participating in exhibitions in Italy and abroad only after her debut in April at Paviart 2022 where she exhibited in the space of the gallery owner Marcella Curcio, with whom she began a constant collaboration, starting to her artistic career.

Her artworks are very personal and particular to her: they all have a profound meaning to grasp and decode; they invite those who observe them carefully to reflect on their inner world and on existence in general.

Through the pictorial language Franca Fabrizio abandons herself to her imaginary world, an emanation of her inner self, in the search for a cosmic union and a harmony also with that universal creative energy from which everything derives and to which everything returns.

Therefore, do not look for representations of the real world in her works, nor for respect for graphic rules or perfection.

When she paints, Franca Fabrizio seems to follow a perceptive dimension parallel to that of everyday life and expresses ideas and concepts with a symbolism to be discovered and decoded.

In her artistic productions emotions and sensations are also condensed which are projected onto the observer by the brilliance and liveliness of the colours.

What may appear to be an attempt to represent reality is, in reality, the expression of her inner world or of reality transfigured and reinterpreted as seen by her mind.

The artist almost never draws: she begins to work by outlining the first graphic signs on the canvas without an initial project, until she creates figures, images, landscapes that represent an abandonment to infinity to reach a sort of liberation and cosmic inspiration with the universe itself.

Each element constitutes the colorful materialization of experiences, emotions, concepts, dreams and sensations that have touched her soul and enriched her psyche.

Each image is a reinterpretation of the world, a message expressed on impulse that transfigures reality, mixing conscious and unconscious in the creation of a parallel dimension to be discovered.

Personal exhibitions
1. AOSTA - UNICUM Gallery - from 7 May to 4 June 1991
2.SAINT-VINCENT (AOSTA VALLEY) - Galleria "Colonello" from 15 to 30 June 1991

3. SAINT-VINCENT (AOSTA VALLEY) - St-Vincent Thermal Baths - from 11 to 31 July 1992

4. AOSTA - FIN AOSTA Gallery – from 8 to 14 September 2015

5. AOSTA - S.GRATO Art Gallery - Aosta - from 26 March to 1 April 2016

6. AOSTA - NATIONAL Caffé -Aosta - from 13 to 29 July 2016

7. NOLI (SAVONA) - Cmarteeventi Gallery, Via Colombo32, from 7 May to 2 June 2022, curator Marcella Curcio

8.AOSTA - SAN GRATO art gallery - from 18 to 24 June 2022

9. ROME - ART Gallery MEDINA in Via Merulana - from 28 October to 3 November 2022

10. FLORENCE- - from December 2nd to December 17th, RoccArt Gallery (MINI EXHIBITION: 10 works) and from January 18th to 5th with some canvases.

Collective exhibitions:
1.AOSTA - Gallery "Torre dei Signori" - 1991

2.AOSTA - "Les jolis coins de la ville d'Aoste" - from 6 to 13 September 2015

3. AOSTA - Exhibition-competition "Women who paint in the Aosta Valley" - from 15 to 20 September 2015

4. SPOLETO - INTERNATIONAL FESTIVAL OF ART AND CULTURE OF SPOLETO - "EuropArt": from 13 to 23 November 2015

5. TURIN - PARATISSIMA -2016

6. PARIS - The Gallery of Rue Durantin 12, MONTMARTRE from 2 to 6 February 2016

7. MOSCOW - TUSHINO municipal gallery - Viale Yana Raynisa 19/1: from 28 March to 8 April 2018

8. AOSTA - Citadel of young people: Art, meetings and discussions - from 6 to 18 December 2021

9.AOSTA - Galleria San Grato - Aosta: WOMEN - from 8 March to 20 March 2022

10. PAVIA - PaviART - 28-29-30 April 2022

11.AOSTA - Galleria San Grato - Spring - from 22 April to 6 May 2022

12. ROME - Galleria DANTEBUS- Via MARGUTTA 38- from 25 May to 7 June 2022

13.MILAN-BRERA - Pitturiamo, International Art Prize from 16 to 30 June 2022

14.CHATILLON (AOSTA VALLEY) - Ussel Castle - 5 works on display from 9 July to 21 August 2022

15. EGGEDAL - NORWAY - International collective exhibition "COLORS AND LIGHTS IN NORWAY" - Hotel Borgerstve Sentrum, Eggedal, from 20 August to 4 September 2022, official art critic Marta Lock

16.COGNE - (AOSTA VALLEY) ART AT HIGH ALTITUDE – Tradition and contemporary - hamlet. Lillaz from 2 to 11 September 2022

17. TAORMINA - Collective exhibition of contemporary art of the Rampanti Movement and the MACO MUSEUM - Palazzo dei Duchi di Santo Stefano - from 16 to 30 September 2022

19. PADOVA - ArtePADOVA, 11-14 November 2022 ( 6 works)

20. BRUSSELS - ALMA ART GALLERY, from 20 November to 22 December 2022

21. PAVIA - Castle of BELGIOIOSO: 26-27 November 2022

22. ROME - Galleria IL LEONE from 7 to 22 December (3 works)

23.ROME - Galleria D.Purificato.Zero from 17 to 31 December 2022
24. NOLI (SV) – MC Art Gallery from 7 December 2022 to 5 January 2023

25.TERNI- Byron Prize- Diocesan Museum and Capitulary - from 13 to 20 January 2023

26. TURIN - Gallria Febo & Dafne - from 10 to 21 January 2023

Coming soon: Bologna, Palermo with dates to be agreed

Artist included in the following catalogues:

SECESSION – THE ART SANS PERMIS : ARTICLE BY ELETTRA CROCETTI 1991-AOSTA

INTERNATIONAL ART ASSOCIATION CATALOG : International Festival of Art and Culture - SPOLETO EURO ART 2015 - Collective exhibition

INTERNATIONAL ART ASSOCIATION CATALOG : Collective exhibition in PARIS – 2016

INTERNATIONAL ART ASSOCIATION CATALOG : Collective exhibition in MOSCOW – 2018

DANTEBUS PUBLISHER CATALOG June 2022 - Collective exhibition in via Margutta in ROME

CATALOG COLORS AND LIGHTSN IN NORWAY -Official catalog- Collective exhibition in Eggedal (NORWAY)

ART CROSSWAYS CATALOG IN BRUSSELS 2022: Collective exhibition in BRUSSELS

ART TALENT SHOW CATALOG - November 2022 - PADUA Fair (6 canvases exhibited)

C.A.M.- CATALOG OF MODERN ART N. 58 – Editorial Giorgio Mondadori – Cairo Editore – November 2022

SEE ALL ARTWORKS BY FRANCA FABRIZIO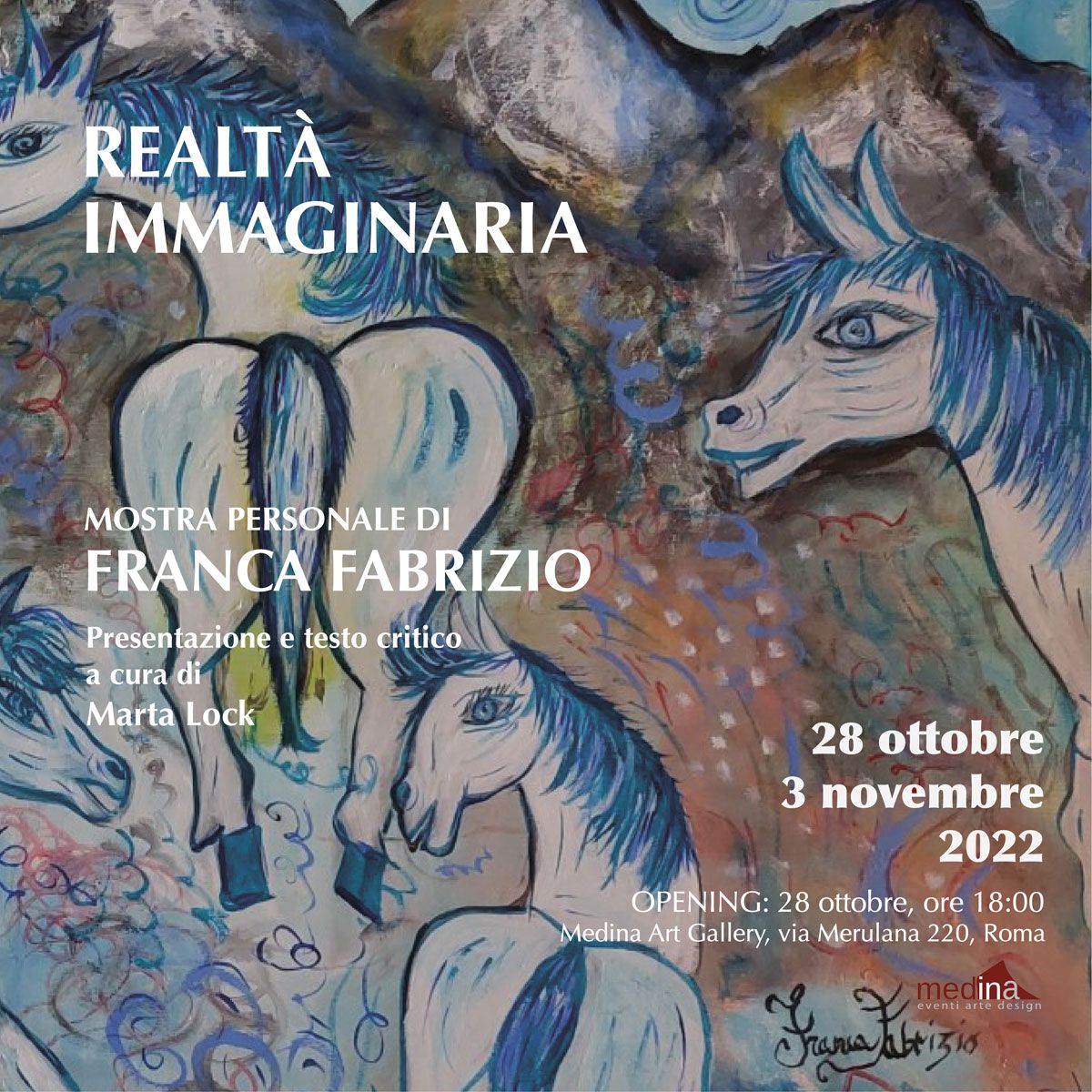 Critical text by Marta Lock
Everything that belongs to current events, to everyday life, tends to detach contemporary man from that contact with the depths of feeling that constitute his very essence, consequently causing a departure from all that emotional dimension, of connection with the energies that envelop existence. Some artists feel the need to recover that contact and they do so by abstracting themselves from the observed reality to enter an imaginary universe where dreams and imagination can find fertile ground to give life to a middle ground where anything can be possible, where emotions can reveal themselves in their spontaneity and immediacy. Franca Fabrizio belongs to this category of creatives
The exploration of emotions ... has constituted the central point of interest and elaboration of the pictorial style called Expressionism, which started from the innovative ideas of the French Fauves who established and implemented a real clear detachment from all previous art, more linked to aesthetics, to the perfection of the forms and to the strong link with the academic rules. The guidelines hypothesized by Henri Matisse, André Derain and Maurice de Vlaminck went towards a new way of making art in which all the rules were subverted and destabilized, from perspective to chiaroscuro, from real shades to classic drawing from which to start describing the subjects protagonists, everything was modified to give relevance to that emotional world, to that inner feeling too often left aside to favor harmony and beauty. For the Fauves, however, what mattered was emotional impetuosity, pandering to the depths of the artist's rapid stroke and choice of color range, effectively transforming the pictorial act into a narrative of sensitivity, of observations, of memories without going through the filter of rationality.
Expressionism effectively absorbed the first Fauvist theories,
…reworking them and adapting them to the country of origin of the artists who joined the artistic current, thus resulting more gloomy and reflective in Northern Europe, as in the works of Edvard Munch or in those of Emil Nolde, more critical of the superficiality and hypocrisy of society of the time, as in the canvases of Oskar Kokoshka and James Ensor, more intimate and existentialist that of Egon Schiele, ending up with the more naive and childish of the French artists among which one cannot fail to mention Henri Matisse himself and the dreamer par excellence, Marc Chagall. The artist of Umbrian origins but naturalized in the Aosta Valley Franca Fabrizio shows the same imaginative and idealistic soul of Chagall while opting for her own personal language, where reality mixes with idealism, where she does not lose sight of current events and the main themes of the contemporary world while looking for a dimension in which to elaborate, or perhaps it would be better to say hypothesize, a way out for the human soul, a place to take refuge and believe that everything can be possible, in balance between what can be improved and that tendency towards purity that is too often suffocated by everyday life. In his canvases in which the representation is simplified, what is real and would usually be limited to a given environment coexists with other elements, helping to infuse the whole with a possibility aspect, a mix that can only be implemented in the art world, an expressive form capable to merge fantasy and tangibility generating a parallel universe that acts as protection and elevation of the individual who, at that point, no longer fears contact with his interiority.
The chromatic range in some works…
….is more akin to the colors of the dream, of the imaginary, such as blue, light blue, green, while in others, those in which the narrative moves towards topical themes, the shades broaden, taking on more incisive characteristics , more intense precisely because they are cathartic towards the subject that Franca Fabrizio chooses to address. The animal world and the sea are strongly linked to the childish and dreamy approach that distinguishes Franca Fabrizio's main production, as much as the human figure is urged to understand the energies that bring about modifications, changes, destinies events of which the individual often he fails to grasp the signals, the messages that can only be read and correctly interpreted through the gaze of the soul, the spiritual eye; even the less positive characters are represented by the artist in a simplified way, stripping them of the most threatening aspect and instead emphasizing their unconscious side, almost as if they were unaware of the real consequences that their behavior can generate.
The artwork Si vis pacem para bellum…
… tells of that series of protagonists of the present and of the past who have not been able to grasp the importance of the role they have or have had, literally putting humanity at risk because of their lust for power; yet under Fabrizio's spontaneous and natural gaze, those same authors of dangerous initiatives seem almost harmless, neutralized by the expressive simplification that represents them as if they were puppets governed and moved by a superior force, that of their useless arrogance which will lead them towards self-destruction and will make them go down in history in the worst way. The female figure carrying the olive branch seems to want to call to order the too competitive and unreasonable male gender to really think big and create a balance of peace and serenity that humanity needs. The expressionist trait almost tends towards Hieronymus Bosch-esque Symbolism, due to the characteristic of filling the canvas with images, characters and symbols that are apparently inconsistent with each other, instilling confusion and at the same time attraction in the observer whose gaze tends to get lost, linger, to locate all the details. As in the work The force of destiny in which Franca Fabrizio tells everything that can happen, in an inescapable way, literally dragging the human being into a chain of cause and effect that will lead him exactly where he should be; also in this canvas the sensation is of being faced with a dream in which all the elements are present before the gaze, without a perspective plane, without a before or after but with a succession of details that become clear the moment they are explored , brought to light in the unconscious phase to then reach the more rational part, often detached from the sensitivity and knowledge of the soul.
But the most fairy-tale world,
… the one in which Fabrizio's imagination lets itself go to an ideal world made of purity, serenity and tranquility, emerges when she makes the horses protagonists, which represent the sense of freedom but also the aptitude for balance, their being wild yet solid and concrete, their not letting themselves be harnessed while choosing to stop only when they choose, when they believe the moment is right. After all, they constitute the metaphor of the human being or perhaps an indication, a suggestion from the artist to absorb those characteristics and that type of attitude to discover the beauty and the intoxication of having no conditioning other than those of one's own nature. And then again the sea, the protagonist of adventures told in a light way by Fabrizio, as if it were a magical world where everything is lighter, more fascinating, engaging precisely because of that sense of freedom that emerges from it, that ability to lead elsewhere letting yourself be cradled by its perpetual movement; also in this series of works, such as Libertatem esse or Sfide, the allegory leads to a reflection on the best attitude to face existence, to the awareness of the importance of letting the energy flow lead towards the most natural destination, listening to its suggestions and acting so that the transformations can take place. And water represents the mobile element par excellence, as opposed to the earth which is often identified with static nature, the inability to detach itself from roots which tend to become real cages; it is only by following the flow of events that one can take note of one's true nature, of the need to live according to its rules capable of transforming unsatisfactory reality into a dream. Franca Fabrizio exhibits regularly in Italy and abroad, she recently participated in a collective exhibition in Norway, and the exhibition on October 28 at the Medina Art Gallery in Rome will be her first solo show outside the Aosta Valley.
Martha Lock

Critical text relating to Franca Fabrizio's pictorial research.
Franca Fabrizio is a painter who tells the stories of the soul through color. She shapes the images, which she imprints on the canvas, through an introspective journey. A profound journey through which she filters reality within herself and reworks it, bringing us into view energetic worlds made of colors, shades and dynamic animal bodies.

The artist's pictorial process does not begin with the design, drawing or sketch, she begins by painting. Small spots of color that slowly unfold in complex dynamisms acting as a sounding board for her feelings, her emotions. Perception and pictorial dexterity, the source and mouth of a clear and luxuriant river which is the art of Franca Fabrizio. Each brushstroke is a material that composes, stroke after stroke, the intricate images of energetic landscapes, emotional places inhabited by dancing bodies, rich in elements drawn from the contemporaneity of everyday life and re-shaped in parallel worlds.

The artist's Wisdom is contained in his ability to involve the observer, capture his gaze and drag him into introspective narratives, detailed landscapes rich in elements among which the gaze runs analyzing each of their parts. An innate ability of a few artists who shape the contemporary, a necessary and precious gift that makes Franca Fabrizio's introspective journeys into community paths, transporting the private to a common essence, the fragility and sensitivity of a single feeling becomes a tool to trigger a sharing. Painting therefore becomes a profound practice, a training in common and shared feeling.

Franca Fabrizio's paintings are light and shadow, they contain within themselves the strength of emotional contrast; they are spaces in which the observer is able to get lost in order to find herself.

George Grasso

Art historian and critic