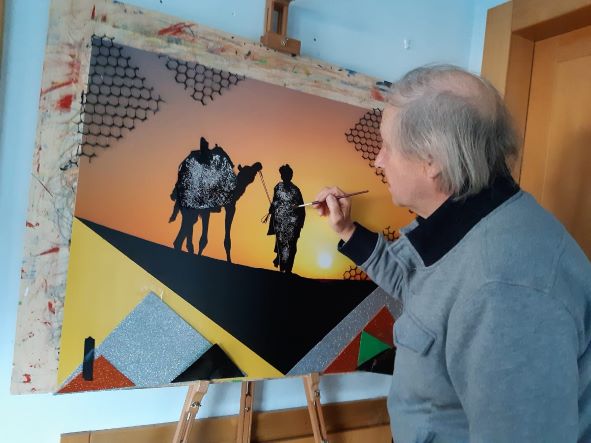 Fernando Tam.
Photographer for about 20 years, he has participated in many competitions, obtaining excellent results.
He has received several honors by participating in various personal exhibitions of a local and provincial nature. For years he has been painting as a self-taught, putting all his imagination on the field by combining painting with his photographs.
In January 2018 one of Fernando Tam's works was exhibited at the ArtExpo Winter Rome, another from September of the same year is at the VIII International Art Biennale in Montecarlo. Among the group shows, the 2019 Milan Biennale, the Margherita Hack Competition and an exhibition in Miami on the occasion of Art Basel.
One of his photographs was among the sixty finalists of the XIX Cairo Milan Award. Fernando Tam does not like to photograph, according to him, the classic landscapes. He is attracted to people, the subjects of his shots of him, in their everyday life. The combination of photography and painting becomes for him a genre extremely capable of striking him and bringing him to action right away. Fernando Tam had started with acrylic colors and then moved on to enamel, not finding the first ones satisfactory for his needs. Unfortunately, he also encounters difficulties in the use of enamel, but the rendering of more vibrant colors convinced him to persevere in this effort. Now consolidated, the effect is in fact what is desired. The curiosity of his works lies in understanding where the photo begins and where the painting ends.
For years, the artist has been working on his photos with painting, water-based enamel, and collage, with
different materials such as fabrics, metals, iron nets and PVC, making it extremely
pleasant the works of him.
He exhibited: At the ARTEXPO in ROME
- AT THE Eighth Biennial of Montecarlo
- At the ART BASEL in MIAMI
- At the Museum ART in BANGKOK
- At the Milan Biennale
Selected: at the DANTE ALIGHIERI International Award
at the MICHELANGELO International Award
at the VITTORIO SGARBI International Award
And together with 70 other artists (out of 4032 competitors) two works by Fernando Tam were exhibited at EXPO 2020 IN DUBAI ABU DHABI from 14 December 21 to 12 January 2022.