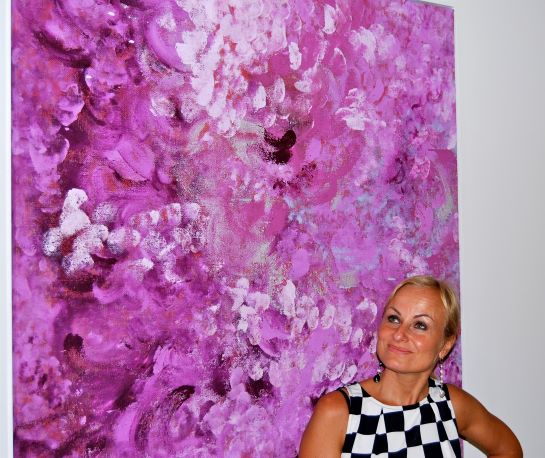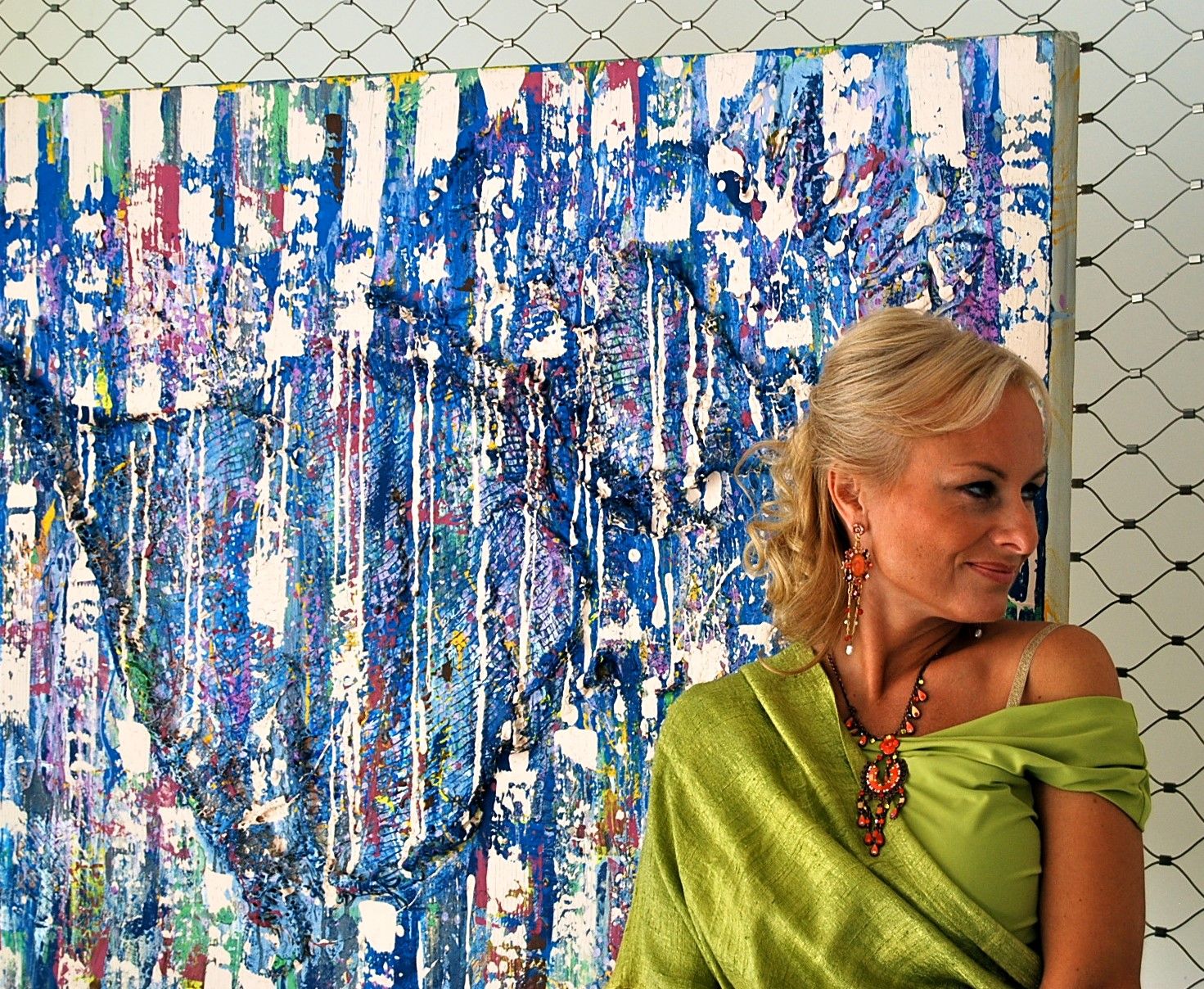 Feofeo.
Feofeo was born in Alessandria in 1969.
The completed course of studies in pharmacy probably determines the alchemical attitude that has always been present in her artworks. Feofeo's is a constant investigation of color, its frequencies on a visual, physical and symbolic level. From the study of quantum physics, Goethe's theory of color and Steinerian spiritualism, she arrives at archetypal primordial representations, initially built only with painting and then with the use of signs and symbols. Cycle after cycle, the artist creates a very personal anthroposophically structured grammar that invites the viewer to enter and then let that vital energy that is emotion flow freely, in a continuous exchange between identity and otherness, between individual and dual, between micro and macro-cosmos, always aware of the mediating function of art in achieving well-being in a broad sense.
The last cycle on the esoteric theme revolves around some words that make explicit studies and explanations that have not yet found an univocal decoding: writings that, enclosing hermetic foundations hidden from human explanation for millennia, distinguish his works through a branding to individual letters starting a creative process steeped in mystery.
Examinations belonging to the Priory of Sion, to the Templars up to the theses of the philosopher René Guénon enhance his painting more. The inscription, in addition to distinguishing the current path, is characterized by further conceptual structures, thanks to the inclusion in the artistic composition of symbols deriving from Sacred Science. A new message is therefore highlighted to indicate other themes to his poetics.
Since 2011 there have been continuous personal exhibitions and reviews in museums, galleries and historic buildings in Italy and abroad in the cities of Barcelona, ​​Berlin, Brussels, Bratislava, Buenos Aires, London, Los Angeles, Lugano, Miami, Montecarlo, New York, Obernberg , Oslo, Paris, St. Petersburg, Stockholm and Tallinn.
Among the latest solo shows are Guha, Casa dei Carraresi Museum, Treviso (2019); I am Color, San Giovanni Diocesan Museum, Asti, with presentation of the monograph of the same name, Editorial Giorgio Mondadori, edited by Giovanni Faccenda; Art itineraries, Villa Principe Leopoldo, Lugano (2017); Energia, Honorable Chamber of Senators of Buenos Aires; Equinox, Rocca Flea Civic Museum, Gualdo Tadino-Perugia (2015); Parla L'Amore, Villa Cambiaso, Savona, curated by Paolo Levi; The voices inside, Mastroianni Civic Museum, Marino-Rome (2013). Among the latest group shows we mention Transiti, Palazzo Lascaris Galleria Carla Spagnuolo, Turin; Leonardo 500, Villa La Versiliana, Marina di Pietrasanta-Lucca (2019); Peace and Love, The Great Mosque of Rome; There is no Beauty without Mystery, Graneri della Roccia Palace, Turin and Francavilla Fontana Castle, Brindisi; BIAS, International Biennial of Sacred Arts, Palermo; Every woman is a muse, Primoli Foundation, Rome (2018); Art for Excellence, Museum of the Risorgimento, Palazzo Carignano, Turin; I lived in art, I lived in love, Gran Teatro Giacomo Puccini, Torre del Lago; The Great Beauty, Obernberg Castle, Inn, Austria (2017); Eternity, Basilica of the Santi Quattro Coronati, Rome; It was lost and has been found, Museo del Tesoro di Vigevano, curated by Giovanni Faccenda; The Hypnotist's Labyrinth, Palazzo Gallio, Como (2016); Art and Time, Palazzo dei Giureconsulti and Spazio Sforza, Milan for Expo 2015; International Biennial, MEAM European Museum of Modern Art of Barcelona (2015).
In December 2016, her monograph "I am color", Editoriale Giorgio Mondadori, was published in Italian and English, with the critical preface by Prof. Giovanni Faccenda.
This first important monograph presents over 160 works created between 2011 and 2016 and divided into three sections, corresponding to as many artistic periods linked to spirituality.
Acquisitions by major banking groups (Banca di Asti and FinecoBank) begin in 2018.
Feofeo's artworks are present in Italy and abroad in public and private collections and her market prices are published in the Catalog of Italian Modern Art, as an artist recommended by industry critics, with an international geographical extension. She lives and works in Asti.
Critique by Prof. Giovanni Faccenda
Self-reflection in painting.

We use colors,

but he paints himself with feeling.
Jean Siméon Chardin
Painting without a subject, if not by listening to what is most remote of one's inner universe, is a complex excavation itinerary no less than the representation of a face, a landscape, a group of objects or fruits ordered, or not, on a table. Going beyond the usual and summary interpretative codes, in fact, figuration and abstraction are usually rather vague and unspecified areas, harbingers of infinite discussions: the main topic, in reality, should remain painting, what kind of thickness characterizes it and, finally , the meanings and peculiarities that coincide with them.
Within the contemporary artistic panorama, the original figure of Federica Oddone - alias Feofeo - stands out thanks to an identity achieved by escaping fashions and homologations, in the progressive consolidation of an expressive path suspended between intimate abandonments (Serendipity, Albatros, Il pianto of souls) and refined intellectual meditations (The door of Ishtar, the cycle of the Seven Chakras).
Painter endowed with a conspicuous introspective ability and a sensibility that guesses accentuated by indelible memorial reflections (Déjà-vu, Inside of me ... the abyss, The other face of evil), Feofeo entrusts the results of a always tonic sentimental involvement, aroused, as it is, by fruitful sensory perceptions and inviting imaginative ideas (Sand of Syria, Beyond the sound, Not just crop circles). The result is chromatic accords capable of physically realizing changing moods (Judgment day, Swan song), which mark a pictorial system full of arcane trepidations and hidden startles (The essence of a flower), the blaze that inspires Feofeo under the ashes of a reality that evaporates without a trace and, therefore, no consoling certainty (Il paradox).
Suddenly, the brush becomes the scalpel with which Feofeo rummages inside herself (The journey), in search of lights hidden in the shadows, seeds to sprout, clues to be grasped and then developed in those luxuriant drafts of shapeless matter (Breathless, The place of ideas, Contingencies), where ancestral and mysterious truths can be interpenetrated, the sense of an incessant investigation, which acquires, in the eloquent unfolding of its ethical and aesthetic orders, lyrical depth, emblematic value (L'apocalisse, Il circle of life, Wild Orchid).
It is resisted by an urgency that has never been satisfied, which finds its territory of free expression in painting. Look, then, at the refined consistency of the different backgrounds of color, in which a touching human substratum (Blood and sand, Golgotha, Inequalities) echoes with a cavernous voice, and you immediately feel the emotional temperature of an artist eager to go beyond the threshold of one's mind, where inalienable paths and perspectives insist and the best dreams remain those with open eyes (Alice in Wonderland).
Thus, the skein to unravel, every time that inspiration recalls Feofeo to the favorite commitment, rises to a vital pretext, turns into a wonderful viaticum in which to rediscover the lost charm of sibylline flashes, continuously burning (The universal sense of peace) : colors, those, like notes of a musical score or letters of an unknown alphabet, which now freeze, now red-hot, always leaving, in the mind and soul of the spectator, the subliminal reverberation of a fascinating and total involvement.
Venice, March 2016.