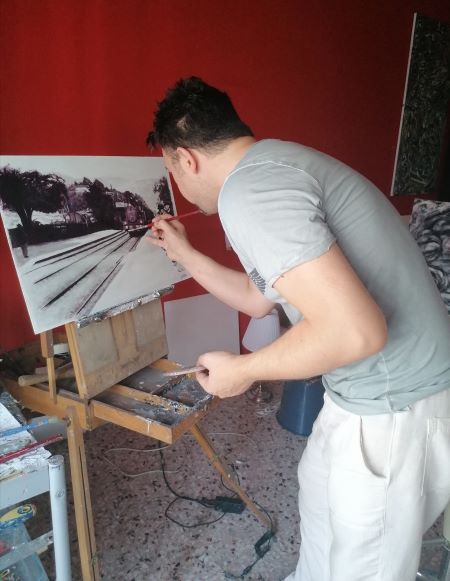 Fabrizio Spataro.
He was born in Turin in 1978. He begins drawing already at the age of childhood, to express the joy he has for life. At the age of twenty-four, he began to paint for a real vocation, so he became interested in art by starting to visit museums for Europe. He discovers the painting of the masters of the past, he is particularly fascinated by the impressionists and painters of the Renaissance. He embarks on an artistic career carrying out commissioned works, in particular portraits, but we can also find figurative landscapes and still lifes.
He adheres to catalogs and participates in several group exhibitions, including Mantua's "Artexpo" at the Francesco Gonzaga Diocesan Museum (where he meets Philippe Daverio who will view the work "Couple at the dance" judging it to be "Divine"). He receives for the same L 'Exspertise from the well-known art critic Paolo levi. He later participates in "Cultura Identità" at the civic palace of La Spezia, where the opera "Daniela" will be exhibited and where he will meet Luna Berlusconi and Angelo Crespi. In November 2019, the "Artexpo" Italian Biennial of Budapest participates with the work "Diaballo and Symballo".
In 2020 she participates in the collective exhibition "Frida Kalho" at the Milan Art Gallery with the work "Woman with foulard" where she had the honor of meeting José Dalì, son of the great master Salvador Dalì. In the same year he joined the "Artists 20" international contemporary art yearbook. In 2021 he joined the "Vittorio Sgarbi Prize" 7 monthly catalogs where we can find one of the works that is closest to his heart, a self-portrait in his studio while he paints with the title "Unveiled Illusions".
FABRIZIO SPATARO
figurative impressionist artist
"... what matters to me is to show, observe, feel and receive something with my art, not just look ..."
INTERVIEW
Good morning Fabrizio and thank you for giving our readers your time to let you know a little more. Who is Fabrizio Spataro in everyday life, describe us a brief profile of you as a man and artist.
Good morning Monica thank you for dedicating this space to me in your newspaper. My name is Fabrizio Spataro, I am 42 years old and I live in Turin, I am a painter by profession, when I am not immersed in colors, canvases and brushes I dedicate my life to my leisure. I like reading, watching movies, being in contact with nature, thinking and meditating on life and beyond.
When your artistic career began. How and when was your passion for art born? Tell us a little about how you start.
I have always drawn from an early age, but I think a real passion for painting was born after I was 24 years old at the Van Gogh museum in Amsterdam. It happened almost by chance, (even if the case does not exist), on returning from that trip a friend was looking for a painter to have a reproduction of an existing painting made, but it was difficult for him to find it because they were all already working with their own works, and I proposed to do it for them, so I started studying this beautiful art and started painting with tempera. After some tests, I did the painting for my friend, he was very happy also because it was a very complex painting, it was about doing "The Creation Of Adam" but I think I did a great job.
What led you to paint figuratively?
I think it is due to the fact that I have always been fascinated by the beauty of form, always had a strong impact on me, when I saw something that struck me I always wanted to reproduce it. For example, reproducing a face, grasping its expression, making it real to the point of giving it a soul, seeing those eyes alive through color, is an ineffable experience.
Are your works closely linked to your thoughts, to your inner self, as often happens for artists?
Yes, it's all connected, the inspiration comes right from the inside, and the inside is inspired by something higher than me until it reaches my thoughts. When the thought becomes very clear and I feel a sense of excitement inside, there is the time to put everything back on canvas.
Which figures inside and outside the artistic world have most influenced your path up to now?
I think it was influenced on a subconscious level by my grandmother, when I was about 18 she told me that I had to be a painter even though I hadn't started painting yet. I immediately did not believe that sentence but over time it crept more and more into my mind until I managed to realize it. In the artistic world I have always been fascinated by Renaissance and Impressionist painting, I was most struck by Rembrandt's paintings, I dreamed of them at night, his painting influences me a lot.
Your pictorial language is based on a combination of figurative models, colors and chiaroscuro that bring out the emotions and the inner world of you as an artist.
What do you feel while you paint, and how do you come to think of your work, is it just an emotional emotional state or do you go beyond interpretation? I feel a sense of total annihilation from the external world, I feel internal tensions that lead me to dig deeper and deeper inside myself, and as if I were somewhere else, I am so tense and concentrated that when I hear the phone ring I jump from my chair ahaahaa. The idea of ​​a work comes to me from intuition in a moment of relaxation of the mind, when I don't think about anything, it can come at any time, the idea hits my heart, and there it's time to make it happen. the important thing is to always keep the channel of inspiration open, and there will be thousands of things to create.
What is your relationship with the subjects you illustrate? I always try to enter into a confidential and empathic relationship in order to be able to portray the subject to the best of my ability, it is an intimate relationship you have to learn to feel them.
You are an extroverted, multifaceted painter, your oil paintings on canvas, tempera, watercolors, graphics, black and white, highlight an innovative and original painting process, based on the synthetic composition of the elements that are sometimes portrayed, sometimes landscapes with splashes of color juxtaposed according to a subtle balance of tonal chords. What is more stimulating to paint, a portrait or create a work that is the fruit of your imagination? In this period I am very stimulated by portraits, landscapes and still lifes I like to paint scenes from my life and character models that inspire me a lot. I am also attracted by the idea of ​​making paintings that are the fruit of my imagination, I keep myself open to everything and to the total change of my works, it is part of an evolutionary artistic path, the pictorial imprint, the use of color, the subjects, figures and the way to get inspired and create.
Your art contains evidence of reality that is not always visible, what do you mean and what drives you to create works of this kind? It depends on what you believe for reality, in reality reality is an illusion, pardon the pun. I became aware of this reality that I found it very difficult to integrate in myself and accept it, I am driven to paint it to give this message, although it is difficult to understand mentally, the observer can understand it only simply by contemplating the work, it is not necessary to explain it. just observe it.
What is art for you? Art is creation and talent, it is the means where God can express himself through the human being.
What do you think of conceptual art?
Which is an art where it is expressed with concepts, but they are very tied to the intellect of the human being, there is no heart and there is no talent, much less commitment. I can't classify them as works of art.
2020 brought a huge upheaval in the art system, with different approaches also through social media, undoubtedly communicating in a different way what the artist wants to convey. What do you think about this? Were you able in some way to make Fabrizio Spataro known, especially to understand your painting as an immediate and expressive communication? internal level, consequently the art and the way of expressing ourselves will also change, if we manage to take all this wisely it will be an inner growth where we will evolve more and more, art will become more and more profound and directed more and more inside our. I have already started to paint things that I felt I had to express, except for someone it is difficult to make it understood. Social media are a very powerful way to make yourself known, personally yes, I managed to make myself known but I still have a lot to work on it, if it is used correctly without being influenced by the myriad of information that derives from it it can be a very valid tool for an artist.
How do you feel about painting and thus expressing yourself? I feel a strong energy that charges me before starting which is dosed as I paint until I fully express myself with shades, shapes, and movements of the brushstrokes I cannot break away from it, after I am completely emptied and satisfied.
The elements that enrich your paintings recall some aspects of everyday life and not, is this a real need or is it more a banal to refer to previous pictorial models? It is a real need, I like to tell the observer the places where I lived, the things that struck me, and giving meaning to everything I paint as a testimony of the life that acts as a teacher and bearer of countless messages, to Sometimes you can see miracles, why not paint them?
You have been awarded several times and you have exhibited in important galleries, you are a figurative impressionist painter at high levels, what does it feel to see that people get excited in front of your exposed masterpieces? It gives immense joy, all sacrifices are forgotten, it's like seeing something born in the world, at that moment you can say "the work is done".
What do you think contemplating your paintings might strike people's imaginations, and what do you try to arouse with your works?
A new world, a new world that comes from the essence, a glimpse of reality that can only be perceived by the subtlest part of the people that leads to the heart.
An artist always thinks he has never arrived as an artistic career, he always has to learn and never feels satisfied with his works. What do you dislike about yourself, if any, about your making art?
I believe that you can never really arrive, art is something infinite, creativity is infinite, I will never go so far as to say "I created everything, there is nothing more to create and express" or "more than that, no I can learn and improve ". I am very critical of myself, I demand more and more, I do not like this aspect very much because I cannot reach certain aspects of myself and of this world in a short time, there is a lot of work to be done and you have to give yourself the time necessary to untie all the knots and face the shadows.
How do you technically start a work? Do you have a specific method? Yes of course, there is a preparation of the canvas with chalk, then I give a white background to give shine to the colors, the drawing is created or I can also start directly with the color, it depends on how I feel, I look at a reference image and I begin to shape it with basic colors, and so I go on entering more and more into the details of the subject and creating harmonies of colors.
Imagination, reality, metaphysics, is there a precise poetics in your works? Yes, you can feel it, it is something transcendental that beyond me as an individual and as a thought, there is a magic that pierces reality that makes you perceive the illusion of the dream. I create realism in order to be able to unmask the deception.
In your opinion, both from a personal and artistic point of view, what do you think is the function or task of art in our complex and confused society? I believe that it must express the times we live in its complexity to make an intuition flourish within people even at a deep level, I would say unconscious, a little clarity and simplicity. point that people have believed it to be so. The Artist is called as by vocation to make his contribution through his Art to improve society. I like to think and I am increasingly aware that the art of painting as Yogananda Paramahansa wrote is a Divine art, and that it should serve to express the divine that is in us.
Is there a special event or an aspect of your life that you would like to share with our readers, something that has changed the way you create or look at art?
There were more special events, everything happened in line with my awareness, the more the idea of ​​making art matured in me, the more events occurred that guided me to create and express myself. An event that I remember, is the exact moment in which I perceived the color in a different way, up to that moment it can be said that I caught very little, then everything was clear, I saw every little nuance around me in a clear way, as if I had set in motion the circuits of my mind that were previously asleep.
With Turin, your city, you are accustomed to beauty, from the extraordinary buildings in Art Nouveau and Baroque style, to historical masterpieces such as Leonardo da Vinci's Sanguigna Self-portrait, preserved in the Royal Library, at the Mole Antonelliana, home to the famous National Museum del Cinema in Turin, at the Egyptian Museum, the most important in the world after Cairo, from the Royal Residences, the GAM, the Museum of Contemporary Art and the Castello di Rivoli etc., a boundless artistic panorama to discover and experience. Your city therefore offers multiple opportunities to see and admire masterpieces of an inestimable level, in which there are countless opportunities to
comparison between the most diverse forms of artistic expression, from art to music, from cinema to photography.
I know that you were planning an event that saw you as the protagonist with your paintings representing the history of cinema in a museum, do you want to tell us about it? So what do you plan to do in the future?
YES, I had already developed the idea many years ago to produce tables that told the cinematic story, that is a table for each film by painting the various scenes, then everything was set aside, I resumed this idea many years later and I started to produce some starting from the first film in history (the Lumière brothers leaving the factory) the project was to donate them to the cinema museum located in Turin inside the Moleantonelliana in order to expand its history and culture through painting and attract more and more visitors , and re-evaluate my city on an artistic level. It is a very demanding project that will take a long time, I hope it will be realized, I am always positive for the future of the art world.
What message do you want to spread through your works? Among these, there is one that you particularly care about and, if so, why?
Definitely a message of truth. It's not that I have the absolute truth, I still have to work hard on it, and maybe it will take more lifetimes to get there. But I can tell something from experience that starts the truth or at least something that confirms the illusion of life of what a dream is where we are called to play a role exactly as an actor does in a film. I care a lot about this because I'm more than sure it could trigger something inside people, a way of seeing existence from another angle. I would like to say that I have compared my personal experiences with great masters of life and philosophers who have walked on this earth where I was able to confirm the truthfulness of what I lived. In my painting I want to bring this message, which is nothing more than a message of Freedom.
How would you define your art? How much do everyday life and current events affect your final projects?
I would define it as a transcendental art, it may seem a complex and snooty definition but in reality it is very simple. I simply try to go beyond the illusion of form, to give testimony to the reality of non-form. What I do affects a lot in my life, it takes all my time, I am always at your service even if sometimes I exaggerate and I should stop to reorganize my ideas, I work frantically when I am inspired. In the future I will try to carry out my projects more lightly, trying to flow into life and do only what is essential.
Where can your readers or your fans follow you and see your extraordinary works?
They are on various social networks, on Facebook they can find me as fabriziospataroarte.
On Instagram as fabriart7
If they want to visit my site, they can find me on
https://thegalleryartfabriziospataro.com/
What do you want to say to our readers who read this chat?
I hope I have answered eloquently to make them understand my Art and what I am, and that I have not bored them. I would like to give them a message of hope and to believe in the world of art as a consequence of an ever greater humanity, which aims at people's hearts.
In conclusion Fabrizio, what are your future or upcoming projects and what do you expect?
Well !! First of all I plan to continue to stand in front of my easel, it may seem obvious, but it is already a success, there I live my dream at all times. Then I would like to do personal exhibitions throughout Italy starting from my city of course, I am currently organizing one. In reality I have no expectations I rely completely on events, I try to live lightly, I know that everything will happen based on what is right for me and for others.
M ° Monica Isabella Bonaventura