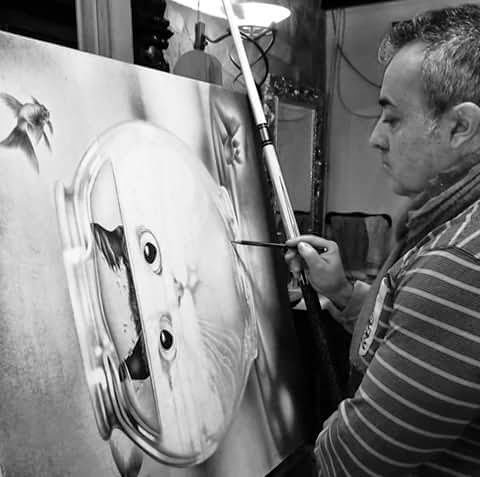 Fabio Perla.

Fabio Perla was born on 14 October 1965 in Tuscania, a town in the hills of northern Lazio. From a very young age he moved with his family of origin in Tuscany to Livorno. In 1982 he attended the Institute of Art in Pisa where he obtained the diploma of "Master of Art" and later the artistic high school diploma in "Advertising Graphics".
His hyper-realistic artistic path began in the 90s with some group exhibitions and then landed with solo exhibitions in prestigious locations. He has collaborated with several art galleries of international importance and his works can be found in important private and public art collections. He has collaborated in several editorial projects as an illustrator for books published all over the world
It is precisely in Livorno in his studio that Fabio Perla designs and creates his works, working with great stubbornness and determination, like a true professional. Considered by industry personnel as one of the most interesting and distinguished contemporary Italian artists on a strong rise also at an international level for his particular technique used with which he develops his creations of dream horizons, using the technique of airbrushing and pencils.
Expositions:
1999 - Open Art -Sale del Bramante Roma (Italia)
2001 - Agora Gallery Chelsea New York (USA)
2002 - Accademy For Advanced Studies – Columbia University New York (USA)
- 13^ Fiera d'Arte Contemporanea Padova Galleria Granelli (Italia)
2003 - 14^ Fiera d'Arte Contemporanea Padova Galleria Granelli (Italia)
2004 - Mondo Arte Gallery Al Barsha Dubai (Emirati Arabi Uniti)
- De Twee Pawem Fine Art Gallery (Olanda)
2005 - Mondo Arte Gallery Al Barsha Dubai (Emirati Arabi Uniti)
- Untitled Art Gallery Firenze (Italia)
2006 - Salon Art Shopping - Carrousel du Louvre – Parigi (Francia)
- Teatro Red Star Culture di Hangzhou (Cina)
2007 - Louse Alexander Gallery Paris (Francia)
- Galerie Beukers (Olanda)
2008 - Palazzo delle Arti Marsiglia (Spagna)
2009 - Salon Art Shopping - Carrousel du Louvre – Parigi (Francia)
- Mazzoleni Art Gallery Arte Contemporanea Alzano Lombardo (Bg) (Italia)
- XII^ edizione della New West Art Fair, Hangzhou (Cina)
- Teatro Red Star Culture di Hangzhou (Cina)
2010 - Only Italy - Mostra Arte Contemporanea - Teatro Stabile di Hangzhou (Cina)
- XIII New West Lake Art Fair - Peace Exibition Center di Hangzhou (China)
- Art Event Gallery - Forte Village Sardegna (Italia)
- Art Miami Beach Italian Style (USA)
- Biennale d'Arte Artemisia Palazzo Mole Vanvitelliana Ancona (Italia)
2011 - Arte Fiera Bergamo con Mazzoleni Art Gallery Bergamo (Italia)
- Art Event Gallery - Forte Village Sardegna (Italia)
- XIV New West Lake Art Fair - Peace Exibition Center di Hangzhou (China)
- Bergamo, Studio Vigato
2012 - XV New West Lake Art Fair - Peace Exibition Center di Hangzhou (China)
- Venezia, The Dream of Eurasia. 987 Testimonials. The Italian Attitude, Evento collaterale della 55° Biennale d'arte, Palazzo Barbarigo Minotto Venezia (Italia)
- Art Event Gallery Bergamo- Forte Village Sardegna (Italia)
2013 - XVIII ^ edizione di Art Beijing (Cina)
- Agora Gallery Chelsea New York (USA)
- Salon Art Shopping - Carrousel du Louvre – Parigi (Francia)
2014 - XIX^ edizione di Art Beijing (Cina)
- Teatro Red Star Culture di Hangzhou (Cina)
- Salon Art Shopping - Carrousel du Louvre – Parigi (Francia)
2015 - Louse Alexander Gallery Paris (Francia)
- XX^ edizione di Art Beijing (Cina)
- Milano Galleria Dep Art
2016 - Teatro Red Star Culture di Hangzhou (Cina)
- XXI^ edizione di Art Beijing (Cina)
- 27^ Mostra d'Arte Contemporanea Arte Padova Galleria Granelli (Italy)
2017 - Teatro Red Star Culture di Hangzhou (Cina)
- XXII^ edizione di Art Beijing (Cina)
2018 - Only Italy - Mostra Arte Contemporanea - Teatro Stabile di Hangzhou (Cina)
- XXIII New West Lake Art Fair - Peace Exibition Center di Hangzhou (China)
- 29^ Mostra d'Arte Moderna Contemporanea Arte Padova Galleria Granelli (Italy)
- Only Italy - Mostra Arte Contemporanea - Teatro Stabile di Hangzhou (Cina)
- XXIIV New West Lake Art Fair - Peace Exibition Center di Hangzhou (China)
2019 - Art Event Gallery Bergamo- Forte Village Sardegna (Italia)