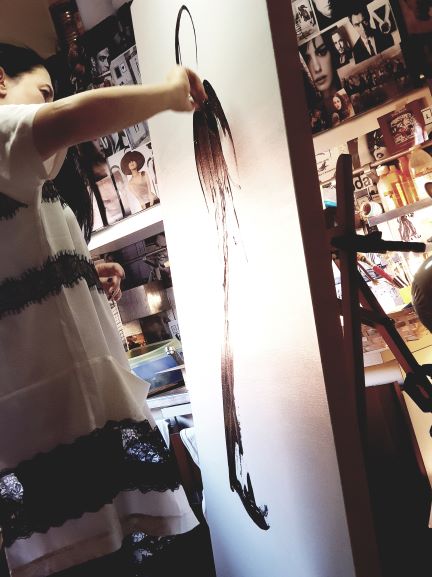 Erika Marchi
Painter class '73, lives and works in Carpi (MO).
The artistic training takes place thanks to the work she does for the great Italian clothing brands such as Dolce & Gabbana, Extè, Ferrè, Twinset.
Erika Marchi's work has been described as innovative and tastefully refined, an art that becomes the revelation from another dimension from another situation, something that within a mental space reveals itself to others and communicates to them.
Her artworks are oils developed on canvas or paper in which the colours of black and white dominate, interrupted by small, generally red strokes. The most figurative ones are called "Tangles" as if they were spools of thread that form figures of which the red dot represents a hypothetical wax that blocks the last thread. They are works executed with precision and often convey feelings such as love for family, music and art, but also more iconic figures.
The most abstract ones are called "Labyrinths" because playing on the shadows of black, they hide spaces and figures that come out as the works are observed. They are more instinctive works, focused on the sense of the sign, which is often used as a means of transmitting important messages.
In Italy she has exhibited in cities such as Rome, Milan, Venice, Bologna, Turin, Florence, Bergamo; she participated, among other things, in the 9th Florence Biennale in 2013, confronting artists of the thickness of Anish Kapoor. Among the fairs should be mentioned Art Expo New York and Arte Genova. She has been part of projects such as "North East Route" at the Ugo Carà Museum in Muggia (TS), The Maze of the Hypnotist at the Palazzo Gallio on Lake Como, and was an artist of EXPO 2015 in Milan at the Palazzo dei Giureconsulti and Expo Gate; She also exhibited in Rome at the Basilica of Santi Quattro Coronati in the project L'Eternità dell' Arte and was one of the protagonists of the Masterclass of Infinity, an exhibition that had three main locations (London, Sabbioneta, Dubrovnick). She took part in the Genius project in 2018 exhibiting at the Museo Leonardiano in Vinci, at the Palazzo Pretorio in Anghiari and at Palazzo Medici Riccardi in Florence. In 2020, in addition to being present for the second consecutive year at Affordable Art Fair Milan, he exhibited at ArteGenova and ParmaArtFair.
She has exhibited abroad in fairs and galleries in New York (Manhattan), Providence (RI) USA, Dubrovnik (Croatia), Berlin; she exhibited at the National Museum of Tirana London is an important city for her and she has already been guest of several galleries and events. . She has been selected with two works to represent Italy in the event Pace & Amore Italian Selection for Expo 2021 Dubai - Abu Dhabi.
Many of her works are now part of private collections; there are several publications of her works on Mondadori Catalogues, EA Editore, catalogues and magazines.
In october 2020 she won the Mediolanum Art Prize during Parma ARTFAIR.
SEE ALL ARTWORKS BY ERIKA MARCHI

Main recent exhibitions:
2015 - Inside III - Expo Contemporary art - Royal Opera Arcade - London
2016 - The Labyrinth of the Hypnotist - Palazzo Gallium - Gravedona - Lake Como
2016 - Was lost and was found again - Vigevano Cathedral Treasury Museum - Vigevano
2016 - Eternity in Art - Basilica dei Santi Quattro Coronati - Rome
2017 - Infinity - Duke's Palace of Sabbioneta (MN)
2017 - SOLO - #ARTRA - Brunati-Bonasi Palace - Carpi (MO)
2017 - Infinity Masterclass - The Pall Mall Gallery - London (UK)
2017 - Infinity Masterclass- Sebastian Gallery - Dubrovnik (UK)
2017 - SOLO - Human labyrinths - Jelmoni Gallery – Piacenza
2018 - GENIUS - Palazzo Medici Riccardi - FIRENZE/FLORENCE (ITALY)
2018 - Genius - Palazzo Pretorio - Anghiari - (ITALY)
2018 - Genius - Museo Leonaridiano - Vinci (FI) - (ITALY)
2018 - Internationart Amour - Ca Zanardi - Venezia (ITALY)
2018 - Pace & Amore - Grande Moschea di Roma - Roma (ITALY)
2019 - Affordable Art Fair - Milano (ITALY)
2019 - The Angel Soul – Pinacoteca di Assisi – Italy
2019 - The Angel Soul – Lacke and Farben Gallery – Berlino - Germany
2019 - The Angel Soul – Historical National Museum Albany – Tirana – Albany
2019 - Parma Art Fair – Parma – (ITALY)
2019 - Padova Art Fair – Padova – (ITALY)
2019 - Solo SHOW – Marchi Forti – Locanda dell'Arte – Solonghello (AL) - (ITALY)
2020 - Affordable Art Fair - Milano (ITALY)
2020 - ArtFair Artegenova – Genova - (ITALY)