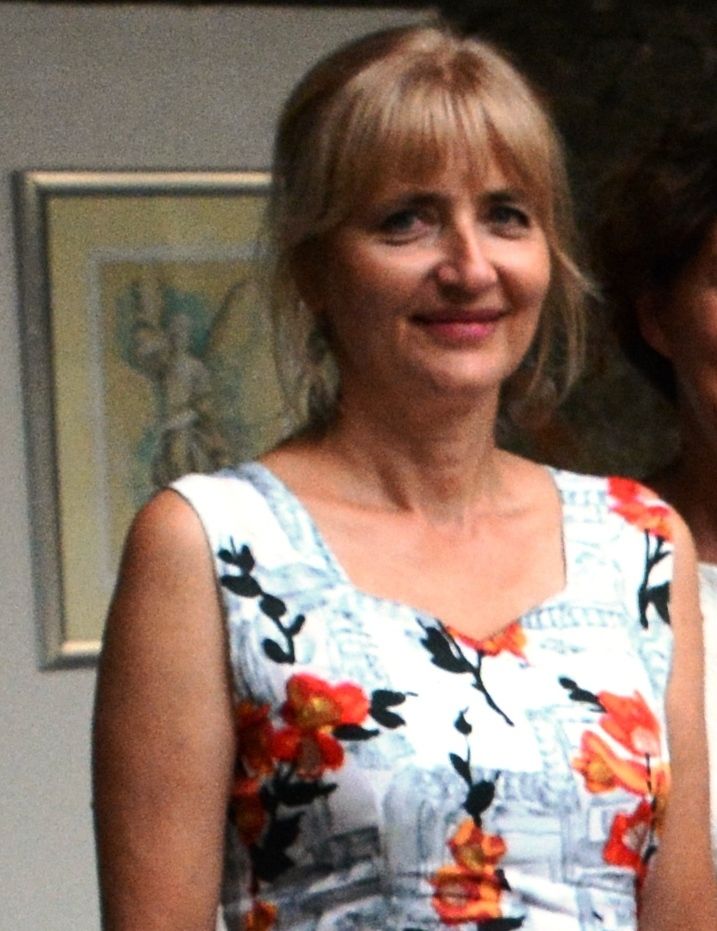 EMMA CAROSI.
TRAINING
She began her artistic training in 1994, as a student of a painter from Bergamo.
In 2007 she began conducting some creative workshops for children, working with the educational cooperative "Il cerchio di gesso".
In 2010 she started to follow some training and updating courses concerning to the conduct of workshops at the Gallery of Modern and Contemporary art in Bergamo.
Afterwards she attended some specialization courses at the Carrara Academy of Fine Arts in Bergamo, based on nude drawing, conducted by professors F. Pedrini and G. De Lazzari, she also attended in-depth training courses for teachers of the ITAR-Artistic itineraries project of the high school artistic Betty Ambiveri of Presezzo conducted by prof. Gualandris. She even attended individual specialization courses at the teachers' atelier in Brera Academy of Fine Arts in Milan.
EXHIBITIONS
2008: First personal exhibiton titled "Harmonic Movement" at the old church of S. Sisto in Colognola.
2009: Exhibition of International French Painting of Villemoble, in association with Circolo Artistico Begamasco; personal exhibition at Caversazzi library in Bergamo in occasion of the manifestation "Floreka" in Gorle.
2010: Collective exhibition with as main theme "The Woman" in association with Circolo Artistico Bergamasco; she joined with a work in a painting competition promoted by the Academy of the Guardia di Finanza: "Art for the Academy, the Academy for Art".
2011: Collective social exhibition "Artists in the square" with ASAV association, and participation in the Sunday antique market in Seriate.
2012: In February she attended her personal exhibition "Antologia", at "Spazio Terzo Mondo" in Seriate; collective exhibition with main theme "Festivity, family and work" with the artistic group Malpensata from Bergamo; 3 weeks of personal exhibition in Milan to the "Galleria 9colonne" in collaboration with Fondazione d'Ars; collective exhibition with main theme "Water" at the space of D'Ars Foundation in Milan; collective exhibition at the exhibition space of the Colleoni Castle in Solza (Bg).
2013: Inauguration of the work "Crystals: art, dream and fantasy" at the Museum of Art and Science in Milan, with the collaboration of the designer Barbara Massimino and the painter Francesco Dal Bosco
2014: Collective exhibition "Dreams and Reality" at the "Borgo d'oro" exhibition hall in Bergamo; exhibition with 3 other artists "Four in harmony" at the cloister of the Church of S. Maria delle Grazie in Bergamo.
2016: Second personal exhibition "Nuova Antologia" at the exhibition space to Libreria Terzo mondo in Seriate.
2017: She participates with two works exposed in Biennale d'arte Internazionale in Belvedere S. Leucio di Caserta, and one of them has been acquired from MAC3 Museum in Caserta.
2018: She joined the Collezione Sgarbi with two works: N. P0169 "Attrazione" e N. P0168 "Gesti di potere"; competition exhibition of watercolors promoted by the "Greppi cultural circle" of Bergamo; "DonArte" female art event in Darfo Boario Terme; contemporary art collective "5 senses" with 6 works in the Bourbon district of Casagiove in the province of Caserta organized by Coronas Arte; Artexpo SummerRoma 2018 with the watercolor "Dream of dancing". On 26/7, she received the Palermo Art Award with motivation and criticism from prof. Paolo Levi; At the Rossocinabro Gallery in Rome he exhibits 3 works on mixed media paper.
2019: Contemporary art exhibition "Animus and anima" in Naples cured by Gina Affinito; she organizes with artist Neja the first exhibition event for emerging artists in Bergamo: "Emerging Art Sharing"; she participates with a work in the international contemporary art competition Luxemburg Art; one of her works was selected by the jury of the Linx international contemporary art award in Trieste for participation in various regional exhibitions; personal exhibition at the historical space of the former prison of S. Agata in Bergamo; collective exhibition of contemporary art MincioArt 2019.
2020: She participates in Switzerland with watercolor works at two international art events on paper "InContemporanea" and "3 Art paper International 2020" organized by Leonardo Pecoraro GALERIE L'ATELIER (Hünibach / Bern - Switzerland).
2021: She participates in the Art-e Orizzonti Artistici Award, Exhibition at the MACO MUSEUM in Veroli (Fr); "Art is a woman" exhibition promoted in Terni by the association "I 2 colli" and as a prize, she also participates in the video exhibition of Italian international art in St. Petersburg; "Art on tour" at the Colle del Duomo museum in Viterbo; she has been selected to participate in the DeSidera International Art Festival in Trieste with two works painted in oil on canvas belonging to the theme "Reflected World"; she also exhibits these
two works in Venice at the 1758 Venice Art Studio Gallery.
2022: She exposes two oil works with theme "Flora" in Milan, at the Porpora Gallery in Milan.
ACTIVITIES
In recent years she has worked enthusiastically as a volunteer in the "Artedisarte" project, promoted within the Disability Table of the municipality of Bergamo. She organizes and conduces artistic and creative workshops both for adults and for children at libraries and cultural associations, and also teaches artistic disciplines both in presence and online, at private schools in Bergamo. Together with the violinist Prof. Raffaella Bovo she combines the experience of painting with music, in workshops for children.
SEE ALL ARTWORKS BY EMMA CAROSI