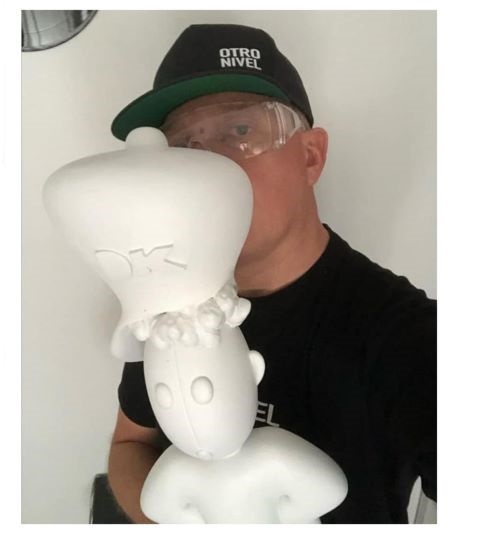 DROPSY.
Devils Killa (D.K.) designed by Dropsy comes to life in the early nineties.
"He who kills the Devils" a name that immediately gives it a clear positive value.
Dropsy identifies devils as the negativities of the world, of everyday life; evil thoughts, injustice, intolerance, racism, environmental pollution, a sort of knight ready to come to the aid of our planet, a savior of souls.
DK aims at awakening the collective consciousness.
Brought to the fore by the Street, Pop and Urban culture, Art Toy is experiencing an increasingly overwhelming popularity, brought to the fore by the Street, Pop and Urban culture and is gradually becoming an intrinsic part of the Streetwear world as well.
The term Art Toys refers to those collectible toys, often produced in limited editions, made mainly of plastic or vinyl but which can sometimes also be produced in wood, metal and fabric.
This new trend of contemporary art and collecting has given life to a real universe of unique and iconic characters, created by artists, graphic designers and illustrators.
There are many international artists who have wanted to measure themselves with this type of "object-sculpture", suffice it to mention Takashi Murakami, and Jeff Koons who have revisited Pop Culture characters with intrinsic messages, ranging from cute and at the same time scary monsters and characters unlikely entirely original in their appearance.
Art Toys have overwhelmingly become part of collections exhibited in prestigious museums and urban spaces, consecrating these toys to real works of art.
It was undoubtedly the Asian culture that started this new form of collecting
Dj Dropsy is a veteran of the Italian DJing present on the scene since the beginning.
Active in the spread of hip hop culture since 1988, he was among the first Italian graffiti writers, he made his first piece at 14 with the tag Drop Ckc….
Raised in a family of artists and art scholars, he spent his childhood in exhibitions, museums and painters' studios.
Art has always been part of his life path.
Not only the pictorial one, but also the musical one: from a vinyl collector he became a DJ and became passionate about everything behind the scenes of the final product that people listen to.