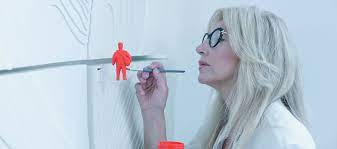 DANIELA FORCELLA
With a past as a refined collector, she trains and perfects her style in the drawing courses of the Master and artist Italo Chiodi at the Brera Academy of Fine Arts in Milan, immediately expressing a strong inclination towards Pop Art and in particular to the theme of "repetition".
Her early works, a multitude of hearts in polychrome resins suspended in suspension on the carcasses of old mattress nets, closed in large transparent cases, are so full of symbolic power that the New York critic Alan Jones in one of his speech defines her as the "queen of hearts ", assimilating the heart to the supermarket products celebrated by Andy Warhol.
She participates with her in a work of hers on the occasion of the inauguration of the first museum of Italian design, the Triennale Design Museum, she exhibits in Art Basel (CH) and in the Design District of Miami, Florida (USA). He is permanently present at the Vertical Museum of Palazzo Lombardia in the Lombardy Region in Milan, exhibits at the San Giorgio Gallery in Palazzo Gargantini in Lugano (CH), presents a solo exhibition at the Villa Reale in Monza (IT) and at the Palazzo d'Artista, collection of permanent art of Banca Mediolanum Private Banking Padua office.
In 2017, after a year of intense research and recovery of more intimate themes, at the invitation of the curators Arch. Gisella Gellini and Mario Agrifoglio participates in the exhibition "Black Light Art Milan: the light that colors the dark" organized under the patronage of School of Design of the Politecnico di Milano and the Brera Academy at Palazzo Lombardia, an exhibition space of the Lombardy Region in Milan, with the work "The Traveler".
The emotional power of the work, also amplified by the large size in which it is made, produces such a consensus from the public that Daniela Forcella is chosen to present the entire "Cartografie" cycle, to which the work belongs, at the 57th Venice Biennale 2017 set up at the Armenia Pavilion.
Some of her works are part of private collections in Italy and abroad.
In 2019 at the invitation of the creator and curator Tiziana Serretta, she participates in the "Spirituality in the Material" project by creating two large monoliths, the exhibition is presented at the 2019 Milan Furniture Fair.
The "Spirituality in the Material" Project, aligned with the UN 2030 Agenda aimed at a deeper awareness and social commitment to safeguarding the environment, was presented by the Curator and some selected artists, including Daniela Forcella, in the "Art for Social Awareness" event on September 6, 2019 at the United Nations (UN) headquarters in New York City, USA.
Several of the artist's works are part of private collections in Italy and abroad.
Daniela Forcella lives and works in Milan.
See all artworks by Daniela Forcella