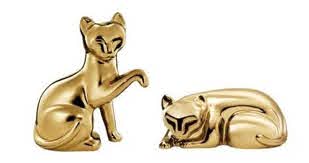 Chorustyle
Laki & Nikko
Accessories created to enhance spaces and create unique atmospheres. With their sinuous shapes and their elegant reflections, Laki and Nikko grant happiness, well-being and security to their possessors, becoming the true protagonists of every space and every situation. With their physicality, their energy and their instinctive and elusive style, cats have always had a deep and ancestral bond with the natural dimension, which has led people, at every latitude and in every moment of history, to seek a intimate bond with these little felines.
Laki is the cat of fortune who shows the way to get what you want most, leaving us the piecere to follow it, day after day. A touch of class that embellishes any space, but not only: Laki is a source of light that illuminates every step, reveals what is hidden in the dark and promotes harmony with people and the world in and around us.
Nikko means "ray of sunshine that illuminates": a light that gives inner security, an excellent example of calm and imperturbability to find balance and harmony. It is the cat of serenity; its light gives inner security, constantly watches over the people and surrounding spaces.
See all the artworks by Chorustyle