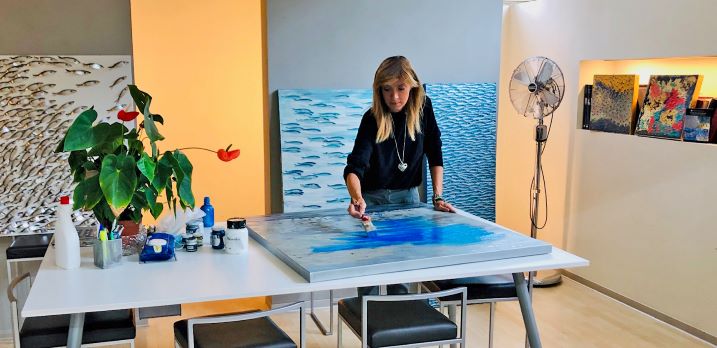 Barbara Pecorari

Sardines leaping out are made by overlapping raised adhesive sardines, painted on the back with bright acrylic colours and hand-drawn eyes on the base of a brush colored acrylic with glossy lacquered finish on canvas.
This "Modern Concept" is a marine-theme installation combining the school of fish to a more sophisticated, absolutely contemporary context that "moves" Following the trends of the moment such as Pop Art, Street Art, etc.
It drives to different contexts combining simplicity with extravagance, vibrating with a throbbing energy like the bodies of many sardines darting out of the water brining out a message of love, brotherhood and prosperity.
Barbara Pecorari was born in Scandiano ( Reggio Emilia, Italy) where she presently lives and works.
After completing her secondary education ( Art Academy Gaetano Chierici) she enrolled in the association Associazione Parmense Artisti and Artist's Cultural Association " La Marguttiana" and continued her instruction through self-educational programs.
Barbara has exhibited at art events in Italy and abroad.