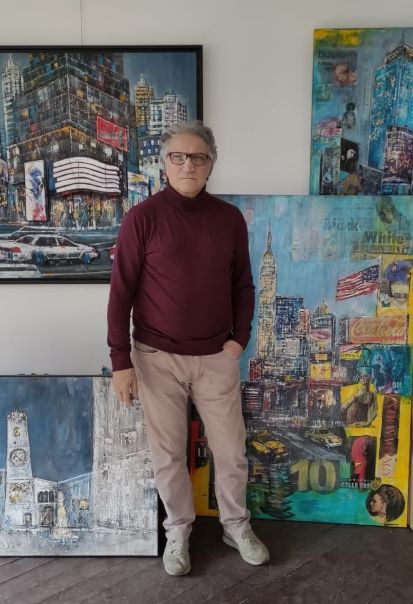 Antonio Capoferri

Antonio Capoferri was born in Costa Volpino (Bergamo) in 1953.
He began his pictorial training as a self-taught continuing his studies of drawing, graphics, engraving and sculpture at the Brescian Artists' Association.
A master of the landscape, not of the classic brush landscape because he doesn't use the brush… Antonio Capoferri is a very skilled master of the spatula and he created this captivating technique.
From his studio above Lake Iseo, he can admire extraordinary and romantic views of Lake Sebino, Montisola, the small port of Iseo, Marone, the coast and various mountain peaks, and paints them, always with new lights and perspectives.
After some important trips abroad, Capoferri has also experimented with other scenarios, without changing the technique that made him famous, passing from the lake to the big cities. Then New York with the extraordinary aerial views of the various bridges that connect the two banks, San Francisco with the streets, the traffic, the skyscrapers, and the stations that symbolize the journey and the continuous movement.
An extraordinary game of intertwining streets and mammoth buildings, with color and material that stand as real protagonists.
Antonio Capoferri does not intend to narrate places or games of images of everyday life or of his own experience, but he wants to feel himself an observer and solicitor of expressive "complicity".
He is an artist researcher of "transversality", that is, of correspondences and symmetries that unite and cross the dimensions of the geographical space. These exhibition realities offer us the perception of experiencing the environment, of recognizing the products of the environment, of feeling a reflection and part of the history of identities.
With his chromatic charges and his concentrates, he offers a fascinating spectrum of the experience of the colors of the perceived world.
He has participated in numerous group and personal exhibitions both in Italy and abroad, obtaining numerous acclaim from critics and admirers.
Personal and collective exhibitions:

New York - International Art Expo 2003 Galleria Artitaly (personal)
Brazil - Salvador de Bahia Italian artists in Brazil (collective)
Krakow - Italian Embassy (personal)
Elsinki - Italian Embassy (personal)
Germany - Italian Cultural Institute Cologne (personal)
Ephesus-Selcuk Archaeological Museum Turkey-The myth and the character of him (collective)
Austria - Klagenfurt Chritia Landesverband Kartnten (personal)
Paris - Maison de l'italie - Italian Artists in Paris (collective)
Riva del Garda - Le Firma 2003 Gallery (personal)
Sidney - Lido Gallery tribute by Italian artists to the 2004 Sydney Olympics (collective)
Bari - Civitas 2004 Cultural Gallery (personal)
Bari - Fiera del Levante - International Contemporary Art Fair (personal)
Pordenone - Contemporary Art personal)
Cinque Terre - Suvero - Meeting between European artists (personal)
Padua - 2007 International Exhibition of Contemporary Art (personal)
Bologna - Gallery 18 - 2007 (collective)
Grado - Grado Arte 2008 Regional Congress Palace (personal)
Copenhagen - Italiarts Italian Cultural Institute 2008 (collective)
Bergamo - Mazzoleni Art Gallery 2011 - The myth of Marilyn (collective)
Bergamo - BAF Arte Fiera - Mazzoleni Art Gallery 2011 (collective)
Bergamo - Mazzoleni Art Gallery 2011 (personal)
Helsinki - Sello Library 2012 (collective)
Tallinn - Italian Embassy 2012 (collective)
Alzano Lombardo - Art Events Mazzoleni 2013 (personal)
Istanbul - Sanat Fuari Art 2013 (personal)
Prague - Italian Cultural Institute 2014 (collective)
Barcelona - Art Fusion 2014 Gallery (personal)
Forte Village - Summer Art 2014 (collective)
Buenos Aires - Buenos Aires Art 2015 (collective)
Milan - Expo Thinking Factory 2015 (personal)
Forte Village - Summer Art 2016 (collective)
Brescia - Villa Mazzucchelli Contemporary Art 2017 (collective)
Forte Village - Summer Art 2017 (collective)
Istambul - International Art Faio 2018 (personal)
Milan - Milan Corner 2018 (personal)
SEE ALL ARTWORKS BY ANTONIO CAPOFERRI