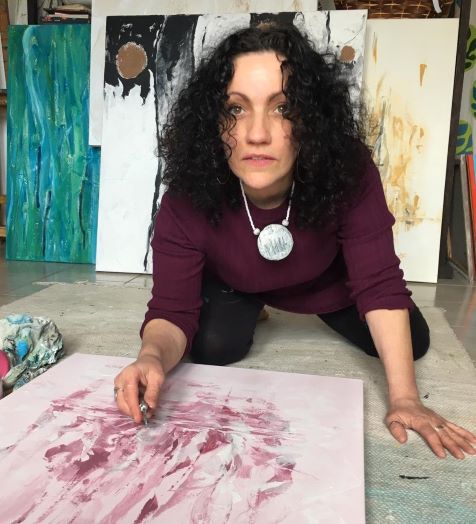 Annalisa Colombo

Annalisa Colombo was born in 1971 in the province of Lecco, where she lives and works.
Since she was a child she has shown a propensity for manual skills and artistic expression combined with curiosity for materials that allow her to build objects and give vent to the imagination.
She graduated from Lecco State Art School and continued her studies at the Brera Academy of Fine Arts in Milan, graduating in decoration.
Annalisa's belief that art is also a mediating tool between the internal and external world of the individual leads her to carry out studies on art therapy by attending the Center of Art Therapy in Lecco where she graduated as an Art Therapist.
At the same time, she is interested in music and attends singing, guitar and listening psychology courses.
For many years she has held artistic-expressive workshops especially with school-age children, now she also offers both individual and group art therapy meetings.
Initially Annalisa's pictorial interest concerns the material, she works on the canvases experimenting with thicknesses through materials such as plaster, crushed terracotta and sand, always giving color the leading role.
Subsequently she turns her expressive research to an abstraction of the gesture, towards a stratification that accompanies the conversation between sign and color, the latter always at the center of attention in the final composition.
Art for Annalisa is the means to express and communicate the flow of emotions, paintings for her are also a way of listening and encouraging the viewer to dialogue with themselves without judgment and without inhibiting conditioning.
Some of Annalisa's works are located at the Aneb Institute (National Association of Ecobiopsychology) in Milan with which she collaborated on a project concerning the unconscious and images, with exposure at the First National Congress of Ecobiopsychology "The body as mandala of the Universe" , held in Milan in May 2019.
Among the latest exhibitions in which Annalisa participated we mention the 2019 Genoa Biennale, the Oratory of the Basilica of Sant'Ambrogio in Milan, the Natural History Museum in Milan during organized events.
Annalisa has exhibited over the years in various personal and collective exhibitions.
See alla artworks by Annalisa Colombo