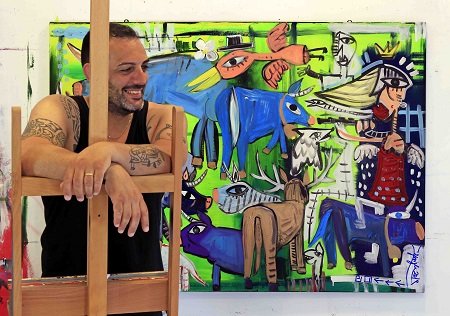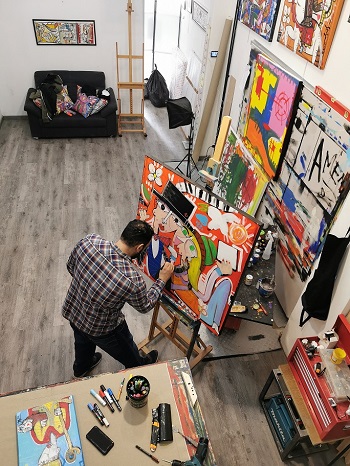 ALESSANDRO SIVIGLIA.
Alessandro Siviglia was born in Salerno in 1982. At the age of 3 he was diagnosed with a hip disease which forced him to stay with guardians for 7 years. When the doctors say he has to undergo
to an operation to implant artificial hips his mother takes him to Lourdes.

After the bath he comes out dry and on the way back he feels a sharp pain in his hips. Two months after his visit to the hospital, the doctors, surprised, declared him cured. His hips had built up

Sunglasses. With his very religious mother he has always attended church, but after this rather unusual spiritual experience his relationship with God becomes personal and more concrete.

That is why his paintings often recall faith, to mention the different portraits of Jesus, the Madonna and child, biblical scenes such as the Last Supper, or the portraits of various saints.

Already from adolescence he began his artistic journey expressing himself through the phenomenon of Graffiti Writing, attracted by Aerosol-Art and carrying on the passion for graffiti for over 15 years.

From graffiti comes his particular and personal technique of use of color and his decisive and spontaneous trait in creating the canvases in one go.

In 2000 Seville moved to Venice where he began to frequent some local artists approaching, without knowing it, painting on canvas.

Painting with acrylic colors fascinates the artist more and more who, leaving aside the art of graffiti, begins to create with every object that he finds in front of him, such as recycled boards, old doors or wardrobe doors. This new way of painting marks a turning point in the artistic life of Seville, who creates his paintings with softer shapes and preferring large dimensions thanks to which he manages to bring back the style of
graffiti on canvas. In 2008 he followed his then girlfriend and moved to Valencia in Spain. A rather significant period for his lively and sunny style that influences, indeed characterizes the painted scenarios of the artist still today.

After two years in Spain his father dies and he is forced to return to Salerno to be closer to his family. The artist is going through a very difficult period, there are few people who understand his art and they are not
there great opportunities. In short, he doesn't see a future in this city, he feels increasingly depressed and trapped.
In 2013 he met his future bride in Milan while he was finding friends. After a year of long-distance relationship, the two of them moved to Rome together where Seville began his full-time artistic career.

Freed and with a great desire, he slowly manages to open a studio and organizes various exhibitions in the center of the capital. Private life is also great, in 2015 he gets married and in 2018 he is born his son.

After 5 years in Rome in 2019 he feels ready to return to Salerno. This time he is happy to come back and sees it as a revenge. He opens his studio in Pastena where he is free to express himself and create his
wonderful works of him, but where he can also show the works to collectors and art lovers.
"He is a talent that doesn't need approval. Because he imposes himself. Thus Seville, after a chromatic research on the canvas, arrives at material painting, indeed it seems to penetrate it to such an extent that it merges. Symmetrical works, of different sizes, offer space for a multi-chromatic expressiveness, in which the narrator becomes the protagonist of virtual signs over time.
It is in space, sometimes virtual, that the artist manages to create, in a soliloquy of matter and form, the sap of his works. A young man, who pursues a last echo of pop art, but which ranges in the informal,

with an autonomous trait, which is that of every artist.

Thus Seville sometimes seems to get lost behind nebulous skies, which refer to those of Chagall only by concept. His ego disdains any emulation ".

Exhibitions
2009 "Patricia" Personal Exhibition in Valencia, Spain
2009 "La vita" Personal Exhibition at Villa Carrara, Salerno, Italy

2017 "Lust for life" Personal Exhibition at Sala Blu, Rome, Italy

2018 "Alessandro Siviglia- Works and Photographs" Personal Exhibition at Palazzo Velli Expo, Rome, Italy

2019 "Alessandro Siviglia@ Palazzo Velli, Second Edition" Personal exhibition at Palazzo Velli Expo.

2019 "Emotions on display - Armenia meets the world". Collective exhibition at Castel dell'Ovo, Naples, Italy

2022 "Arte Padova C.A.T.S." Art Fair with personal stand curated by Annett Mann, curator and photographer Sivigliart, Padua, Italy

2022 "Breakthrough Artists of the Affordable Art Scene" - group show at Artspace Warehouse, Los Angeles, USA
SEE ALL ARTWORKS BY ALESSANDRO SIVIGLIA