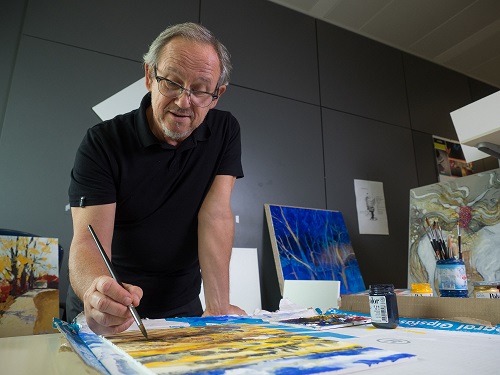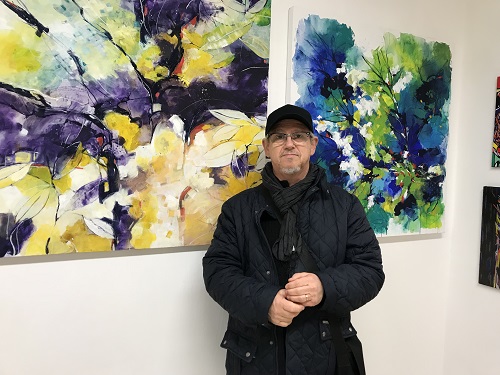 Alessandro Andreuccetti.
I was born in San Gimignano, Italy , in 1955.
I studied art and architecture in Florence before attending the Art School and then The Academy and the Faculty of Architecture. Through my work I want to analyze and represent the life that surrounds me or pass me by, just brushing. My favorite subjects are human figures immersed in their world, educated, that is, in poses and attitudes that identify the mood and suggest their personality. What interests me most is to discover the relationships between shapes and colors that are evident from the careful observation of reality and this is expressed in a strictly personal representation of the object. Through the filter of my work observers can therefore grasp the point of view of my own, but they are also free to interpret the subject as they please, so participate in the re-creation of the work perfect. Ultimately with my colors, my drawings, the shapes that I paint I suggest a possible interpretation of reality, mine, but the case remains open to the infinite possibilities of the personal experience of each.
The ideas
Each painting has its own history and its own staff gestation. Everyone can contribute to the initial spark , a picture , a phrase, a music. Before starting I spend much time thinking about the overall design of the new table, the patterns of colors to use , what to emphasize and what to leave in the background. Generally I take a lot of notes, sketches, I feel the colors, shadows, shred the subject in portions then recompose otherwise, schematically various compositions. This whole process can take days or weeks but when it's time to paint the work is spun down without a second thought.
The materials
Works on paper. Using watercolors on handmade paper with cotton rags, is a beautiful card, imported from India, heavy and wrinkled, with a strong personality that requires much attention and experience to master it.
Works on canvas. Acrylics allow me to work in a manner similar to watercolors on surfaces other than paper and I guarantee.
SEE ALL ARTWORKS BY ALESSANDRO ANDREUCCETTI
EXHIBITIONS
2017
Collective exhibition – Luigino Ghezzi & Amici – Figure e altro. Scriptorium dell'Abbazia di San Galgano, Chiusdino
Collective exhibition – A cavallo dell'anno. Magazzini del sale, Siena
Collective exhibition – paesaggi Italiani III – Fiano Romano, Galleria Giuliani
Collective exhibition – "Signora Maestra la pittura è una donna gentile", Villa La Rinchiostra a Massa Museo Guadagnucci
2016
Collective exhibition – Arte in toscana con gli artisti Andreuccetti, Manzi, Masini. San Gimignano, Palazzo della Cancelleria.
Collective exhibition – Impressioni di Settembre con gli artisti Andreuccetti, Manzi, Masini. Casole d'Elsa
Collective exhibition – Donna, la creatura più bella" Opere di tre Maestri Contemporanei: Sergio Manzi, Alain Bonnefoit, Alessandro Andreuccetti. San Gimignano, Palazzo della Cancelleria
Collective exhibition – "Viaggio in Toscana", cinque artisti tra Pienza e San Gimignano: Giuditta Scorcelletti, Alessandro Andreuccetti, Tiziano Guerrini, Sergio Manzi, Enrico Paolucci. San Gimignano, Palazzo della Cancelleria
Personal exhibition – "Pitture". San Gimignano, ART STUDIO – Compagnia degli Artisti
2015
Collective exhibition – San Gimignano, Palazzo della Cancelleria
Personal exhibition – San Gimignano, Caffè Torre Guelfa
Collective exhibition – Roma, Galleria Giuliani, Paesaggi italiani 2
Collective exhibition – Roma, Arteperoggi
2014
Personal exhibition – San Gimignano, Caffè Torre Guelfa
2013
Personal exhibition – Firenze, Galleria del Gruppo Donatello
Collective exhibition – Bari, "Il Grido Taciuto: dal dolore alla solidarietà" , Galleria Vernissage
2012
Invitational – Padova, "XII Biennale dell'Acquarello di Albignasego"
Personal exhibition – Montelupo F.no, Colline toscane, Sala espositiva Banca di Cambiano
Personal exhibition – Gaiole in Chianti, Oltre la collina, Sala espositiva Società Filarmonica
2011
Personal exhibition – Firenze, Villa Vogel, "3 Artisti a Villa Vogel"
Collective exhibition – Cremona, "Liriche essenzialità" – Galleria d'arte Immagini Spazio Arte
2010
Collective exhibition – Taormina, "100 Pittori a Taormina", Palazzo Duchi di Santo Stefano
Collective exhibition – Incheon, Korea Global Network of Watercolors Painter
Invitational – Shanghai, International Watercolour Biennial Exhibition, Shanghai Quanhua Gallery
2009
Personal exhibition – San Gimignano, Caffè Torre Guelfa
2008
Collective exhibition – San Gimignano, "Dal XX al XXI secolo Artisti a San Gimignano", Galleria d'Arte Manzi
Collective exhibition – Cuneo, "Acquarello che passione"
Collective exhibition – Saint-Laurent-sur-Gorre, 13e SALON de l'AQUARELLE en LIMOUSIN (Fr)
Collective exhibitions – Firenze, "Arte Contemporanea Italiana", Galleria La Pergola Arte
2007
Collective exhibition – Porto Sant'Elpidio, "Arte sacra, Ieri e oggi", Galleria La Tavolozza
Collective exhibition – Firenze, "Paesaggi metropolitani", Galleria La Pergola Arte
2006
Personal exhibition – Firenze, "Tuscany Hills" –Palazzo Panciatichi, Consiglio Regione Toscana
Personal exhibition – San Gimignano, Galleria d'Arte Manzi
2004
Collective exhibition – Certaldo, "Certaldo in cornice" –Palazzo pretorio
2003
Personal exhibition – San Gimignano, Galleria d'Arte Palazzo Pratellesi
…..
1979
Personal exhibition – Roma, Galleria "Ieri e Oggi"
1978
Personal exhibition – Volterra, Galleria "Daniele da Volterra",
FEATURED ARTIST
- Etichette d'autore per Famiglia Semplici, Vagliagli – Siena, Italy
- Poster and advertising for Wine an Oil, San Gimignano, Italy
BOOKS
- L'Acqua di Siena, Comic Book
- Roccastrada, Storia di una terra antica, Comic Book
Alessandro Andreuccetti is an Italian painter and illustrator who employs acrylic paint, water-color, gouache and ink in his work, displayed on his website and blog. Some of his pieces careen towards the avant-guard, exhibiting conceptual and surreal qualities, but most of his artistic output is situated within the traditional framework of landscape, cityscape and people representation, where he strives to express himself in "new perfectly independent compositions." In my opinion, he achieved his goal at least from one aspect: the illusion of space and volume, and in this review I would like to focus on how these features stand out in his haunting land and cityscapes.
The artist's creative approach to the empty areas on the surface he works with paradoxically enhances the perception of volume and space in the beholder's mind's eye. He concocts an engaging interplay between active and passive zones — and I particularly like the idea of selective passivity, where the nearly blank, discolored parts play a crucial role in enlivening the darker and apparently more substantial regions. This combination reminds me somehow of the negatives we see in photography, and, after a more careful examination, there is indeed something of the photographic negative in these landscapes. As a result, his artwork may be viewed with a double standard — but in the best possible meaning of the phrase.
Consequently, the spring lightweight florals, the denser groves and the concrete structures, they all exhibit a reassuring sense of style and its technical opposite. Moreover, the artist even-handedly combines these themes, placing dainty buds near formidable buildings or deep inside wide landscapes. Slopes and curves, either imaginary or real, further emphasize the sense of space, particularly pastoral — even the cityscapes appear to be stifled by the approaching growth; perhaps this is why the buildings look so abandoned.
On the other hand, the inhabitants might just have gone outside to enjoy the flora, and understandably so.
To reiterate, the artist demonstrates adroit utilization and deep understanding of space, to the point of ability to manipulate it: to play and toy with it. He offers breathtaking vistas with an easy hand, and with an almost ironic, and somehow wise touch. He doesn't tackle the theme, but rather approaches it carefully and assuredly, as if space itself were a frightened and alert wild antelope; he nets it with his brush and the concept behind it. The painter's style impresses with both lightness and compositional range and solidity: he is a universal artist not only because of the multiple media he works with, but due to what he achieves with it as well.
Elijah Shifrin
Alessandro Andreuccetti: Human Angels or Angelic Humans?
These drawings are a part of a fascinating series of nudes presented as angels. Actually, some of the depicted models do not possess wings, but the effortless synthesis of this characteristic divine feature with the human body where they do, causes the viewer to overlook this shortage when they don't. In other words, the idea of the accretion becomes ingrained in our mind, and continues to affect our perception throughout the series. So powerful is this idea, that some notable effort is required to notice that the wings are missing; and after that, the drawing may seem deceptively incomplete. It's as if the artist induces an unintentional optical illusion.
He is unsparing in his choice of models and representation (physical defects in the form of folds of fat), but often incorporates dancelike motifs into the poses: the first step towards grace that redeems the defects, the second being the wings.
Though at the first glance they may seem like an alien addition, even a farcical ridicule (in comparison with the traditional cherubs — gleeful, giddy children), I strongly tend towards the more compassionate and humanistic interpretation that the artist wanted to reveal the saintly side of the subjects. Perhaps they are seeking some sort of deliverance, or have already found it; either way, here the notion of sainthood and humanity becomes inseparable, and slightly awe-inspiring.
But that is not to say that there is no humor, or self-referential irony in these sketches. I think that there is something very releasing in the freedom and ease with which the artist depicts physical imperfections — and that this is exactly what the models "are feeling." They generally exhibit resignation and acceptance — suffering maybe — but not rebellion or resistance. They appear aware but irreverent of their flaws, which hence cease being flaws: probably the best known way to accumulate charisma and deliver its joyous effects to the beholder. The other funny streak is the formal technical resemblance to caricature. In some pieces, the genres intersect quite often, and eventually even the practice of discerning which is which becomes ironic.
Finally, I would like to dwell on the theatrical element that transpires from the series, in various degrees. The subjects are usually positioned against an abstract background, sometimes a wall, or placed upon a pedestal. Had we combined this feature with the graceful movements, particularly of the legs, with the wings as props and with the expressive, dramatic gestures, a general suspicion would arise that we have been transported behind the scenes of a strange theater. Thus, the backstage would become the unifying concept behind the series. In turn, the sketch-book might reemerge as a monograph describing the venue and the actors — while this review could be seen as the accompanying text.
Elijah Shifrin
Alessandro Andreuccetti: Tuscany Hills
This series of landscapes commemorating the hills of Tuscany is most notable for the peculiar dynamics acted out by the trees. The artist achieves a powerful sense of movement through complex linear winding, but not only: almost every trunk, and sometimes branch, begins with one color but ends with another. The juxtaposition of hues, as well as directions of the main lines describing the trees, produces an effect of constant movement and change — and conflict. I think that the mobility of the growth is unusual and high enough as to mark it as the protagonist, an almost living character in the series. (I am not very fond of such formulaic conclusions, where the plot, or some other structural element is assigned the role of the principal actor, even though allegorically, but this time the comparison seems more than justified.)
It is evident that the artist experiments with mediums, on the conceptual level, trying to figure out which befits most each and every season of the year. Though watercolor holds the stage, gouache plays an important second part, showing — or showing off — astonishing detail and depth and an oddly opaque iridescence of coloring, sometimes transcending to volume and space "swelling," which endows the painted surface with a phantasmagoric dimension. It seems that gouache suits winter and autumn best (considering the artist's style), excelling in reproducing the effects of subdued and diffused light. This is the first time I encounter professional gouache artwork, and I certainly hope not the last.
The watercolors may at times seem unpredictable, and bubbly, in the most literal meaning of the word. The two purple paintings include bubbles in various forms, some reminding of defects appearing on old black and white films and daguerreotypes — here we are, back to photography again. Anyhow, either small or big, they conjure the ghosts of pointillism, but with an original twist. The final result amounts to several layers of color being superimposed, once again contributing to depth and varied rendering of space. In simple words, I think that what makes these paintings so interesting is that yes, we can look at the trees, — but we can also look between them.
Though the artist's original intention was to depict the hills in various seasons during the course of one year, he appears to have leaped back to much more distant eras. Some of the trees bear a resemblance to mesozoic tree-ferns. If it weren't for the path dissecting the ground in one of the pieces, the illusion of ancient wilderness would have been perfect. But perhaps the artist was aware of that quality: the exotic viewing angles, and compositions involving close ups and panoramic views shake the onlooker up, in a very primitive (basic) and violent way, prompting associations with the dawn of civilization and the beginning of life on our planet. And thus, the series as a whole work as a kind of a force of nature — and, most of all, — of human nature.
Elijah Shifrin