Description: MIXED MEDIA ON CANVAS FRANCESCA FALLI " CERVELLOTICO " size L 97 x H 97 cm.
---
Mixed Media on canvas - Title " Cervellotico " by Francesca Falli .
Mixed media: Computer graphics, digital printing.
Year 2017 - Size L 97 x H 97 cm.
Unique piece - Certificate of Authenticity.
Pop Art is an art movement born in the United Kingdom and the United States in the late 1950s and early 1960s.
This movement is an expression of society and of the collective imagination, and it is an art aimed at the mass and not at the single collective.
It is so called because it derives from the English term "popular art", always ready to look at and assimilate stimuli coming from external society.
Translated
" mixed-media
art " is mixed material art (or in Italy called "miscellanea").
It is a very modern and popular form of art that originates from the fundamental visual arts which are: painting, drawing and sculpture. Mixed media is a work of art in which more than one medium or material has been employed.
Assemblies and collages are two common examples of art using different media. They will make use of different materials including: fabric, paper, wood, and found objects.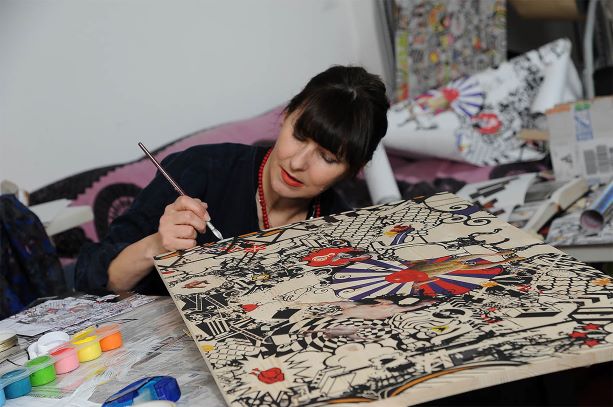 Francesca Falli

Francesca Falli begins to paint since she was a child, under the guidance of her maternal grandfather and of the arts she has done her professional activity. She has studied Decorative Painting at the Art Institute, Advertising and Publishing Graphics at the European Institute of Design in Rome and Painting at the Academy of Fine Arts.
Her artworks are exhibited in several museums of Contemporary Art. She has received prizes and awards in Italy and abroad, she received the Lifetime Achievement Award at the Chamber of Deputies in Rome. She has exhibited her "Pollage" in the great Galleries section of the main Italian Contemporary Art exhibitions, next to Warhol, Festa, Angeli and Schifano artworks and in concomitance with the exhibition of National Pavillion of Guatemala ( 16th Architecture Biennale in Venice).
She is historicized inside the Catalogue of Mondadori Modern Art and in De Agostini Atlas of Art. She is a member of the Interdisciplinary Centre of Contemporary Landscape.
Her artworks are inspired by the Pop Art painters with revisions, experimentations, provocations. Her experimentation skill has urged her to the creation of an innovative way of 'artistic work', where painting and decoration are contaminated by the opportunities of the new digital technique.
A continuous research leads her to the production of "Pollage", which are arousing interest from critics and historians and they are spreading among collectors. The chaotic, distorted and emphasized landscapes which we find in her exemplary works are the expression of the mental and visual chaos provoked by the earthquake which happened in her city in 2009.
During these last months her production has been enriched by a new topic:
the artistic ignorance, everybody paints, everybody feels artist, everybody wants to express oneself through the pictorial art but many do not know or study the history of art and here we find some references, some mockeries towards the false artists and from these ones the provocative idea of her works (inspired in their titles and compositions by the great names of art history) was born. "Van Coc", "Chi è Pollok", "Poll - Gauguin", "Pollo della Francesca", "Magr.it", Poll.klee are her last inspirations.
See all artworks by Francesca Falli

Information request
---