Description: MIXED MEDIA ANTONIO MURGIA ' THE HEART RESPONDS ' size L 120 x H 100 cm.
---
Mixed Media on polymirror - Title " The heart responds " by Antonio Murgia .
Year 2021 - Size L 120 x H 100 cm.
Mixed technique: thin sheet of mirrored polystyrene (polimirror) glued on canvas.
Unique piece - Certificate of Authenticity.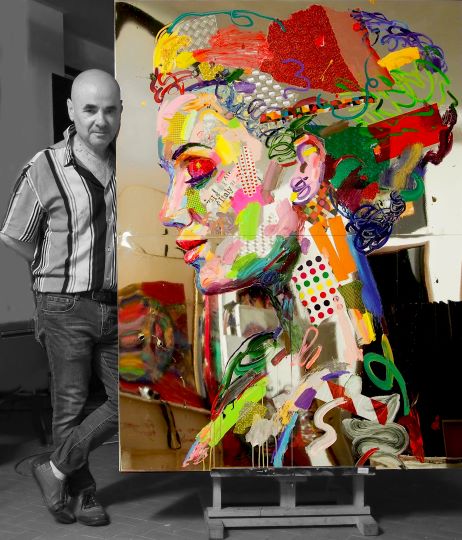 Antonio Murgia
Antonio Murgia was born in 1956 in Sardinia, Italy. He studied arts and cinematography. He lived and works in North Italy for many years, currently he is living in Cagliari. He is an extremely versatile artist and his extraordinary pictorial and creative ability leads him to experiment always with new expressive languages.
The recent works of the "Oros Project" cycle are a powerful set of figuration and abstraction, colours and concepts, expressionism and pop. Many italian and international galleries are currently showing it.
It's his way of looking around that makes him fully understand two of the key concepts describing our world: ORder and chaOS. These two ideas may apparently seem conflicting, actually they are two coexisting aspects. They live one next to the other in the human soul too. (M.G.Melandri art critic)
"The art of Antonio Murgia takes inspiration from Pop." In the Pop art language, objects and shapes of daily life are emphasized because they are isolated and separated from their original context. And yet Murgia, in this process, channels romantic expressive intensiveness to his works. The matter is moving, the vibrant brush stroke and the colour prevail with all of their sensual and frantic power. The multiple colours seem to speak, act, record the tones of emotions to become supporters of a private and deep expressiveness. Through great colour bounces and softened shades, the faces are part of a scene reminiscent of the subconscious. The look is dominated by the firmness of the eyes that become languid and seem to project themselves into another dimension, towards an absolutely inner universe. In the works by Antonio Murgia, the colour annihilates the conscious personality of its shapes, resulting in the prevalence of subconscious personality made of feelings and thoughts. It is the individual that belongs to the crowd and the artist makes escape from his own context to meet him in an inner state, moving from the world of the spirit to the world of art. (M. Micello art critic).
2014
Vision of italy. Beijing Art Center 1+1, Pechino (FYR Shanghai).

Between Earth & Sky. The Gallery Steiner, Vienna.
Contrasts & Similarities. A.C. Art Museum, Pechino (FYR Shanghai).
Marilyn Monroe – Grandi opere. Contemporary Arte Pancaldi, Roma.
Artour-o. Merida, Spagna: Rassegna europea itinerante.
The AMALART Promotion Event. Shanghai Italian Center (FYR Shanghai).
2015
Il tempo nel tempio, Chiesa dei SS Giacomo e Filippo, Andora (Savona).
Art Store, JW Marriott, Venezia. Fondazione Mazzoleni.
La bellezza nonostante…, Villa le Maschere, Barberino di Mugello (Firenze). Per Capita Arte Contemporanea.
Journey to hope, International Art Symposium, Yagcilar (Izmir), Turchia.
2016

Venezia e l'arte, JW Marriott, Venezia. Fondazione Mazzoleni.

Italian Art from Classic to Pop, 1 +1 Art Centre, Pechino (FYR Gallery).
Idee per una collezione, Palazzo della Cancelleria, Roma (Galleria Ess&rre)
Tango, tarante, assenzio e recenti oblii, Per Capita Arte Contemporanea Gallery, Carpi.
2017

Sospiri di saggezza, Villa Scheibler, Milano.

Affordable Art Fair, Milano. Per Capita Arte Contemporanea Gallery.
Our paths cross with Art, A.C. Art Hotel Museum, Beijing. (FYR Gallery).
Antonio Murgia, Violarte Contemporary Art Gallery, Galliate (NO).
Duende, Villa le Maschere, Barberino di Mugello (Firenze). Per Capita Arte Contemporanea Gallery.
2018
Sentieri, Galleria Ess&rre, Ostia (Roma).
La Vespa nella storia e nell'Arte, M.A.C.I.S.T. Museum, Biella.
La Grande Bellezza, Kunsthaus Burg Obenrberg, Austria. (Expart Gallery).
Summer Art 2018, Fondazione Mazzoleni, Porto Cervo, Sardegna.
Old House New Art, International Art Symposium, Istanbul.
Delicious opposition, Marini Fine Art, Losanna (CH).
2019

Paris Art Fair 2019, Van Gogh Art Gallery, Madrid.
Califarte, Galleria Ess&rre, Ostia (Roma).
Firenze e la sua anima etrusca, Palazzo Bastogi, Firenze,
Poltu Quatu, porto di cultura, Simon Bart Art Gallery, Poltu Quatu, Sardegna.
Shanghai Art Fair 2019, Karen Jeng Art Space, Taipei, Taiwan.
Collective Art Show, Van Gogh Art Gallery, Madrid.
SEE ALL ARTWORKS BY ANTONIO MURGIA
Translated
" mixed-media
art " is mixed material art (or in Italy called "miscellanea").
It is a very modern and popular form of art that originates from the fundamental visual arts which are: painting, drawing and sculpture. Mixed media is a work of art in which more than one medium or material has been employed.
Assemblies and collages are two common examples of art using different media. They will make use of different materials including: fabric, paper, wood, and found objects.
Information request
---